Heartwarming and fragrant, this flavour-filled crowd-pleaser is perfect for cool winter nights!
Chock-full of three kinds of seafood plus spicy chorizo, this Spanish paella will satisfy a hungry crowd. The recipe calls for Bomba rice, a short-grain Spanish rice that is prized for its ability to absorb almost three times its volume in liquid, while the grains still remain firm and delicious, but any sort of Spanish paella rice will do.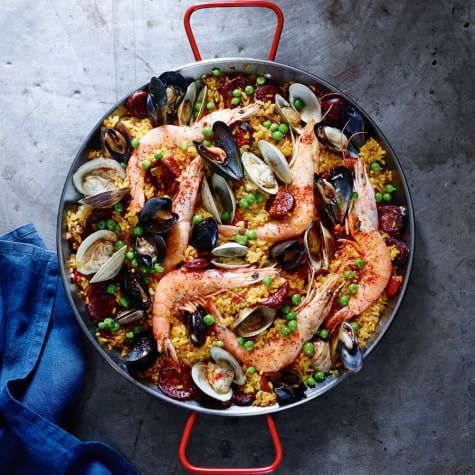 Ingredients
2 tbs. olive oil 

500 g chorizo, cut into slices 1cm thick 

1 red onion, chopped 

1 red capsicum, seeded and chopped 

3 garlic cloves, minced 

Salt and freshly ground pepper 

2 cups (440g) Bomba, or other medium/short grain rice

1/2 tsp. saffron threads 

1 litre chicken broth 

500 g prawns

500 g small clams, scrubbed 

500 g mussels, scrubbed and de-bearded 

1 cup (155 g) thawed frozen peas
Method
In a large paella pan or a large frying pan over medium-high heat, warm the olive oil. Add the chorizo and cook, turning occasionally, until browned on both sides, about 3 minutes. Add the onion, capsicum and garlic and cook, stirring occasionally, until softened, 3 to 4 minutes. Season with salt and pepper.
Add the rice, crumble in the saffron and cook, stirring, until the grains are well coated, about 2 minutes. Pour in the stock and stir in 1.5 tsp. salt. Bring to a boil, then reduce the heat to low, cover and cook until the rice has absorbed nearly all of the liquid, about 20 minutes.
While the rice is cooking, using a sharp paring knife or kitchen shears, cut along each prawn's shell above the vein line and then remove the vein. Leave the shell and tail intact.
When the rice has absorbed nearly all of the liquid, press the clams and mussels, hinge side down, into the rice, discarding any that do not close to the touch. Spread the shrimp over the rice and top with the peas. Cover and cook until the shrimp are opaque and the clams have opened, about 5 minutes.
Discard any unopened clams and mussels and serve immediately.
Serves 4 to 6.
–From the Williams Sonoma Test Kitchen.