Charring the cauliflower brings out its naturally nutty flavor and makes it work perfectly with pasta. If it's dinner for two, refrigerate half of the pesto for an easy dinner on another night. Thanks to Williams Sonoma for this week's recipe.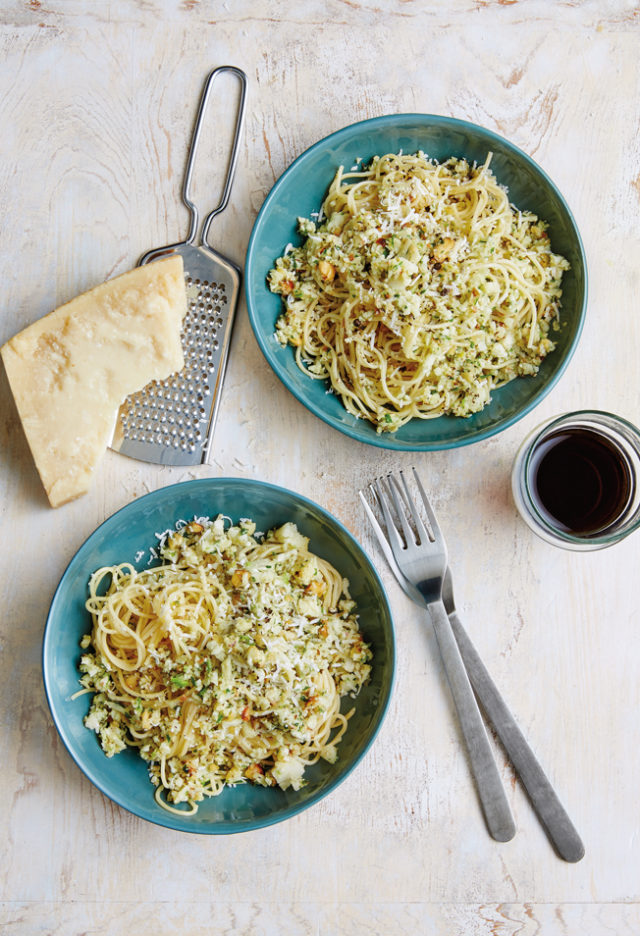 Ingredients
1 small head cauliflower, cored and cut into 2cm florets
Salt and freshly ground pepper
1 cup (250ml) extra virgin olive oil
1 cup (30g) fresh flat-leaf parsley leaves
1/2 cup (60g) toasted almonds
2 tbs capers
2 garlic cloves, minced
500g spaghettini
1/2 cup 60g grated Parmesan cheese
Method
Preheat a stove-top grill pan over high heat.
Season the cauliflower florets with salt and pepper. Place on the pan and cook, turning occasionally, until well charred on all sides, 6-to-8 minutes. Transfer to a food processor and add the olive oil, parsley, almonds, capers and garlic. Pulse until the mixture is well combined but still coarse. Set aside.
Bring a large pot of salted water to the boil. Add the pasta, stir and cook according to the package directions, stirring occasionally, until al dente. Drain and transfer to a serving bowl. Add the cauliflower pesto and Parmesan and toss to combine. Serve immediately.
Serves 4 to 6.