This week, Williams-Sonoma comes to rescue us from our sneaky long weekend diet with a beautiful pan fried salmon, served with quinoa and a tangy parsley vinaigrette.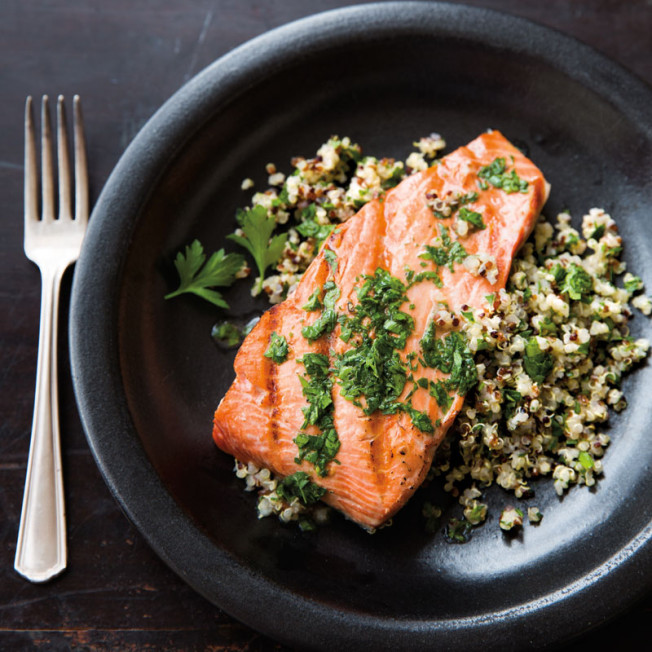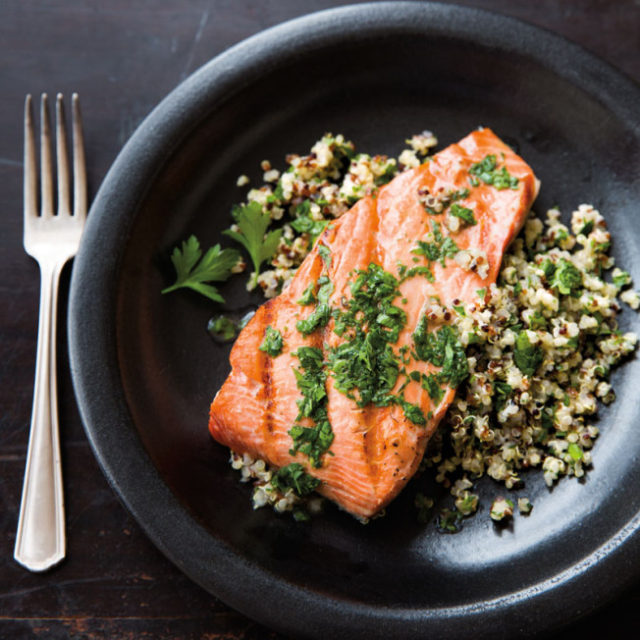 Salmon is a terrific source of omega-3 fatty acids, which help with heart health. Nutrient-dense quinoa has a mild flavour and light, fluffy texture which pairs well with rich salmon and slightly bitter parsley. Ask your fishmonger for centre-cut salmon to ensure the pieces are the same thickness throughout, which will help them to cook evenly.
Ingredients
Salt and freshly ground pepper
1 cup quinoa, rinsed
4 salmon fillets (125g to 185g each)
2 tbsps plus 2 tsp olive oil
3 tbsps red wine vinegar
2 tsp Dijon mustard
½ cup chopped fresh flat-leaf parsley
Method
In a saucepan, bring 2 cups water to a boil over high heat. Add a big pinch of salt and the quinoa. Return to a boil, then reduce the heat to low. Cover and cook until all the liquid is absorbed, about 12 minutes. Using a fork, fluff up the quinoa. Put the lid back on and let stand for 15 minutes.
Warm a stove-top grill pan over medium-high heat. Brush the salmon with 2 tsp of the olive oil and season well with salt and pepper. Place the salmon on the pan, flesh side down and cook for 5 minutes. Flip the salmon over and cook until done to your liking, about 4 minutes more for medium. Transfer to a plate.
In a small bowl combine the vinegar, mustard, ½ tsp salt and a pinch of pepper. Slowly whisk in the remaining 2 tbsps oil and stir in the parsley to make vinaigrette. Stir 3 tbsps of the vinaigrette into the quinoa.
Divide the quinoa among 4 warmed plates. Top each plate with a piece of grilled salmon and drizzle the remaining vinaigrette over the top to serve. Serves 4.
Adapted from Williams-Sonoma's Healthy Dish of the Day, by Kate McMillan.
–Enjoyed this recipe? You can try many more at the Williams-Sonoma Sydney Cooking School. Whether you're a beginner or an experienced cook, book yourself in to learn a range of different techniques and cuisines.