Golden and jewel tones define autumn cooking, evoking the turning leaves on the trees and the seasonal bounty available at the farmers' markets. Williams-Sonoma has taken this inspiration and turned it into a delicious weeknight dinner which can be cooked on a single baking tray, such as its nonstick, commercial-grade Goldtouch pan.
Beautifully caramelised pork chops (bone left in for added flavour) are perfectly complemented by the bursting sweetness of grapes and the intense fragrance of rosemary. Grapes are wonderful right now and seedless red grapes are ideal here. If you've never tried roasting grapes in a savoury context, then this simple recipe will be a revelation.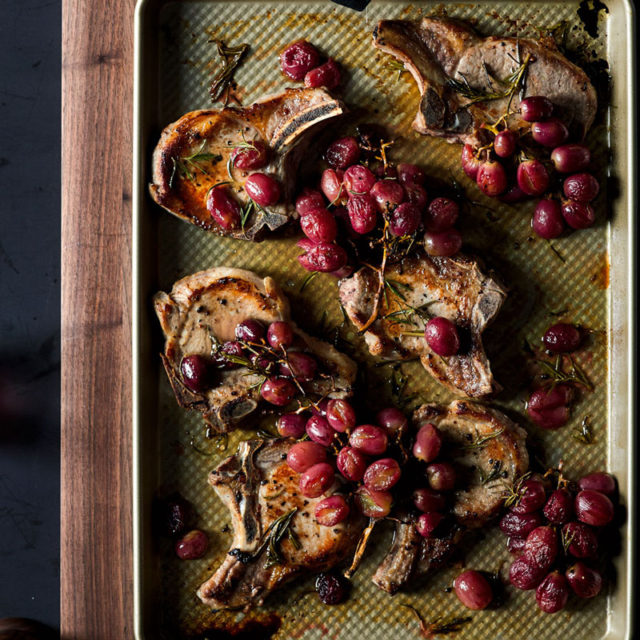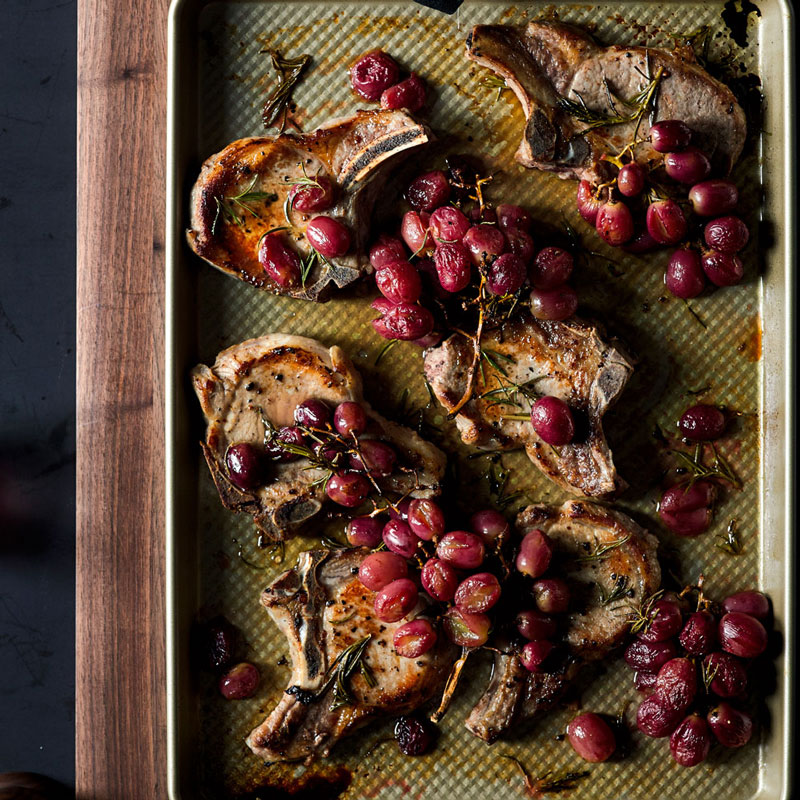 Serve it with a simple salad of bitter green leaves and some crusty baguette for an easy, bistro-inspired dinner that takes no time at all. While the oven is preheating you can bring your chops to room temperature – it'll be just enough time to whip up a salad, set the table and open that bottle of pinot.
Serves 6
Ingredients
6 bone-in pork chops, each about 375g and 2cm thick

4½ Tbsp (90 ml) extra-virgin olive oil

2 garlic cloves, grated

Sea salt and freshly ground pepper

6 cups seedless red grapes on the stems (about 875 g)

1/3 cup fresh rosemary leaves
Method
Position a rack in the upper third of an oven and preheat to 240°C. Meanwhile, remove the pork chops from the refrigerator and let sit at room temperature for about 20 minutes.
Rub the chops with half the olive oil and the garlic, and season well with salt and pepper. In a bowl, toss together the grapes, the remaining olive oil and the rosemary, and season with salt and pepper.
Place the chops on a nonstick baking tray and roast for 5 minutes. Remove the baking tray from the oven, turn the chops over, and place the grape mixture on the chops, dividing it evenly. Continue roasting until the chops are done to your liking and the grapes are starting to burst, about 12 minutes more. Let rest for 5 minutes, then serve the chops and grapes drizzled with the pan juices.
–For more new-season cooking inspiration, head to williams-sonoma.com.au.