The Temple & Webster team gathered for a winter feast by the water in the Royal National Park south of Sydney. T&W's resident foodie and senior stylist Jonathan Fleming shares some style secrets and this recipe for delicious cauliflower risotto. For the full menu, visit T&W Journal.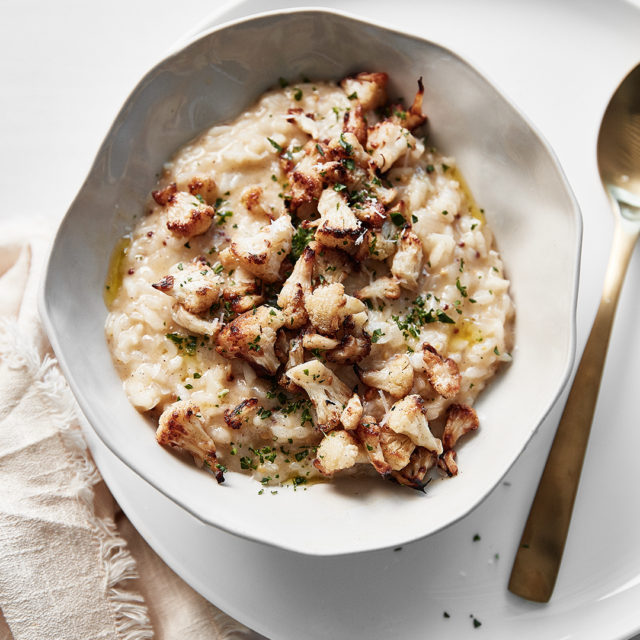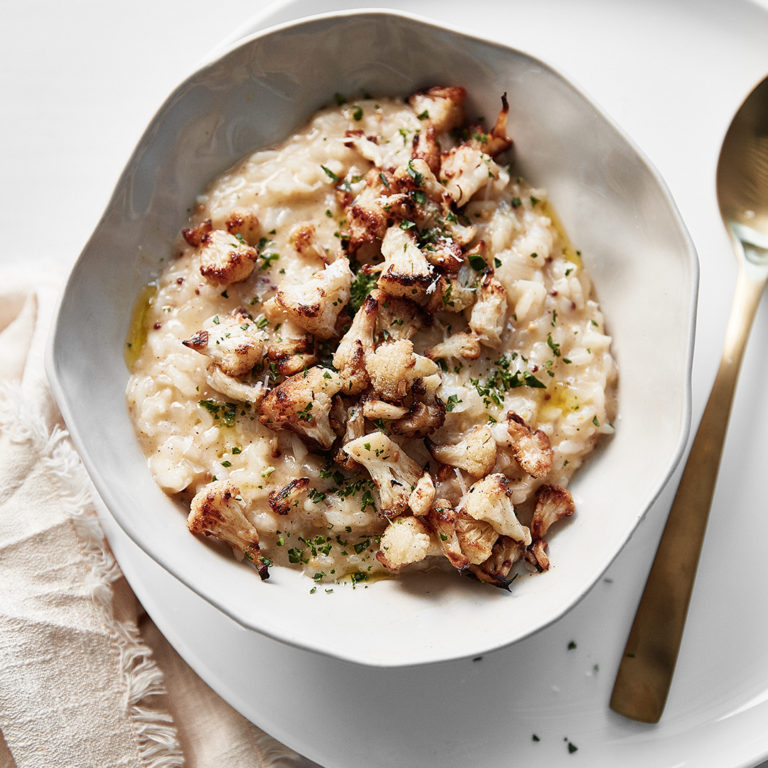 On the table
Entertaining friends over a long, leisurely lunch is one of my favourite things to do on a winter weekend. The ultimate goal is to create something with a little wow factor for my guests, but that still allows me to relax and enjoy the afternoon, and I think I nailed it with this combination of tabletop styling and menu. For the look, I took inspiration from the bayside location, and kept with a cool wintry palette of whites, mint green and ice blues, starting with a whitewashed timber tabletop.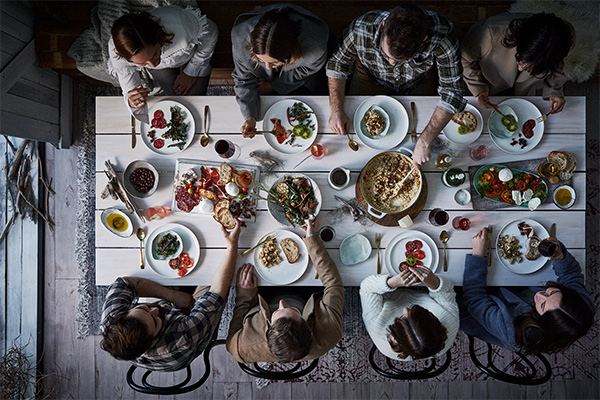 A classic white dinner set like Marc Newson for Noritake makes a great base to layer different colours and organic shapes. The colours and shapes carry through to the serving platters and boards. The gold cutlery warms up the palette and adds a touch of glam when entertaining. I added raw-edge linen napkins, and decorated the table with waterside finds such as driftwood and Spanish moss.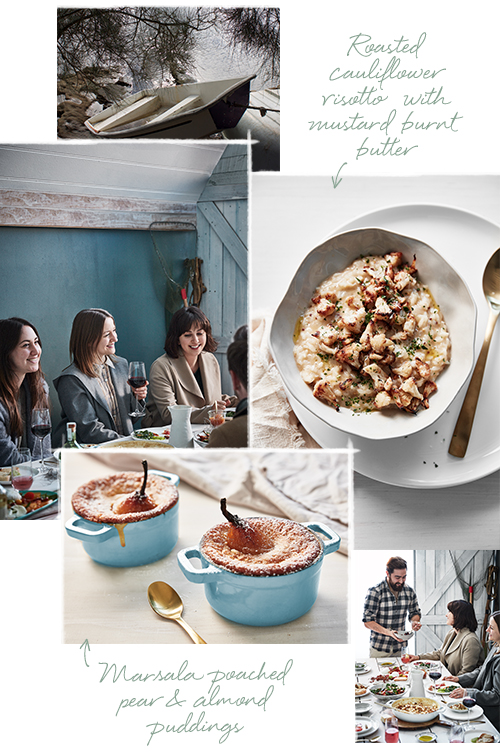 On the menu
Don't fuss over three courses, the great thing about Italian is that you can cheat with store-bought antipasti to start, and serve them in the middle of the table, as you can for the risotto. Everyone loves having their own individual dessert to dig into, like these easy puddings filled with poached pear and flavoured with wintry spices.
THE RECIPE
Roasted cauliflower risotto with mustard burnt butter
Serves 6-8

Don't be intimidated by the idea of making risotto, all you need is a little patience and the rewards of this rich, creamy dish is well worth it. The mustard burnt butter adds even more indulgence.
Ingredients
1 head cauliflower
Olive oil, to drizzle
120g unsalted butter
1 tbs wholegrain mustard
1 onion
350g Arborio rice (or other risotto rice such as carnaroli)
150ml dry white wine
2 litres homemade or salt-reduced chicken stock
100g parmesan, grated
Chopped flat-leaf parsley, to serve
Method
Preheat the oven to 200°C.
Cut off the cauliflower stem and chop, then break the head into small florets. Spread the florets on a baking tray, drizzle with olive oil and season with salt and pepper, then set aside. Chop the onion.
In a small frypan, melt 100g butter over medium heat, then cook for 3-5 minutes until it is just beginning to turn brown. Remove from the heat, stir in the mustard and set aside.
Place the chicken stock in a saucepan and bring to a simmer, then keep warm over low heat.
In a shallow casserole or large, deep frypan, melt the remaining 20g butter over medium heat. Add the onion and chopped cauliflower stem and cook for 3-5 minutes, stirring, until softened but not brown. Add the rice and stir for 1-2 minutes until translucent. Add the wine and allow to bubble for 2 minutes.
Add the stock a ladleful at a time, stirring constantly and allowing each to be absorbed before adding the next. Continue for 15-20 minutes until the rice is al dente (you may not need all the stock).
Meanwhile, roast the cauliflower for 10-15 minutes, turning once, until browned and starting to crisp.
With the final ladleful of stock, add the burnt butter and parmesan to the risotto and stir vigorously to melt the cheese and create a beautiful, thick, rich sauce.
Serve the risotto in shallow bowls and top with the roasted cauliflower and a sprinkling of chopped parsley.
Recipe & styling: Jonathan Fleming | Photography: Denise Braki