Christmas is definitely a time of over-indulgence, so consider this jewel-laden salad your perfect New Year's Day go-to. It ticks all the boxes: there's plenty of festive colour and variety thanks to the dried cherries and pistachios; it's fresh and healthy while still feeling quite luxe; it's super simple to prepare, no matter how lazy you're feeling; and it's an inventive way to use up any leftover turkey from the freezer.
A great tip is to prepare a generous portion of the salad without adding the meat, only tossing it through the portions as you serve them. This is because the salad will last several days longer in the refrigerator without the turkey (or chicken if you'd prefer). It's so easy to waste food over the silly season, so little tips like this help to avoid unnecessary waste. Also, the meat-free salad will develop its flavours stored in an airtight container in the refrigerator and will be even more delicious again the next day!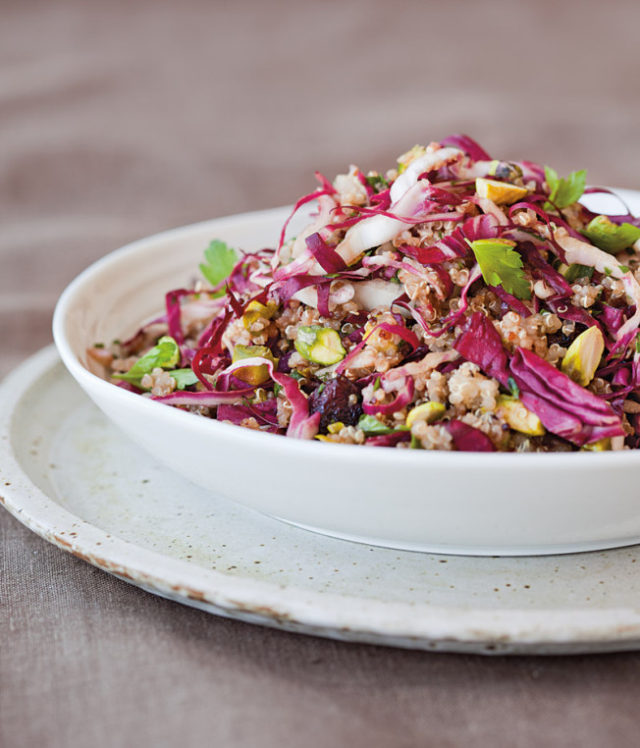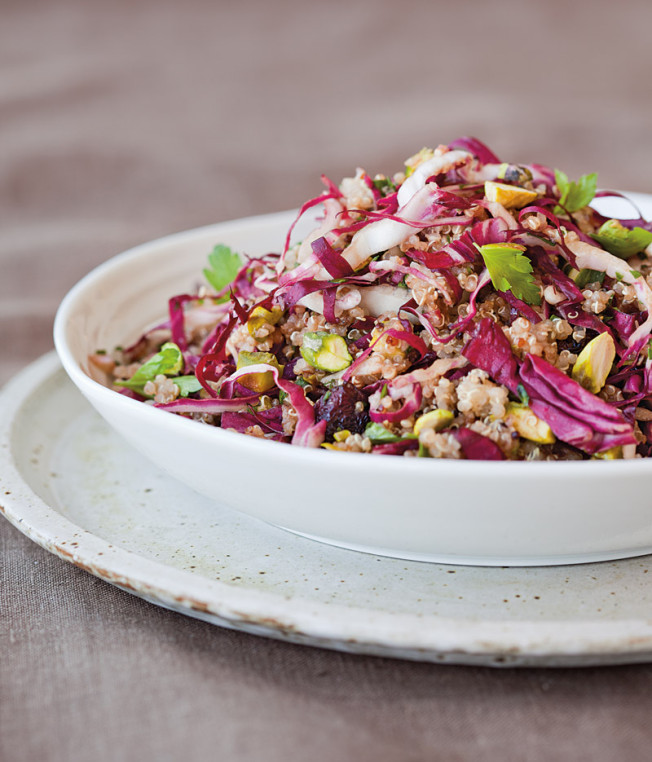 STYLING TIP  If you're having a New Year barbecue with friends, serve this salad in a large shallow platter such as one from Williams-Sonoma's brand new collection. Of course, if you're serving it poolside, opt for the carefree ease of melamine with the rustic good looks of antique earthenware. Here's to a safe and relaxing last few days of your break, enjoy!
Ingredients
1 cup (185 g) quinoa
1/2 head radicchio
1/4 cup (60 ml) balsamic vinegar
2 Tbsp extra-virgin olive oil
1/4 cup (50 g) dried tart cherries (or currants or cranberries)
1/4 cup (30 g) chopped pistachios
1½ cups shredded cooked turkey meat
3 Tbsp chopped fresh flat-leaf parsley, plus a few whole leaves for garnish
Salt and freshly ground pepper
Method
In a saucepan, bring 2 cups (500 ml) of water to the boil. Add the quinoa and reduce the heat to low. Cover and simmer until the grains are tender and the water is absorbed, about 15 minutes. Fluff with a fork and transfer to a large bowl.
Core and thinly slice the radicchio. Stir the radicchio, vinegar, oil, cherries, pistachios and parsley into the warm quinoa. Season with salt and pepper and garnish with the whole parsley leaves. Toss through shredded turkey and serve warm or at room temperature. Serves 4.
–This recipe is adapted from one in Salad of the Day by Georgeanne Brennan. Head to Williams-Sonoma for lots more inspiration, or book a cooking class in their Sydney Cooking School and make 2016 the year you lift your cooking game.