This recipe from Williams-Sonoma is a quick and easy, at-home take on the classic Vietnamese sandwich, Banh Mi. Juicy, slightly caramelised pork is combined with spicy mayo and pickled vegetables for a flavoursome brunch, lunch or dinnertime favourite. Don't skip the pickled vegetables; they are key to the complex, fresh flavor of this sandwich and add a much-needed crunch.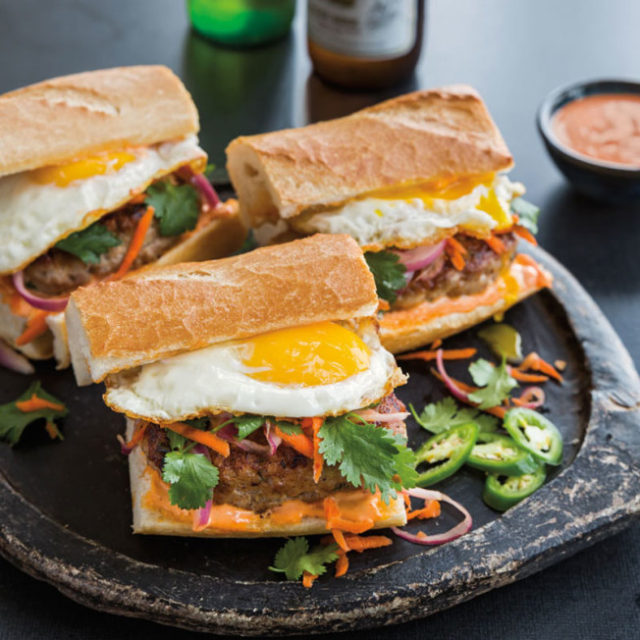 Serves: 4
Ingredients 
1 carrot, shredded
1/2 small red onion, halved and thinly sliced
3 1/2 tsp sugar
Kosher salt and freshly ground pepper
1/4 cup rice vinegar
1/2 cup mayonnaise
2 1/2 tbsp Sriracha (or any chilli sauce)
1 1/2 tbsp fresh lemon juice
500g pork mince
4 fresh basil leaves, chopped
2 spring onions, white and tender green portions, finely chopped
1 1/2 tbsp fish sauce
4 tsp vegetable or canola oil
4 eggs
1/2 cup fresh coriander leaves
1 French baguette
Method
Combine the carrot and red onion in a medium bowl. Add 1 1/2 tsp of the sugar, 1/2 tsp salt, the vinegar and 3 tbs water and stir to combine. Let stand at room temperature.
In a small bowl, stir together the mayonnaise, Sriracha and lemon juice. Let stand at room temperature.
In a large bowl, combine the pork, basil, spring onions, fish sauce and the remaining 2 tsp sugar. Form into four rectangular patties. Season both sides well with salt and pepper. Heat 2 tsp vegetable oil in a nonstick frying pan over medium heat. Add the patties and cook for 5 to 6 minutes per side until medium. Turn off the heat but keep the patties warm in the frying pan.
Heat remaining 2 tsp vegetable oil in a clean nonstick frying pan over medium heat. Fry the eggs for 5 to 6 minutes until set but still runny.
While the eggs are cooking, drain the liquid from the vegetables and stir in the coriander. Slice the baguette into 12cm lengths and split. Coat the cut sides of the baguette with the Sriracha mayo. Set the pork patties on the baguettes and top with the pickled vegetables and fried eggs. Close the sandwiches and serve immediately.
–If you'd like to brush up on your kitchen skills, head to the Williams-Sonoma Sydney Cooking School to learn the tricks of the trade. You can also check out all our recipes here.