It's plum season – and we love matching them with bold flavours, like the fragrant lime zest used in this tart crumble from Williams Sonoma.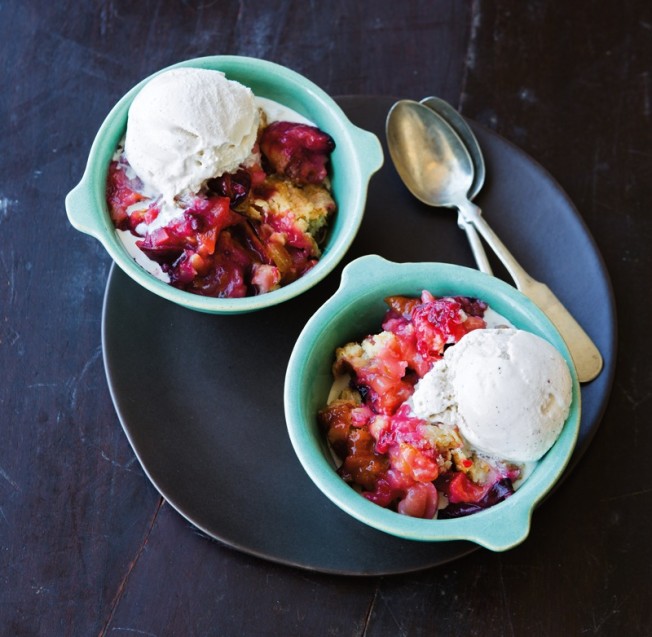 Ingredients
For the crumble topping:
1 1/2 cups (235 g) plain flour
3/4 cup (185 g) sugar
1 tsp salt
250g cold unsalted butter, cut into pieces
1 cup (90 g) rolled oats
For the filling:
1.75 kg plums, pitted and sliced
Finely grated zest of 2 limes
3/4 cup (185 g) sugar
1/4 cup (45 g) plain flour
Vanilla ice cream for serving (optional)
Method
Preheat the oven to 190°C. To make the topping, in a food processor, pulse the flour, sugar and salt until combined. Add the butter and pulse until the mixture resembles coarse crumbs. Add the oats and pulse to combine. Transfer to a bowl.
In a bowl, stir together the plums, lime zest, sugar and flour. Spread the fruit in a 23-by-33cm baking dish. Using your fingers, press the topping into large clumps and scatter over the fruit. Alternatively, divide the fruit mixture and topping among eight 1/2-cup (125 g) ramekins.
Bake until the fruit is bubbling and the topping is golden and crisp, about 1 hour for the baking dish or 30 minutes for the individual ramekins. Serve warm or at room temperature with ice cream, if you like. Serves 6-8.
–Taken from the Williams Sonoma cookbook Dessert of the Day.