This pineapple quinoa fried rice is a healthy take on a classic. Thanks to Australian Pineapples for this week's recipe.
Serves 2 | Preparation time: 10 minutes | Cooking time: 15 minutes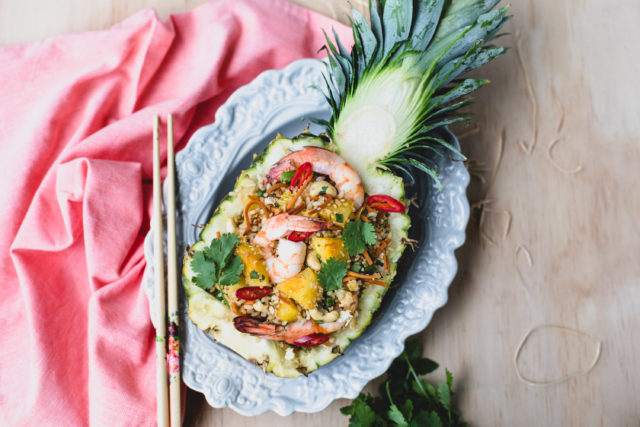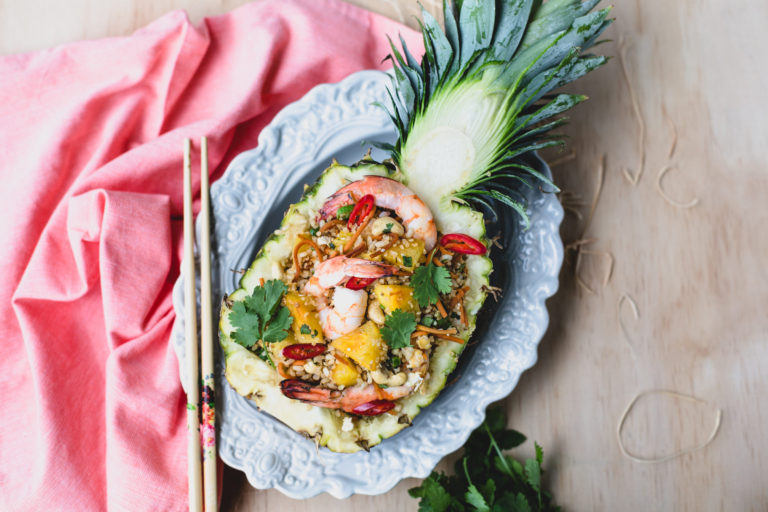 Ingredients
2 tablespoon olive oil
2 eggs
6 large green prawns, peeled
1 cup pineapple chunks
1 carrot, julienned
2 sprigs spring onion
2 tablespoons tamari
1 tablespoon fish sauce
¼ cup cashews
2 cups cooked and cooled quinoa (see note below)
1 cup cooked and cooled brown rice (see note below)
2 teaspoons sesame seeds
2 tablespoons fresh coriander, chopped roughly
Red long chilli, sliced finely, to serve
Tip: Use leftover rice that has been refrigerated, or for a speedy version look for pre-cooked quinoa and rice pouches. Freshly cooked, hot rice will make a too-sticky, glue-like texture in your fried rice.
Method
Heat 1 tablespoon oil in a large frying pan or wok over medium heat. Crack in the egg and scramble. Transfer the cooked egg out onto a plate.
Wipe the pan clean, return to medium-high heat and add 1 tablespoon oil. Add the prawns and cook for 1-2 minutes on each side or until they've turned opaque and light pink. Transfer to the plate.
Return the pan to the heat and add the pineapple. Cook for 2-3 minutes, stirring, until the pineapple begins to caramelise a little.
Reduce heat to medium, add carrot, spring onion, tamari and fish sauce, stir quickly.
Add quinoa and rice and stir-fry until they are mixed in well and warmed through, about 3 minutes.
Return the egg and prawns to the mix and sprinkle the lot with sesame seeds, fresh coriander and chilli to serve.