Today's recipe is brought to us by Australian Lamb and MasterChef winner Elena Duggan who created it as a quick week night meal to help us avoid the UberEats trap! "I wanted to create a fast, tasty, healthy dish that anyone can cook in under 30 minutes. I like to think of this recipe as the perfect takeaway swap," says Elena.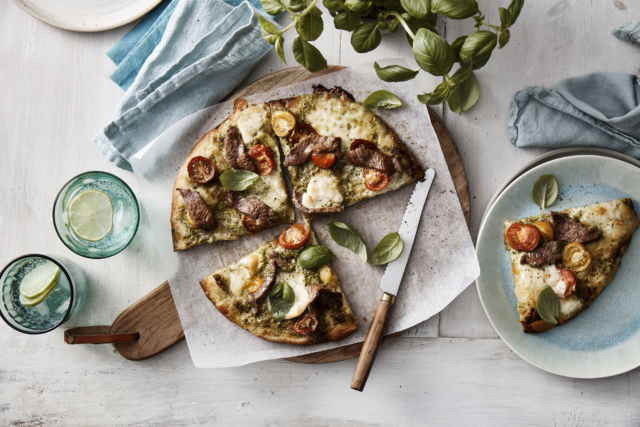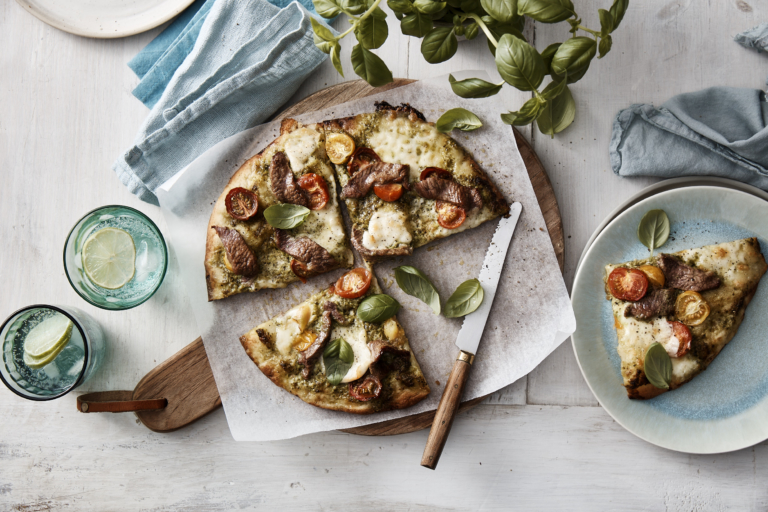 Serves: 2 | Preparation: 5 minutes | Cooking: 15 minutes
Ingredients
200g lamb steak, sliced finely
1 large pizza base
100g pesto
150g baby mozzarella/bocconcini
150g large heirloom tomatoes (sliced thinly) or cherry tomatoes cut in half
1 bunch basil leaves, to serve
Method

1. Preheat fan-forced oven to 180°C.
2. Place base on a pizza stone or tray and spread pesto evenly all over, leaving a 1cm border around the edge.
3. Evenly place tomato slices all over pizza ensuring topping on each slice.
4. Toss lamb slices in salt, pepper and a little oil, then scatter evenly over pizza.
5. Place bocconcini evenly over pizza.
6. Put pizza into the oven and bake for 12-15 minutes, or until crust is browned, cheese has melted, and lamb is just cooked.
7. Scatter fresh basil all over to serve.
Notes
Either lamb leg or lamb loin cuts would also work perfectly for this recipe.
Get creative with toppings and work with what you've got in the fridge or cupboard.
You can either make your own pizza base on the weekend and freeze or buy a premade one at the supermarket.