Brought to us by Jacob's Creek, today's recipe combines a classic Australian pavlova with a strawberry rosé syrup for a contemporary update. You can also pair the dessert with a glass of the wine label's new Le Petit Rosé which is currently housed in a gorgeous limited edition bottle designed by Australian artist Heidi Willis.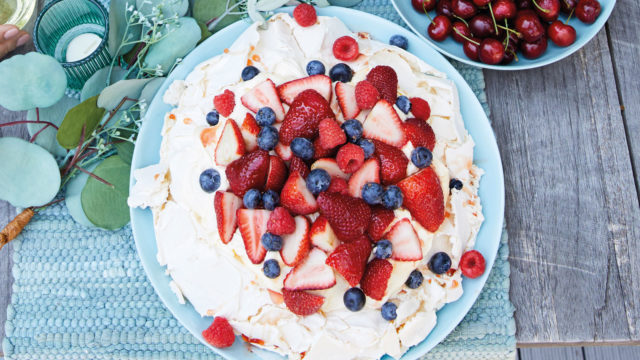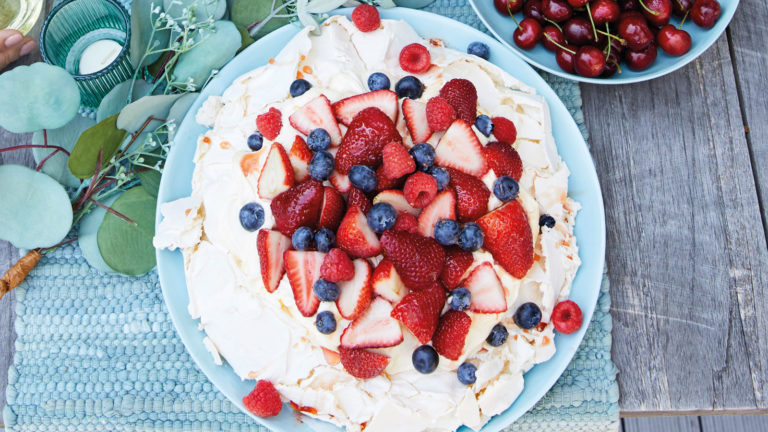 Prep: 15 mins (+ cooling time) | Cooking: 1 1/2 hours | Serves: 8-10
Ingredients
Pavlova:
6 egg whites, at room temperature
Pinch of salt
1½ cups (330g) caster sugar
1 tbs cornflour
1 tsp white vinegar
2 tsp vanilla bean paste
300ml thickened cream
Mixed berries, to serve
Fresh cherries, to serve
Strawberry Syrup: 
1 cup (250ml) orange juice*
½ cup (110g) caster sugar
100g strawberries, hulled, chopped
Method
Preheat oven to 140˚C (120˚C fan-forced). Line a baking tray with baking paper. Draw a 20cm circle on the paper and turn over. Lightly spray with olive oil spray.
Use an electric mixer to whisk the egg whites and salt in a clean, dry bowl until soft peaks form. Gradually add the sugar, 1 tbs at a time, whisking well after each addition until sugar dissolves and the mixture is thick and glossy. Add the cornflour, vinegar and half the vanilla. Stir until just combined. Use a large metal spoon to spoon the mixture onto the lined tray. Use a palette knife to shape into a disc, using the circle as a guide, and smooth the sides in an upwards motion to make a crown.
Reduce oven temperature to 120˚C (100˚C fan-forced). Bake for 1.5 hours or until pavlova is dry to the touch. Turn oven off. Leave the pavlova in the oven, with the door ajar, for 2 hours to cool completely.
Meanwhile, use an electric mixer to whisk the cream and remaining vanilla until soft peaks form. Cover and refrigerate until needed.
To make the strawberry syrup, place the wine or orange juice, sugar and strawberry in a small saucepan over medium heat. Cook, stirring, for 5 mins or until the sugar dissolves. Reduce heat to low and simmer for 5 mins or until the syrup thickens and reduces by about half. Set aside to cool slightly. Strain the syrup through a sieve into a jug. Discard solids.
Place the pavlova on a serving plate. Spoon over the cream and top with mixed berries and cherries. Drizzle with strawberry syrup to serve.
*You can swap the orange juice with Le Petit Rosé to add the perfect shade to pink to your pavlova.