Sweet caramelised onions and salty pancetta are combined in this rustic, easy-to-make dish from Williams Sonoma. Spaghetti is a very acceptable substitute if bucatini is hard to come by. Uncork a Trebbiano or other soft Italian white to balance the earthiness of the pasta.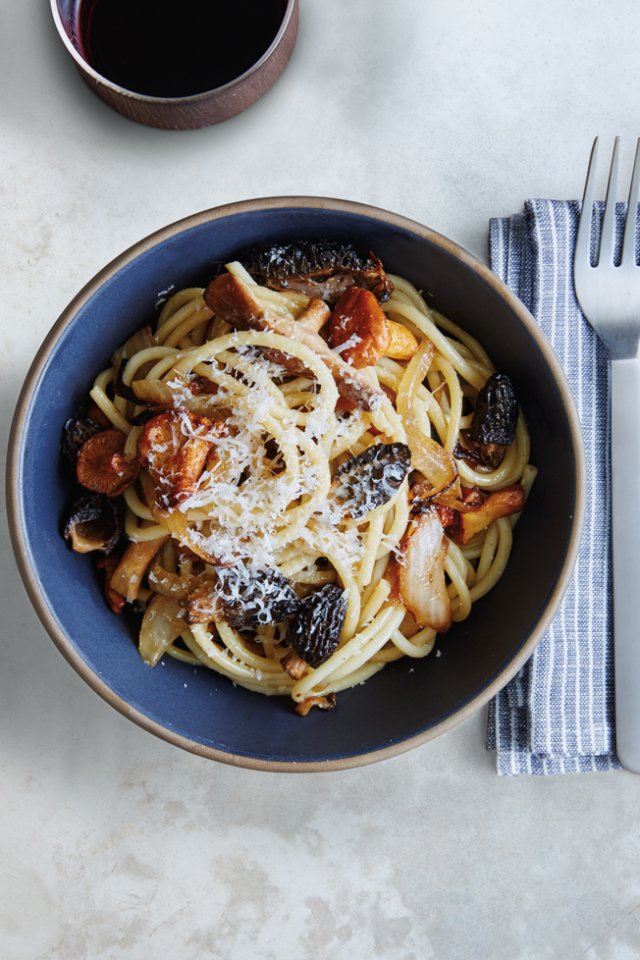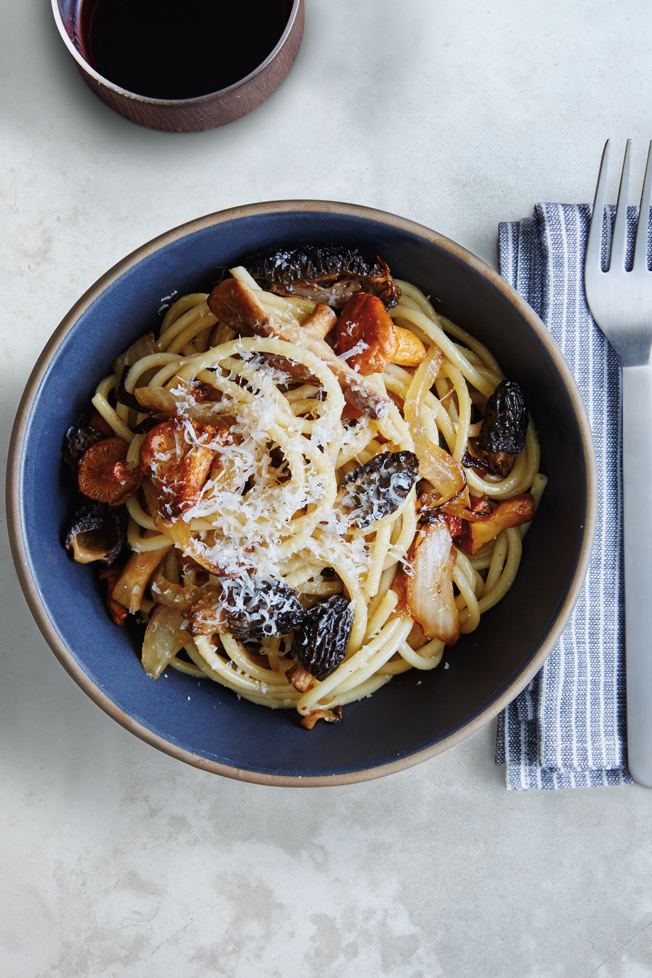 Ingredients
250 g pancetta, cut into 6mm dice
4 Tbs. olive oil
250 g mixed mushrooms, halved if large
1.25 kg red onions, brown onions or a mix, halved and very thinly sliced lengthwise
2 tsp. chopped fresh oregano
Salt and freshly ground pepper
500 g bucatini
1/2 cup (125 ml) dry white wine
1/2 cup (60 g) freshly grated pecorino cheese, plus more for serving
Method
1. In a large sauté pan over medium-low heat, sauté the pancetta until lightly crisped and a little of the fat is rendered, about 10 minutes. Using a slotted spoon, transfer to paper towels to drain.
2. In the same pan over medium heat, warm 2 Tbs. of the olive oil. Add the mushrooms and cook, stirring occasionally, until tender and lightly browned, about 5 minutes. Using a slotted spoon, transfer the mushrooms to a plate.
3. Add the remaining 2 Tbs. olive oil to the pan. Add the onions and stir until evenly coated with the oil. Cover and cook over medium-low heat until the onions are well softened, 15 to 20 minutes. Add the oregano, 1 tsp. salt and a generous grinding of pepper and cook, uncovered, until golden brown, creamy and greatly reduced in volume, about 30 minutes longer. Stir from time to time to prevent scorching.
4. Meanwhile, bring a large pot of salted water to a boil. Add the bucatini, stir and cook, stirring occasionally, until al dente, according to the package directions. Drain, reserving about 1/2 cup (125 ml) of the cooking water.
5. Raise the heat under the onions to medium-high, pour in the wine and stir to scrape up any browned bits from the pan bottom. Let simmer for a minute, then add the reserved pancetta and mushrooms with any accumulated juices. Transfer the pasta to the pan and toss gently to combine. Add one or two spoonfuls of the pasta cooking water to loosen the sauce, if needed. Sprinkle with the cheese and toss to combine. Divide among 4 shallow bowls and serve, passing additional cheese at the table.
Serves 4.