Hurray! Autumn is but days away now. Soon we'll be reaching for the socks and boots, pulling out the cable knit throws and craving comfort food like this gorgeous one-pan lasagne from Williams-Sonoma.
Simplicity is the key to this generous recipe, making it wonderful for an easy weeknight gathering of friends. All you need to add is a simple green side salad, lightly dressed with a zingy vinaigrette. The same large, ovenproof, nonstick pan can be used to fry the pancetta, onion and silverbeet, then to assemble and bake the lasagne, and finally to serve it at the table.
Speed things up further by using instant lasagne sheets (it'll say "no pre-cooking required" or "oven-ready" on the pack); soaking them in hot water first will ensure that they turn out tender rather than chewy.
Rainbow silverbeet, also known as rainbow chard or Swiss chard, is in season year-round in Australia. It's name comes from its distinctive multi-coloured stems in red, orange, yellow or purple. If you can't find it, regular silverbeet works perfectly well as a substitute.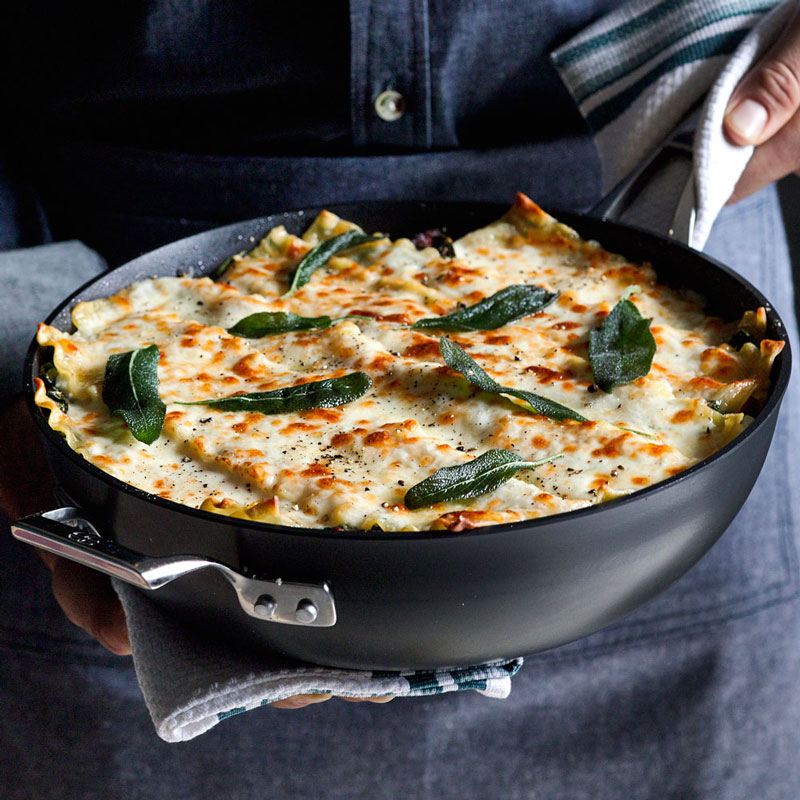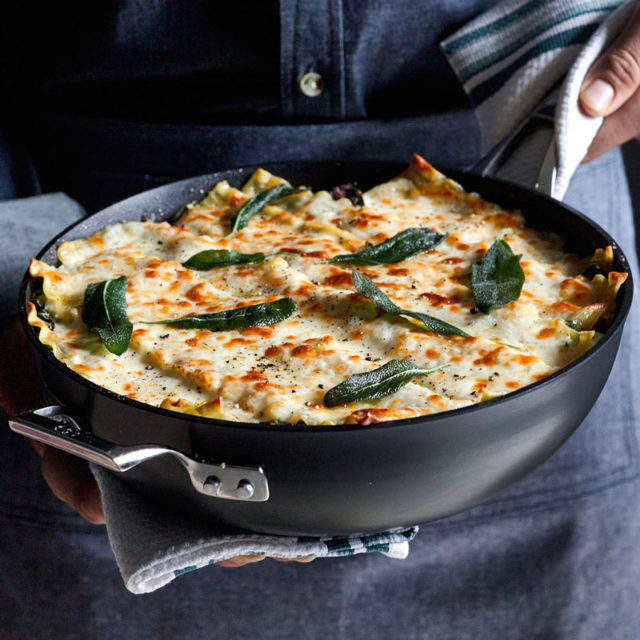 Yes, you can easily skip the fried sage leaves on top, but it would be a shame to miss their fragrance crunch and translucent, delicate beauty.
If you're serving straight from your nonstick pan, be sure to use a spatula or large serving utensil rather than a knife so you don't damage your cookware. It's a little messy negotiating all those strings of mozzarella and layers of pasta and greens, but that's all part of the fun!
Pancetta and Silverbeet Lasagne with Sage
Serves 6-8
Ingredients
For the ricotta filling:
2 cups (500 g) ricotta

1 egg

2 Tbsp finely chopped fresh sage

2 cups (250 g) shredded mozzarella

2 Tbsp milk

Sea salt and freshly ground pepper
For the pancetta filling:
375 gm thin pancetta slices

1 onion, diced

2 bunches rainbow silverbeet, stemmed and coarsely chopped
For the béchamel:
4 Tbsp (60 g) butter

¼ cup (45 g) plain flour

1½ cups (375 ml) full-cream milk

Sea salt and freshly ground pepper
For assembling:
250 gm instant lasagne sheets, soaked in hot water for 10 minutes

1 cup (125 g) shredded mozzarella
For the fried sage:
2 Tbsp olive oil

8 to 10 fresh sage leaves

Sea salt

Preheat an oven to 190°C.
Method
To make the ricotta filling, in a large bowl stir together the ricotta and egg until combined. Stir in the chopped sage and mozzarella, then stir in the milk. Season with salt and pepper. Set aside.
To make the pancetta filling, in a large frying pan over medium heat, working in batches as necessary, cook the pancetta slices until crisp and most of the fat is rendered out, about 6 minutes per side. Transfer the pancetta to a plate lined with a paper towel, leaving the fat in the pan. Add the onion to the pan and cook until softened, about 4 minutes. Add the silverbeet and cook, stirring frequently, until the silverbeet is wilted, about 2 minutes more. Transfer the silverbeet mixture to a bowl. Chop the cooked pancetta and stir into the silverbeet mixture. Set aside and reserve the pan to assemble the lasagne. 
To make the béchamel, melt the butter in a large, deep sauté pan or saucepan over medium heat. Add the flour and cook, whisking constantly, for 1 minute. Slowly whisk in the milk a little at a time and cook, stirring constantly, until thickened, about 4 minutes. Season with salt and pepper. Transfer half of the béchamel to a bowl. Spread the remaining béchamel into an even layer in the bottom of the pan. 
To assemble the lasagne, arrange a single layer of pasta sheets over the béchamel, cutting the sheets if necessary to make them fit. Spread a third of the pancetta mixture in an even layer on top, then a third of the ricotta mixture. Repeat the layers two more times: pasta, pancetta mixture, ricotta mixture. Add another layer of pasta and cover with the remaining béchamel sauce. Sprinkle with the extra 1 cup (125 g) mozzarella.
Transfer the pan to the oven and bake until the pasta is tender and the lasagne is lightly browned and bubbly, about 30 minutes.
Meanwhile, make the fried sage: In a small frying pan over medium-high heat, warm the olive oil until shimmering. Working in batches to avoid crowding, add the sage leaves to the pan and fry until slightly crisp, 3 to 4 seconds. Using a slotted spoon, gently transfer the leaves to a plate lined with paper towel to drain. Sprinkle the leaves with salt and set aside. 
Remove the lasagne from the oven and let cool for 15 minutes. Garnish with the sage leaves and serve hot.  
Love this idea? Head to williams-sonoma.com.au for all your new-season entertaining inspiration.