'Tis the season for sides. And nobody knows sides like Williams-Sonoma does! We're talking delicious salads and creatively roasted veggies that act as the tasty supporting act to all those Christmassy leading ladies: glazed ham, crackling pork, fresh prawns and roast turkey.
The best thing about this gorgeous cauliflower dish is its simplicity and use of humble, easy-to-source ingredients. Even if you're not the most confident cook, this is your chance to try something simple and a little unusual – with guaranteed delicious results.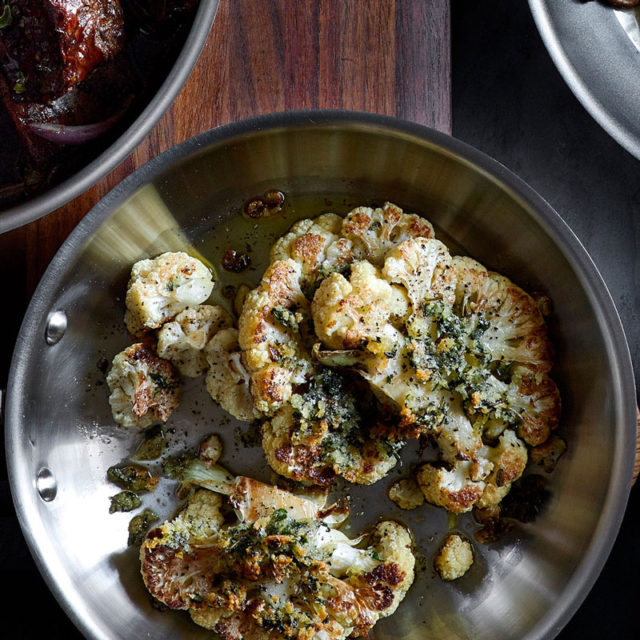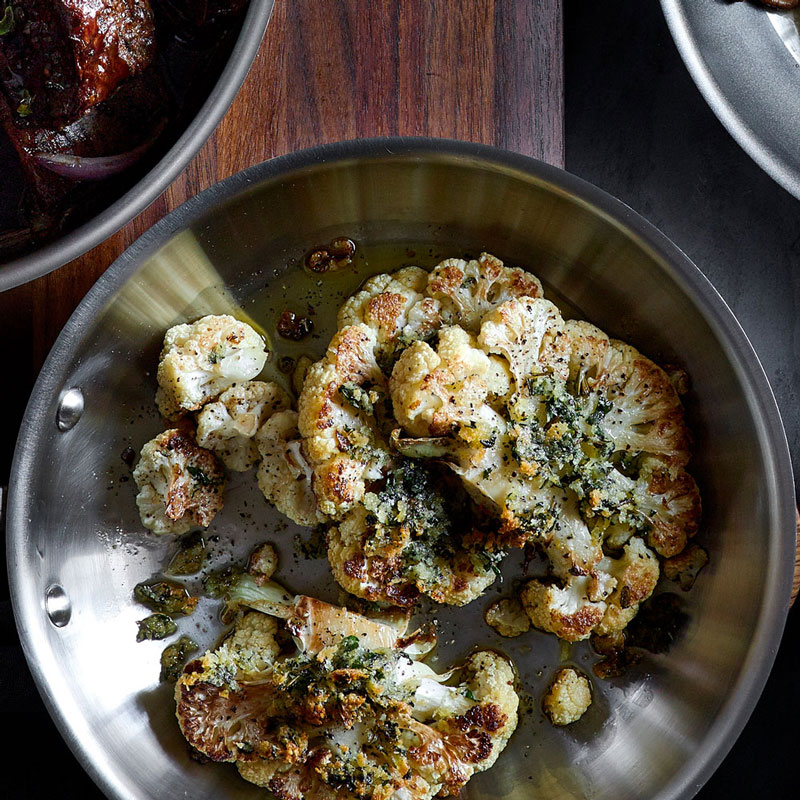 This recipe only uses a single head of cauliflower, to make about 4-to-6 generous side servings, but you can easily double or triple the recipe to meet your entertaining demands this season.
It's best served hot so the panko crumbs (a kind of Japanese-style breadcrumb available from most supermarkets and grocers) stay crunchy, but it's still delicious a little later or as leftovers! It's the perfect complement to any meat and seafood you might be serving, and a great filling dish for vegetarian friends.
Searing the hearty cauliflower "steaks" in a frying pan first before transferring them to the oven to continue roasting gives you the best of both worlds: a lightly browned, caramelised exterior and a moist, tender interior. Now, where's that riesling? 
Ingredients
1 head cauliflower

Sea salt and freshly ground pepper

100 ml (5 Tbsp)

olive oil

,

 plus more as needed

2 garlic cloves

1 shallot, chopped

½ cup flat-leaf parsley leaves

3 Tbsp

white balsamic vinegar

 

1 tsp honey

1 tsp Dijon mustard

¼ cup (30 g) grated parmesan

¼ cup (30 g) panko crumbs
Method
Preheat an oven to 200°C.
Trim the very bottom of the cauliflower stem, removing large leaves but leaving most of the stem attached to the head. Place the cauliflower, stem side down, on a chopping board and cut into 2.5cm slices. Season the slices with salt and pepper.
In a large ovenproof frying pan over medium-high heat, warm 2 Tbsp of the olive oil. In batches as necessary, add the cauliflower to the pan in a single layer and cook, turning once, until lightly browned, 4 to 5 minutes total. Return all the cauliflower to the pan and transfer to the oven. Roast for 15 minutes, turning the cauliflower once halfway through the cooking time. 
While the cauliflower is roasting, make the gremolata. In a blender, combine the garlic, shallot, parsley, balsamic vinegar, honey and mustard. Pulse until combined. Add 4 Tbsp of the olive oil and blend until the mixture forms a thick sauce, scraping down the sides of the blender as necessary and adding more olive oil if necessary to achieve the right consistency. Set aside.
In a small bowl, stir together Parmesan, panko crumbs and the remaining 3 Tbsp olive oil.
Remove the cauliflower from the oven and spoon the parsley mixture on top. Sprinkle with the panko mixture and return to oven until cauliflower is tender and the panko crumbs are lightly browned, about 5 minutes more. Serve immediately.
–Head to williams-sonoma.com.au  for all your entertaining needs this season.