Quick-cooking mussels are perfect for an easy weeknight dinner. This recipe from Williams-Sonoma combines mussels with fennel and saffron for an especially aromatic dish. Be sure to discard any mussels that are open when raw, unless they close when you tap them on your work surface, and then discard any that remain closed once they've been cooked. Serve with plenty of fresh crusty bread for sopping up the delicious liquid.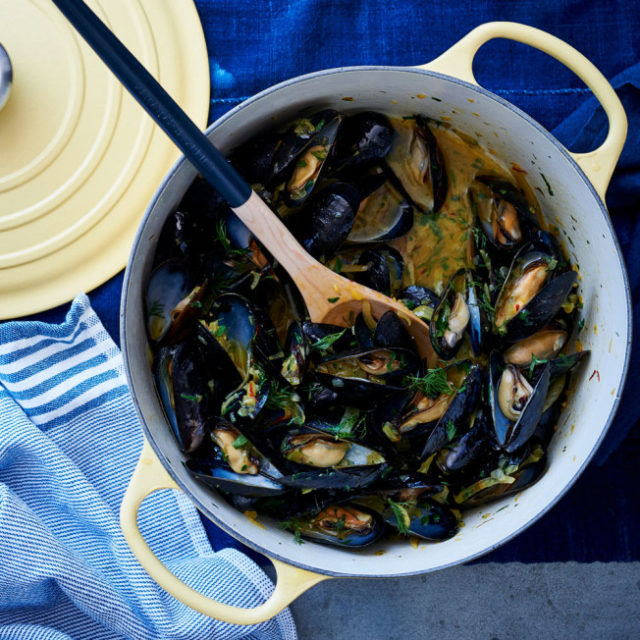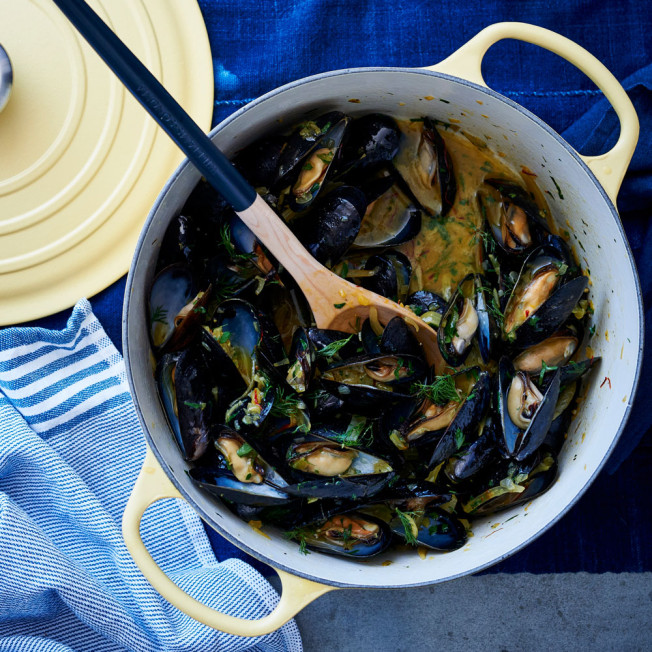 Ingredients
3 tbsp unsalted butter
3 shallots, minced
1 small fennel bulb, thinly sliced and fronds reserved
1½ cups (375 ml) dry white wine
½ cup (125 ml) chicken or fish stock
½ tsp saffron threads
Freshly ground black pepper
1.25 kg mussels, cleaned thoroughly
Baguette slices, for serving
Method
Melt the butter in a Dutch oven or large saucepan over medium-high heat. Add the shallots and sliced fennel bulb and saute for 3 to 5 minutes until tender. Add the wine and stock to the pot and crumble in the saffron threads. Season to taste with pepper. Bring the liquid to a simmer and cook, uncovered, for 4 to 5 minutes until the broth is aromatic.
Add the mussels to the pot, discarding any that do not close to the touch. Cover the pot and steam the mussels for about 5 minutes until they open, shaking the pan occasionally so they cook evenly. Discard any mussels that did not open.
Chop the fennel fronds to make about 3 tbsp. To serve, ladle the mussels and broth into warmed bowls and sprinkle with the chopped fennel fronds. Serve immediately with baguette slices for dipping in the broth. Serves 2 to 4.
–If you enjoyed this recipe you can try many more at the Williams-Sonoma Sydney Cooking School. Whether you're a beginner or an experienced cook, book yourself in to learn a range of cooking techniques and cuisines.