Here's something stickily delicious for the barbecue! The team at Williams Sonoma share their pork chop recipe which is sure to become a summer favourite.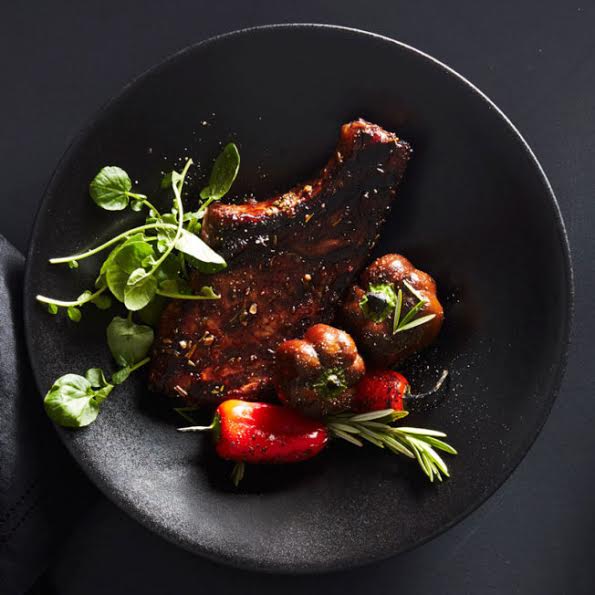 Ingredients
4 bone-in pork loin chops, each about 280g and 2cm thick
1/4 cup (60ml) maple syrup
1/4 cup (60ml) balsamic vinegar
1 tbs. Dijon mustard
1/4 tsp. chipotle chile powder
1 garlic clove, minced
1 tbs. chopped fresh rosemary
Salt and freshly ground pepper
Olive oil for brushing
Flaky sea salt for sprinkling
Method
1. Remove the pork chops from the refrigerator about 30 minutes before cooking.
2. Meanwhile, in a small saucepan over medium-high heat, combine the maple syrup, balsamic vinegar and Dijon mustard and cook, stirring occasionally, until slightly reduced and thick enough to coat the back of a spoon. Should take about 10 minutes. Stir in the chile powder, garlic, rosemary and 1 tsp. salt. Pour about 1/3 of the mixture into a separate bowl and set aside for finishing the pork chops.
3. Pat the pork chops dry and season generously with salt and pepper. Brush the 2/3 balsamic vinegar mixture on both sides of the pork chops.
4. Preheat and oil a barbecue or grill pan. Place the pork chops on the grill and cook for four minutes on each side, or according to your desired doneness. If cooking in a pan, you may need to do this in two batches.
5. Transfer the cooked pork chops to a platter, cover and keep warm. Transfer the second batch to the platter and rest for five minutes.
6. Divide the pork chops among four plates, drizzle with the remaining 1/3 balsamic vinegar mixture, sprinkle lightly with flaky sea salt and serve immediately.
Serves 4.