This week's recipe is a contemporary take on an Aussie classic and is brought to us by Maxwell Williams. The tableware brand has styled the pretty recipe on its Cashmere Birdsong range that features native Australian bird designs created by Queensland-based wildlife artist Katherine Castle.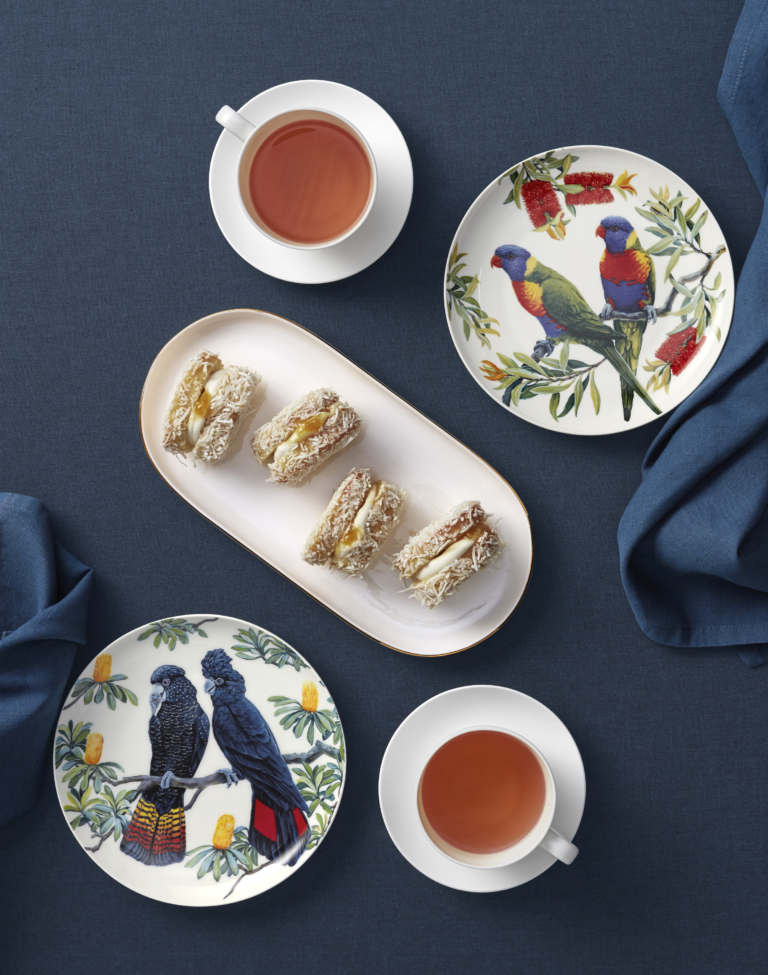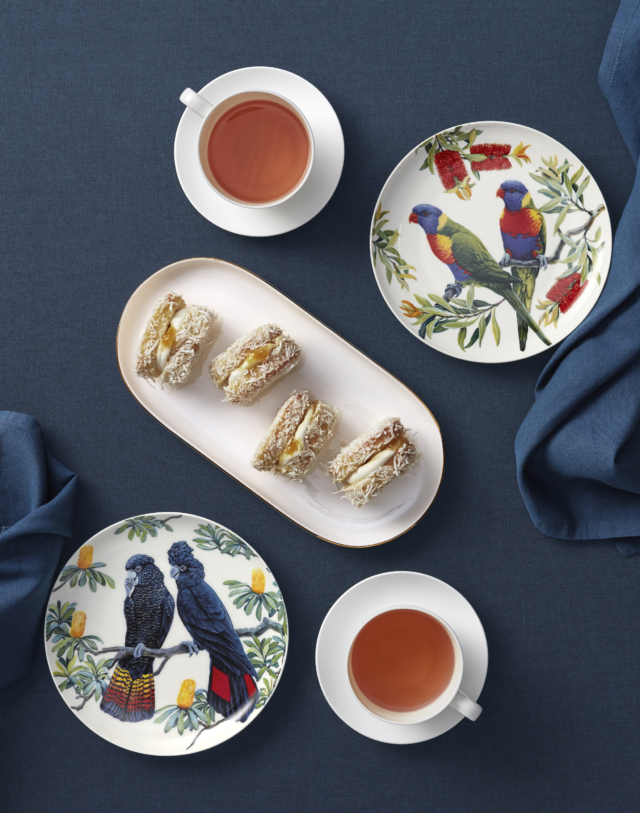 Preparation: 70 minutes | Cooking: 20 minutes | Serves: 12
Ingredients
2/3 cup (60g) desiccated coconut
1 cup (70g) almond meal
1 cup (150g) plain flour
2 cups (300g) icing sugar
1 tsp baking powder
8 egg whites
1 tsp vanilla bean paste
Finely grated zest of 1 orange
250g unsalted butter, melted, cooled
2 1⁄2 cups (625ml) boiling water
To garnish
2 cups (140g) shredded coconut
1 large mango, sliced and skin removed
85g packet mango jelly crystals
200ml thickened cream, lightly whipped
100g mango jam
Method
1. Preheat oven to 160°C fan forced (180°C conventional) and grease 12 holes in a friand pan.
2. Place the desiccated coconut, almond meal, flour, icing sugar and baking powder in a processor and pulse a few times to combine and remove any lumps.
3. Place egg whites in the bowl of an electric mixer and whisk very lightly until frothy. Softly fold in the vanilla bean paste. Add the dry ingredients, orange zest and butter, then gently stir to combine.
4. Divide mix among the friand tray and bake for 20 minutes or until light golden brown and a skewer inserted in the centre comes out clean.
5. Cool slightly in the trays, then invert onto a wire rack to cool completely.
6. Meanwhile, process flesh of one mango until smooth. In a separate bowl, combine jelly crystals with 2 1⁄2 cups (625ml) boiling water, stirring to dissolve crystals. Stir in 2/3 cup of mango pulp. Chill mixture for 40 minutes or until jelly is the consistency of egg whites.
7. Trim the tops of the friands to give a flat surface. Dip cakes in jelly then toss in coconut. Cut each cake in half through the centre, then fill with cream and mango jam. Serve.