World Egg Day was last week and, to celebrate, Australian Eggs has shared this interesting recipe. A popular Korean rice dish, bibimbap consists of rice topped with sautéed vegetables, meat, spicy sauce and quite often, a fried egg.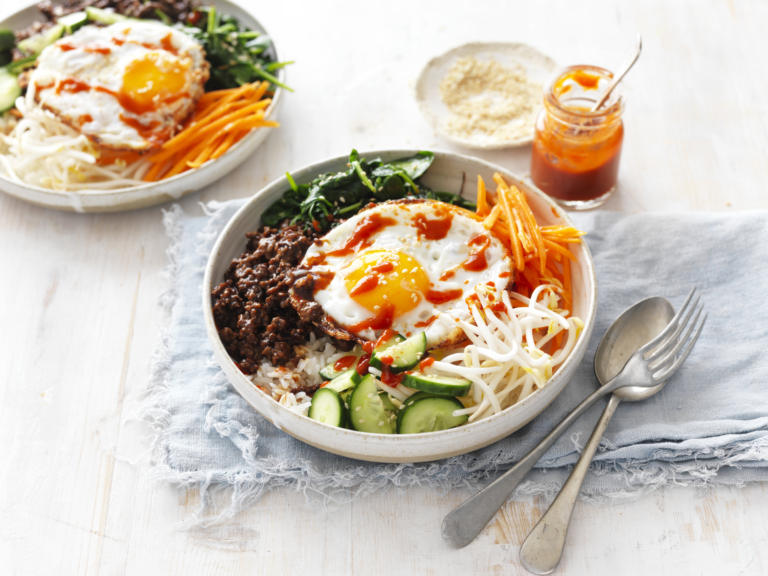 Prep time: 30 minutes | Cooking time: 20 minutes | Serves: 4
Ingredients
2 tablespoons olive oil
4 garlic cloves, crushed
1½ cups jasmine rice
1 teaspoon sesame oil
180g baby spinach leaves
3 teaspoons toasted sesame seeds
500g lean beef mince
1 tablespoon finely grated fresh ginger
1/4 cup oyster sauce
1½ tablespoons salt-reduced soy sauce
1½ tablespoons brown sugar
4 eggs
2 small carrots, cut into matchsticks
2 small Lebanese cucumbers, halved lengthways, thinly sliced
1 cup bean sprouts, trimmed
1 tablespoon Sriracha (chilli sauce) or gochujang, to serve
Method
Heat 2 teaspoons of olive oil in a medium saucepan over medium heat. Add half the garlic and cook, stirring, for 2 minutes or until fragrant. Add rice and stir to coat. Add 2½ cups water and bring to the boil. Reduce heat to medium-low and simmer, covered, for 12 minutes or until water has been absorbed. Remove from heat. Stand, covered, for 10 minutes.
Heat sesame oil in a large frying pan over medium-high heat. Add spinach and cook, stirring, for 2 minutes or until just wilted. Stir in half the sesame seeds and season with salt and pepper. Transfer to a bowl. Cover to keep warm.
Heat 2 teaspoons olive oil in same pan over high heat. Cook mince, breaking up with a wooden spoon, for 5 minutes or until browned. Add ginger and remaining garlic. Cook, stirring, for 1 minute or until fragrant. Add oyster sauce, soy sauce and sugar. Cook, stirring, for 2 minutes or until beef is coated and sauces are warmed through. Transfer to a bowl. Cover to keep warm.
Heat remaining olive oil in same frying pan over medium-high heat. Crack eggs one at a time into hot pan. Cook for 2 minutes, until the whites are set and crispy around the edges.
Divide rice among serving bowls. Arrange carrot, cucumber, sprouts, spinach and beef over rice. Top with eggs. Sprinkle with remaining sesame seeds and drizzle with Sriracha sauce.
Tip: For a flavour hit, you can quick pickle the carrot and cucumber in about ¼ cup rice wine vinegar, 1 tbsp sugar and ½ tsp salt. Stir to combine and set aside for about 30 minutes. Gochujang is available from the Asian aisle of large supermarkets or Asian grocers.