This recipe is taken from the Kids In the Kitchen ebook from Westinghouse and Australia's favourite home cook and mum, Julie Goodwin. Download it free for 11 more recipes.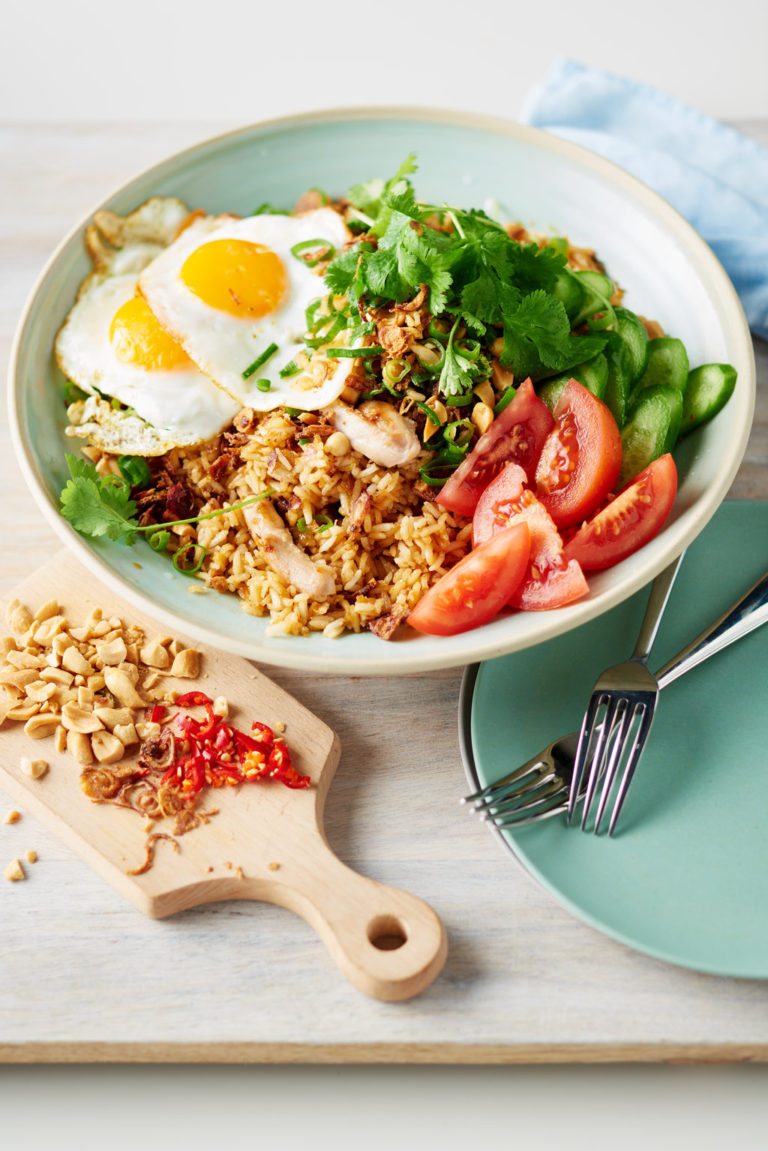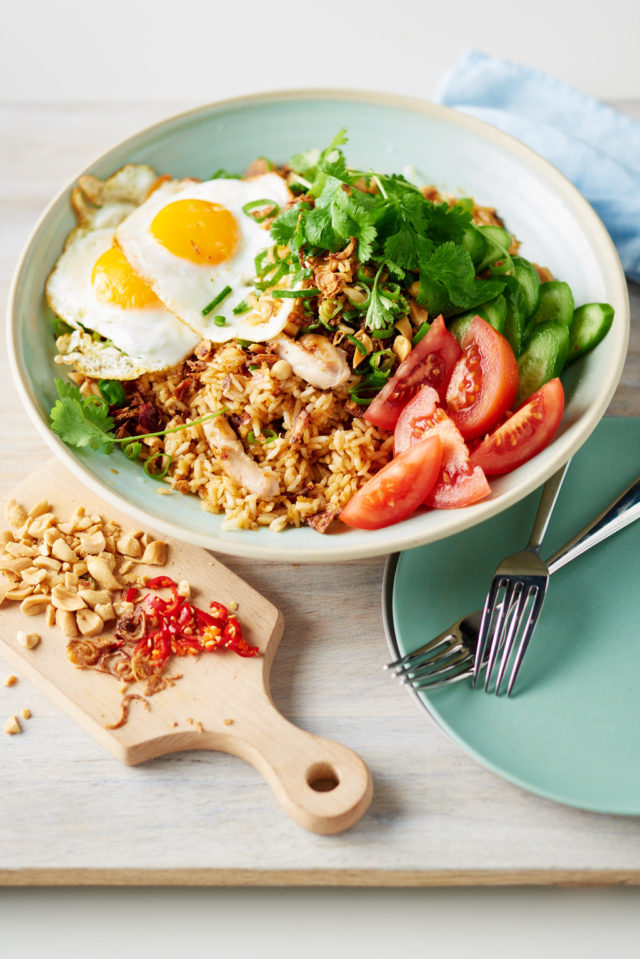 Ingredients
1 tablespoon peanut oil
2 cups of jasmine rice
2 chicken thigh fillets
2 garlic cloves
1 brown onion
2 teaspoons shrimp paste
½ cup light soy sauce
½ cup brown sugar
1 Lebanese cucumber
1 ripe tomato
3 shallots
1 long red chilli
4 eggs
2 tablespoons hot chilli sauce
¼ cup crispy fried shallots
¼ cup roasted salted peanuts
Method
1. Put the chef pan over a high heat with half the oil in it. Put the rice in the rice cooker with 3 cups of water and put the lid on. Microwave on high for 18 minutes.
2. Cut the chicken thighs into strips, about 8 pieces each. Place the chicken in the pan.
3. Peel the garlic and peel and quarter the onion. Place in the mini food processor and blitz until finely chopped. Add to the chicken in the pan and stir for a minute or until starting to soften. Add shrimp paste and stir through, cooking for a further minute. When the chicken is cooked through, turn off heat.
4. In a bowl, combine the soy sauce and the brown sugar. Slice the Lebanese cucumber finely on the diagonal. Slice the tomato. Peel the shallots and slice. Slice the long red chilli.
5. Heat the frypan over a medium-high heat and add the remaining oil. Fry the eggs sunny side up.
6. Turn the chef pan back on and pour in half the soy sauce mixture and the chilli sauce. When the rice is cooked, tip it into the pan and stir to mix thoroughly.
7. Divide the rice among 4 plates and top with equal amounts of crispy shallots, shallots, chilli and peanuts. Place the egg on the top of each plate and put the cucumber and tomato beside the rice. Serve with remaining sweetened soy sauce.
Kids in the kitchen can:
Measure the ingredients
Peel the garlic
Blitz ingredients in the food processor
Combine soy sauce and brown sugar mixture
Older kids (10+) may also slice the tomato and cucumber.