A delicious homemade curry made from an age-old curry paste recipe combined with coconut milk, mushrooms, zucchini, bok choy and prawns topped with fresh chilli and coriander leaves.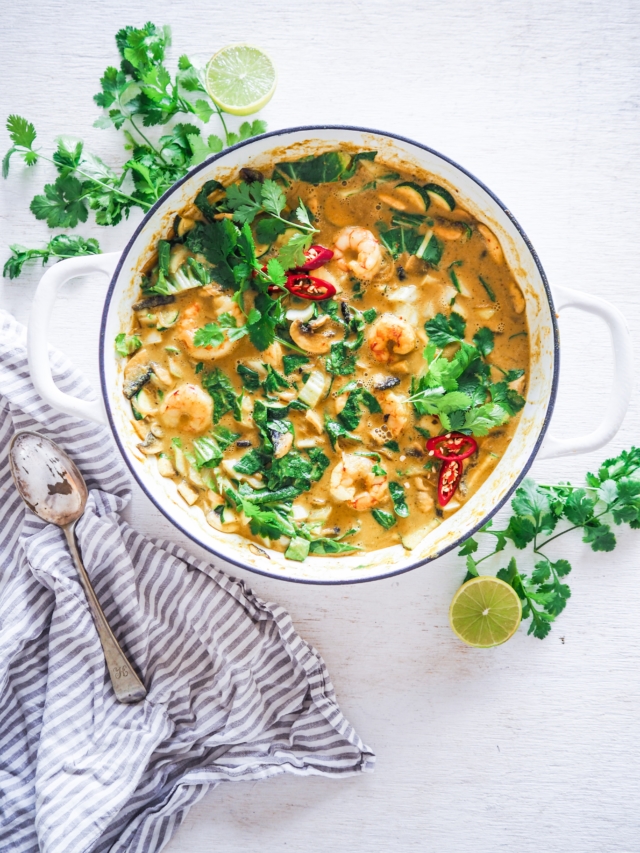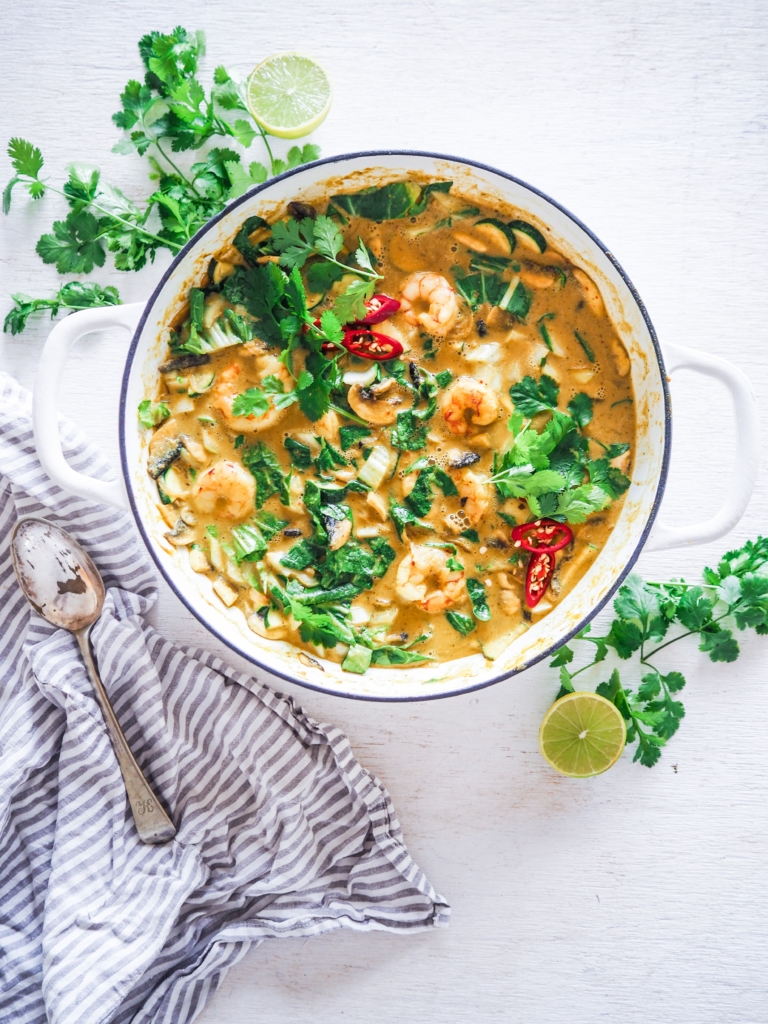 Clinical nutritionist and recipe creator Rosie Eyre says: "This is the most delicious curry. It is due to making the curry sauce from scratch. This does actually sound quite scary to do this. You have to trust me, it is so easy to make. This whole dish took me 22 minutes from start to finish. Meaning it is the most easy dish to whip together any day or night of the week. Make a big batch for meal prep and have throughout the week or freeze some and take out for later. The lovely thing about this dish is you do not need to stick to prawns; you can use just a selection of vegetables, tofu, chicken thigh, fish etc. Make it vegetarian, pescatarian, vegan or omnivore."
Serves 2-to-3 
Ingredients
For the curry paste:
1 small red onion, peeled and quartered
2 thumbs fresh turmeric or 1 tsp powder
4 thumbs of fresh ginger
1/2-1 whole red chilli (optional)
4 kaffir lime leaves
1 tsp curry powder
1 bunch coriander stalks (saves leaves to serve)
1 fresh lime, juiced
2 tbsp olive oil
1 tsp soy or tamari sauce
For the curry:
1 red onion, finely sliced
1 zucchini, sliced into half moons
150g mushrooms, sliced
400ml coconut milk (good quality brand)
1 bunch bok choy or Asian greens, roughly chopped (include stalks)
300g prawns (or tofu, chicken thigh (chopped into 2cm cubes), extra vegetables)
1 tbsp brown sugar/honey/coconut syrup
1 tbsp soy or tamari sauce
To serve:
handful of coriander leaves
1 fresh lime
1 cup cooked rice/noodles or
Method
Prep all of your ingredients first. In a food processor or blender add all of the curry paste ingredients and blitz until really smooth.
Heat a large frying pan over medium-high heat, add a good drizzle of olive oil, once hot add onion and fry for 2-4 minutes until soft and fragrant. Turn heat down to medium heat.
Add curry paste and let it cook for 2-4 minutes until all ingredients are fragrant.
Add in mushrooms to pan and toss to coat in paste for 2 minutes.
Add coconut milk, stir well and bring to a simmering boil. Then add zucchini and cook for 1-to-2 minutes.
Add prawns (or protein of choice), 1 tbsp brown sugar and 1 tbsp soy sauce, stir well, bring to boil then down to a simmer until protein is cooked through. Stir through bok choy for 1-2 minutes until wilted.
Serve with coriander leaves and fresh lime.