In this recipe, softened butter combined with herbs, lemon zest and garlic adds flavour to a roast chicken for a deliciously heartwarming one-dish meal.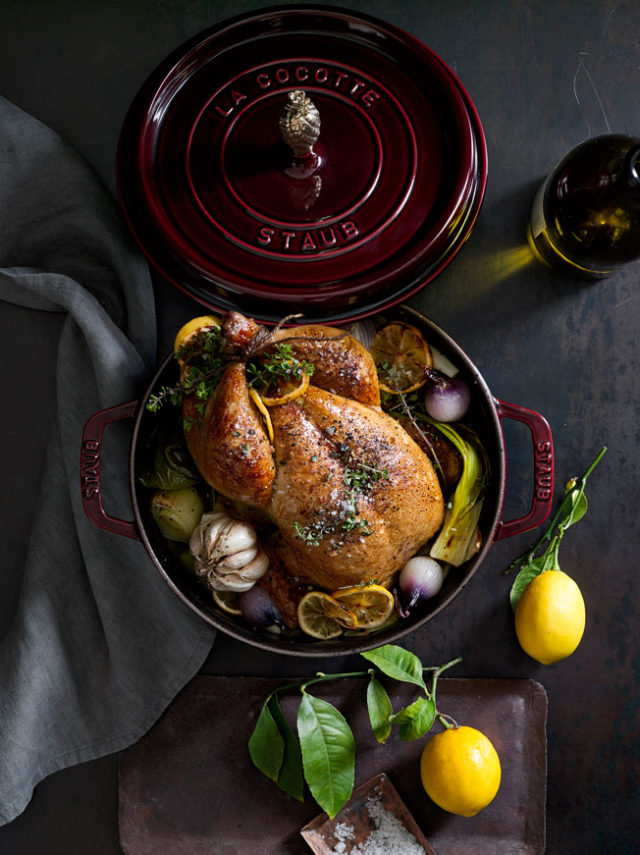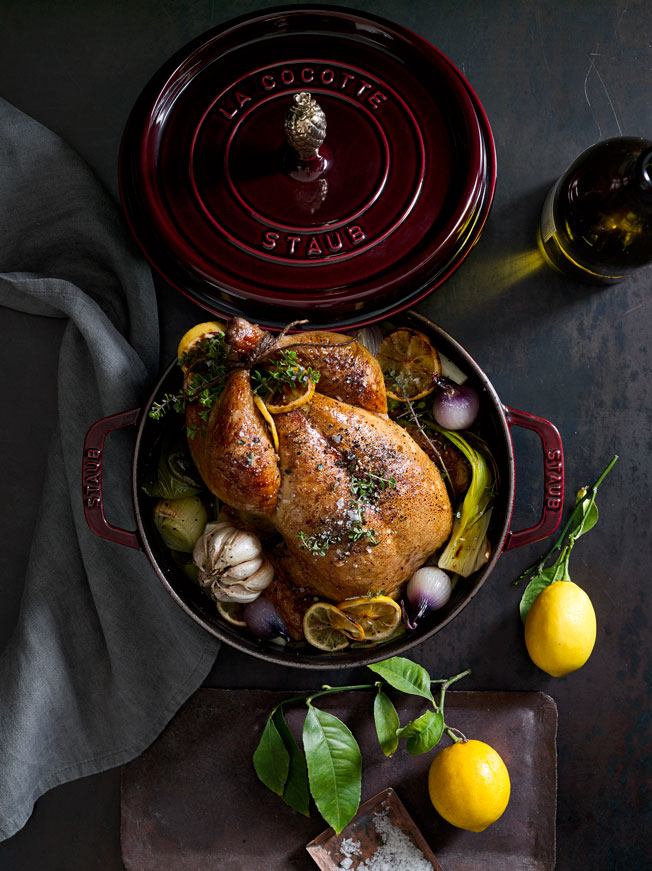 Ingredients 
1 chicken, about 2 kg

2 1/2 tsp. salt

1/2 tsp. freshly ground black pepper

2 lemons, thinly sliced

1 1/2 tsp. chopped fresh chives

1 tbs. chopped fresh thyme

1 tbs. chopped fresh oregano

2 tbs. chopped fresh flat-leaf parsley

1 tbs. chopped fresh tarragon

2 tsp. finely grated lemon zest

2 garlic cloves, finely chopped, plus 1 garlic head, halved crosswise

3-4 tbs. (60 g) butter, at room temperature

1 bunch spring onions, halved lengthwise if large

2 tbs. olive oil
Method
1. Preheat an oven to 220°C.
2. Rinse the chicken inside and out and pat dry with paper towels. Season the chicken inside and out with the salt and pepper and place half of the lemon slices inside the chicken cavity. Tuck the wing tips behind the back and tie the legs together with kitchen string. 
3. In a small bowl, stir together the chives, thyme, oregano, parsley, tarragon, lemon zest and chopped garlic. Add the butter and stir until the mixture is thoroughly combined. 
4. Starting at the cavity, slip your fingers underneath the chicken skin and loosen it all over, being careful not to tear it and reaching as far as possible into the thigh area. Using your fingers, rub the butter mixture under the skin, distributing it as evenly as possible.
5. Place the chicken, breast side up, in large round dish or Dutch oven and add the remaining lemon slices, garlic head and spring onions to the pot and drizzle with the olive oil. Roast the chicken until the skin is well browned, about 50 to 60 minutes.
6. Transfer the chicken to a carving board, cover loosely with aluminium foil and let rest for 10 minutes. Carve the chicken and serve immediately with the lemon slices, garlic and spring onions alongside. Serves 4.
–From the Williams Sonoma Test Kitchen