Today's recipe comes from Rosie at By Rosie (formerly The Rosedog Blog)…
"My Greek-style stuffed capsicum is a winning meatless feed. The filling is made from raw whole buckwheat, homemade spicy tomato, chipotle and turmeric sauce topped with a strong Greek feta and baked in the oven. Served with a squeeze of fresh lime.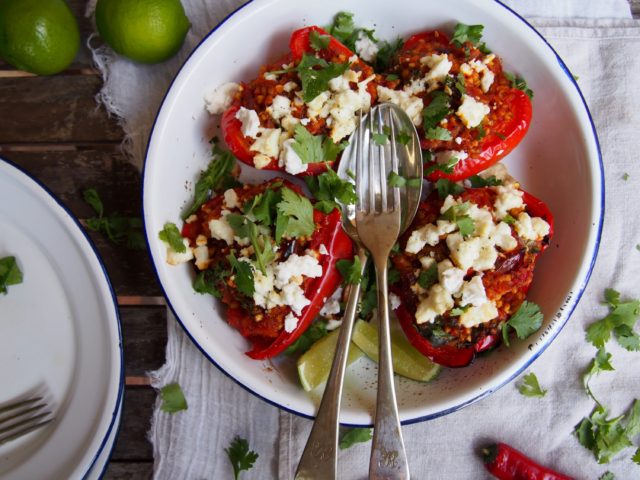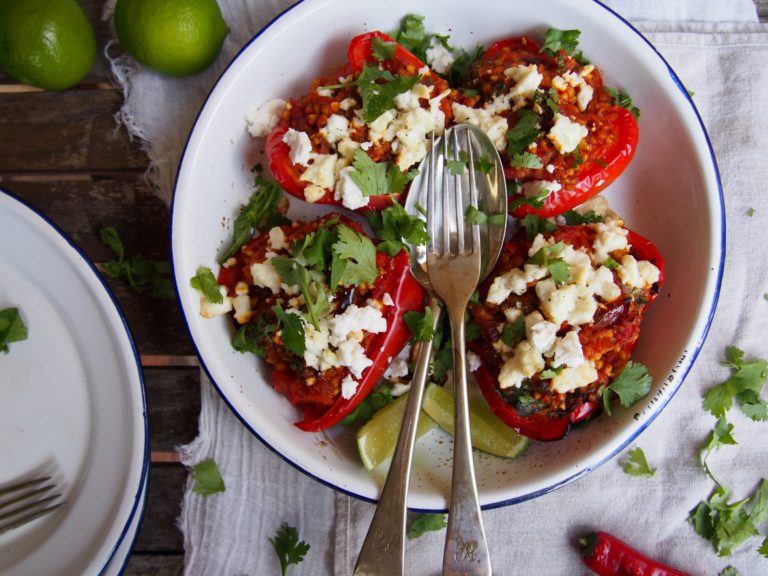 Raw capsicums have the highest levels of vitamin C in any fruit or veggie around (sufferers of colds and flu, you need to be eating these raw). Buckwheat (gluten-free) is a brilliant seed which allows slow release energy throughout the day. Perfect for people with diabetes, it will help maintain a steady environment with a slow release of glucose. Turmeric is the God of all spices, known to be anti-inflammatory, anti-microbial, anti-bacterial and anti-fungal."
Serves 2-4
Ingredients
½ cup whole raw buckwheat
1.5 cups cold water
2 Lg Capsicum
1 Tbsp coconut oil
1 red onion, finely diced
2 Thumbs raw turmeric, finely grated
2 garlic cloved, minced
1 red chilli, finely chopped
2-3 chipotle chillies in abodo sauce (or 3-4 tsp chipotle chilli)
1 tin diced tomatoes
Sea salt and pepper
½ bunch coriander leaves, roughly chopped
½ cup Greek feta, crumbled
1 Lime, squeezed (to serve)
2 Tbsp Greek Yoghurt (optional to serve)
Method
Pre-heat oven to 180c. Rinse the buckwheat in a sieve before adding to a medium saucepan with 1.5 cups cold water. Bring to the boil before letting it simmer for about 20-25 minutes (until buckwheat is soft but not mushy).

Whilst the buckwheat is cooking. Pop the whole red capsicums (stalks and all!) on a baking tray and place in the oven for 5-7 minutes.

During this time, grab a large frying pan, add coconut oil, when melted add onions, garlic and turmeric and lightly fry until soft and fragrant.

Add the chillies (fresh and chipotle) and heat for a further 2-4 minutes.

Add tin of tomatoes, 1/2 re-fill the tin with cold water and add to sauce mixture. Bring to a boil, then slowly simmer until sauce has thickened (probably around 10-15 minutes). Add salt and pepper. Season to taste.

Remove capsicums from oven, chop in half and remove stalks and seeds (be careful not to burn hands). Place back on baking tray.

Buckwheat should be cooked by now. Remove any excess water by using a sieve. Rinse quickly in cold water, pop to one side.

If sauce has thickened and all excess water has boiled off, add the buckwheat to the spicy tomato sauce. Stir well before adding half of the coriander leaves.

Evenly distribute stuffing into capsicum. Sprinkle with feta and pop into oven for 20-25 minutes. Serve with final sprinkling of coriander and a wedge of lime squeezed over. Optional couple of dollops of Greek yoghurt to serve.