Today's recipe is by Rosie Eyre of By Rosie
Figs are heavily in season at the moment and saddle so well in salads. This nutritious side dish is a heavenly combination of shredded pickled cabbage, fresh juicy orange segments, fresh figs, basil leaves and crumbled goats cheese followed by a drizzle of pomegranate molasses. Simple and delicious to throw together.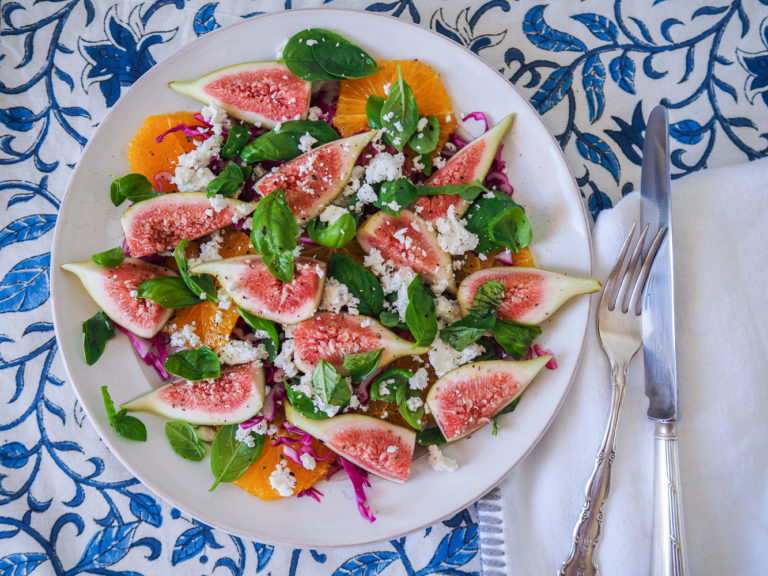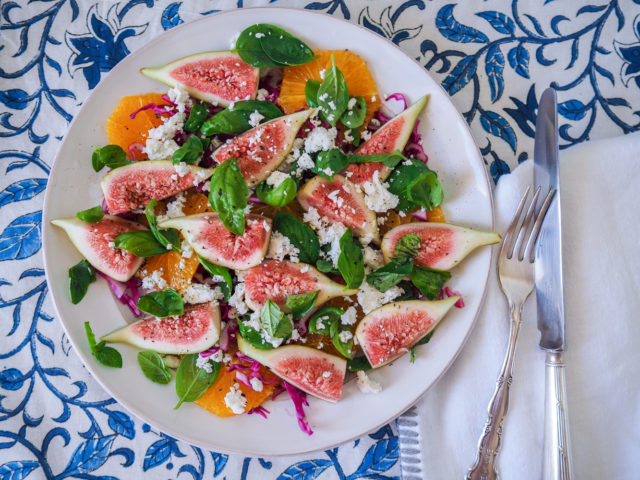 Why is it good for you?
Raw cabbage is a great source of beta carotene (this is the precursor that helps vitamin A do its job – so great for your eye sight, helps with the making of protein in the body as well as supporting reproduction) a good source of vitamin C (immunity, cell health), K (blood clotting and bone building) and folate (helps reduce birth defects).
Oranges are a great dose of vitamin C, but also a good source of potassium, folate and thiamine. Oranges are also rich in flavonoids and antioxidants which will help nourish your immune system and high in soluble fibre which will aid with your cholesterol levels. 
Figs are high in fibre which is beneficial for your digestive system and can aid in high cholesterol. Containing potassium which is crucial to maintain a fluid balance in the body, by helping to maintain water balance as well as proper nerve and muscle impulses. Raw figs also contain a significant source of calcium which can be great for bones, skin, nails and hair.
Basil is a great alkalinising and detoxifying herb, rich with vitamin C to aid with immunity but also a great anti-inflammatory as well as nourishing your digestion and help to eliminate oxidising free radicals.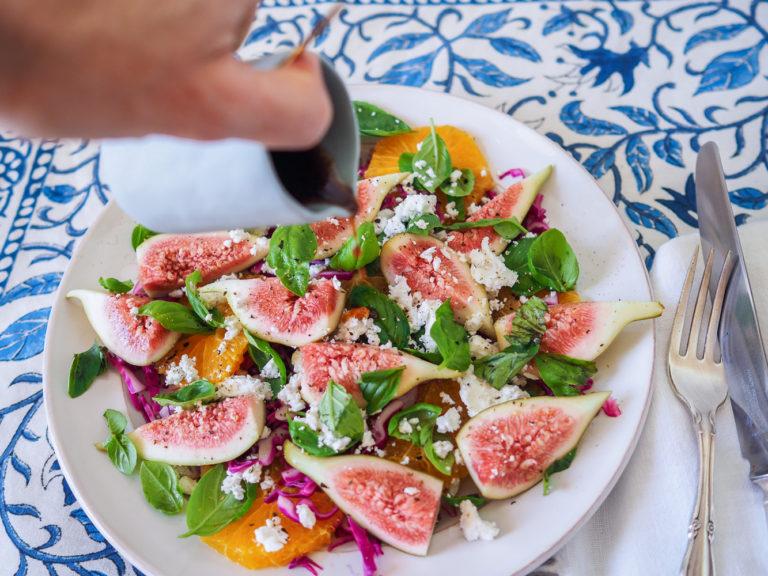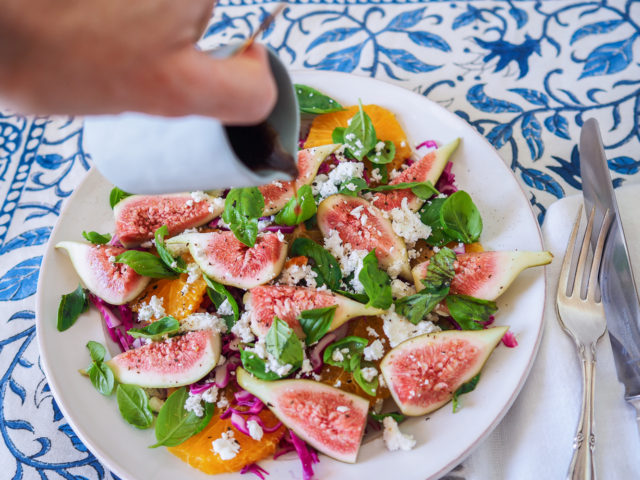 Ingredients
1 cup shredded cabbage (pickled in 1 tbsp apple cider vinegar)

1 orange, peeled, segmented or sliced

3 figs, quartered

50 grams soft goats cheese, crumbled

1/4 cup basil leaves

1 tablespoon pomegranate molasses, drizzled
Method
Grab a large plate, pickle the cabbage by adding the apple cider vinegar to it and massaging it into the cabbage, let it sit for 5 minutes.
Add to plate. Followed by orange segments, quartered figs, basil leaves, goats cheese and finally drizzle with a little pomegranate molasses.
Finish with a pinch of salt and pepper and serve alongside a BBQ