Easter may be well behind us, but we're still mad for eggs, especially in the form of this one-dish winner from Williams Sonoma. Sure it's a breakfast standard, but there's no reason you can't make this into a delicious, super-simple weeknight dinner.
First up, grab yourself some seriously gorgeous French-made porcelain bakeware (hint: it's 20% off right now!) and either make one or two large gratins or individual ones.
The key to this recipe, like any that uses only a few ingredients, is the quality of what you include. If you're starting with fine French porcelain, you may as well maintain the standard with organic eggs and fresh-from-the-earth spinach leaves. The breadcrumbs add an important crunch and flavour here, so go for your favourite sourdough (yesterday's leftovers are best) and process it yourself into irregular, large crumbs in your food processor. 
Other than that, this recipe is very adaptable. You can add sautéed mushrooms, zucchini or tomatoes instead of or in addition to the spinach – basically whatever's fresh and seasonal at your market or in your garden!
Serves 4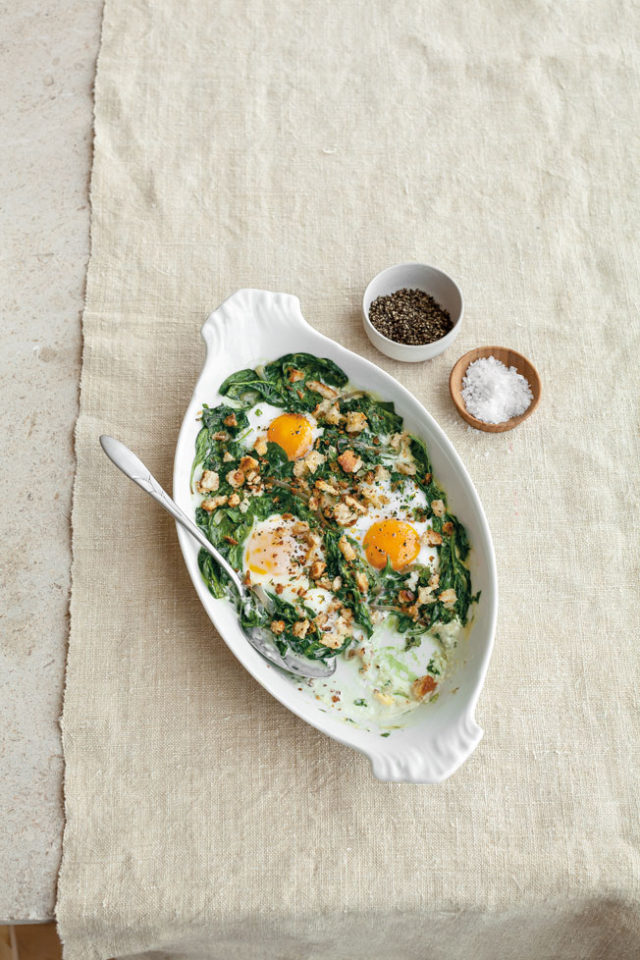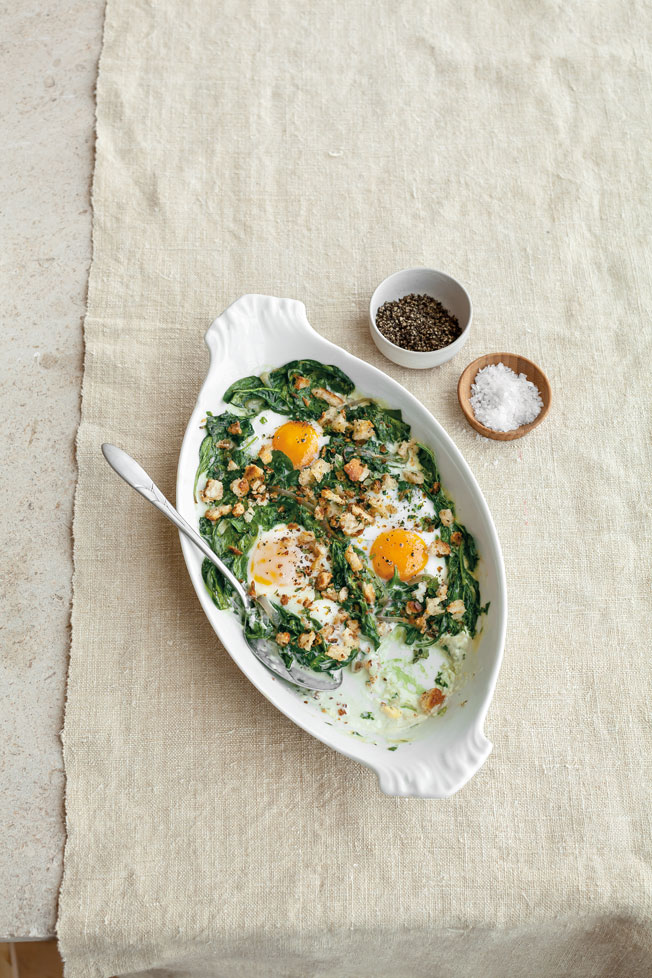 Ingredients
1 small sourdough roll or slice of rustic sourdough bread, torn

2 Tbsp extra-virgin olive oil

2 tsp chopped fresh thyme

Sea salt and freshly ground pepper

¼ cup thinly sliced shallot

2 tsp minced garlic

250 g baby spinach

8 eggs

1 cup (250 ml) pouring cream

2 tsp chopped fresh tarragon

A pinch of freshly grated nutmeg
Method
Preheat an oven to 190°C. Spray two 1-litre capacity (or 4 individual) gratin dishes with cooking spray and place them on a rimmed baking tray. 
Pulse the bread in a food processor or chop with a chef's knife until coarse crumbs form. In a sauté pan over medium heat, warm 1 Tbsp of the olive oil. Add the breadcrumbs, thyme and a sprinkle each of salt and pepper, and cook, stirring constantly, until the breadcrumbs are browned and crisp, about 5 minutes. Scrape the bread crumbs onto a plate.
Wipe out the sauté pan and return it to medium-high heat. Add the remaining 1 Tbs olive oil. Add the shallot and garlic and sauté until they begin to brown, 45 seconds. Add the spinach by the handful and toss with tongs until it is wilted, 2 minutes. Season with a pinch of salt. Place the spinach in the 2 gratin dishes. Crack 4 eggs into each dish, spacing them evenly. Pour the cream around the eggs and sprinkle with the tarragon, nutmeg and a little salt and pepper. Bake, rotating the baking dishes once, until the egg whites are set and the yolks are slightly runny, 12 to 15 minutes.
Remove the dishes from the oven. Sprinkle the toasted breadcrumbs over the dishes, dividing evenly, and serve immediately. 
For more autumn meal inspiration, head to www.williams-sonoma.com.au