Today's recipe comes from Darlinghurst's modern-Lankan restaurant Hopper Kadé. It's by co-founder Ruvanie de Zoysa and her mum, Ramanie.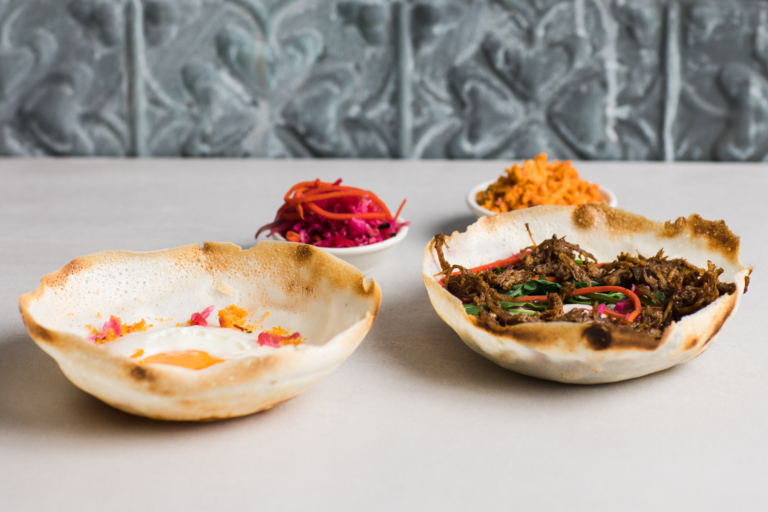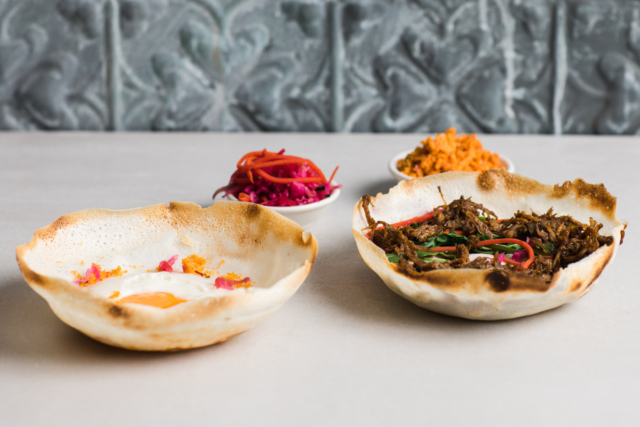 This recipe is handed down from my mum, Ramanie. It's a simplified version of our family recipe – the result being a super quick hopper that is perfectly crispy and has the spongiest of bases, perfect for mopping up a dining table full of curries and condiments.
This recipe is for a basic egg hopper, but I encourage you to get creative with your choice of fillings. At our new restaurant, Hopper Kadé, hoppers are served with pulled pork or beetroot curry. They make the perfect vessel for meat, fish or vegetarian fillings, so don't be afraid to experiment!
To achieve the distinct bowl shape, you'll need a hopper pan, or 'appachetty' but they will taste just as good from a regular fry pan.
Ingredients
Yeast mixture/dough:
400g white rice flour
1 sachet (7g) yeast
½ teaspoon white sugar
2 tablespoons lukewarm water (plus more as needed)
Batter:
1 tin coconut cream
2 tablespoons white sugar (optional)
1 egg, beaten
Salt, to taste
Equipment
Hopper pan (appachetty) or small fry pan
Linen pouch or towel for oiling hopper pan
Method
Yeast mixture
Add sugar to lukewarm water, then sprinkle yeast on to the water. Stand aside until it starts to froth.
Place rice flour in a separate mixing bowl and add the yeast mixture to the flour, adding more water as needed to make a firm and dry batter in the mixing bowl.
Do not knead, but slap the batter with your hands and work it. Leave in a warm place overnight (or at least 3 hours) in a glass bowl covered with a damp linen cloth.
Batter
The dough must have risen and doubled in size before proceeding with the batter steps. Slap it a couple more times with your hands before adding the coconut cream, salt, sugar (optional) and beaten egg to the mixing bowl.
Mix to a thick pouring consistency.
To cook the hoppers, first heat the hopper pan. Rub the pan with a clean linen pouch dipped in oil. Pour a serving spoonful (about 1/3 of a cup) of batter into the pan and very quickly swirl around to coat the sides.
For an egg hopper, crack an egg into it while batter is still moist
Cover pan with a tight fitting lid. The hopper will cook into a crisp bowl-shaped crepe. If you're using a traditional hopper pan, the texture should be crisp around the outside and spongy in the centre. If you're using a flat frying pan, you will not get the bowl shape, but the taste will be just as good!