Rich bittersweet chocolate tarts are topped with candied orange slices and a dash of sea salt for a sophisticated dessert. Baked into miniature versions, these tarts make a perfect treat to indulge in and are the ideal size to bring along to your next event.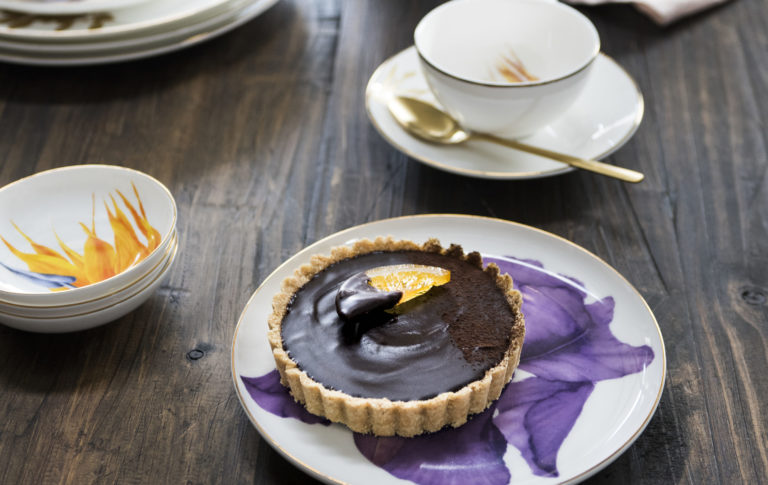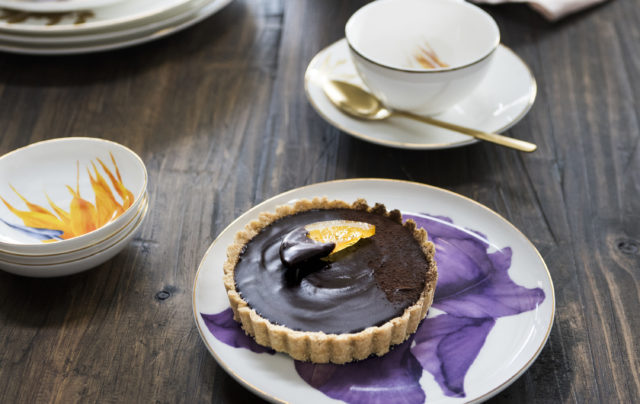 Shown served on Maxwell & Williams' stunning Botanica Floris range. Designed in collaboration with the Royal Botanic Gardens Victoria and botanical artist Malcolm Hobday, this range features beautiful oversized blooms, set against a backdrop of matching golden silhouettes. Made from luminous fine bone china with a hand painted gold rim, the collection is a nod to the outdoors, making a beautifully polished statement on the tabletop.
Ingredients
Serves 6 Prep: 30 minutes Cook: 15 minutes
For the salted dark chocolate tart:
250g dark chocolate
150g butter
3 eggs, plus 1 yolk
30g plain flour
50g caster sugar
1 mandarin, juiced
1 teaspoon sea salt
2 tablespoons Grand Marnier or other orange-flavoured liquer
6 x10cm ready-made tart shells
For the candied orange:
2 oranges
1 1/2 cups sugar
Method
Candied Orange and Syrup
Thinly slice 2 oranges and set aside.
Simmer sugar with equal parts water over medium heat.
Add orange slices to the mixture and reduce heat to low. Cook for 5 minutes or until softened.
Remove orange slices and let cool on wire rack.
Continue to heat the syrup under medium heat for 2 minutes or until reduced. Let it cool slightly.
Salted Dark Chocolate Tart
Preheat oven to 180°C.
Melt chocolate, butter and 3 tablespoons of syrup over a pan of simmering water. Add sea salt, mandarin juice and Grand Marnier to chocolate mixture and stir to combine. Set aside to cool.
Whisk eggs, flour and sugar in a separate bowl then gradually add chocolate to the egg mixture.
Pour into the tart shells and bake for 15 minutes. The filling will wobble slightly, but will then become firm as it cools.
Arrange candied orange slices over the tart, drizzle with syrup and sprinkle sea salt flakes to serve.