This week's recipe is from TV personality Chyka Keebaugh, whose new entertaining book is out now.
This is one of my favourite cakes, both in appearance and in flavour. Any cake that is layered with cream cheese icing (frosting) will always be a hit in my eyes. Pair that with the fluffy, buttery and moist red velvet cake, and it's just scrumptious! I love the concept of using two cakes to create a single image. It's so simple and yet so effective, and works really well if you have a large number of guests. If you don't want to make two rainbow cakes, simply halve the recipe.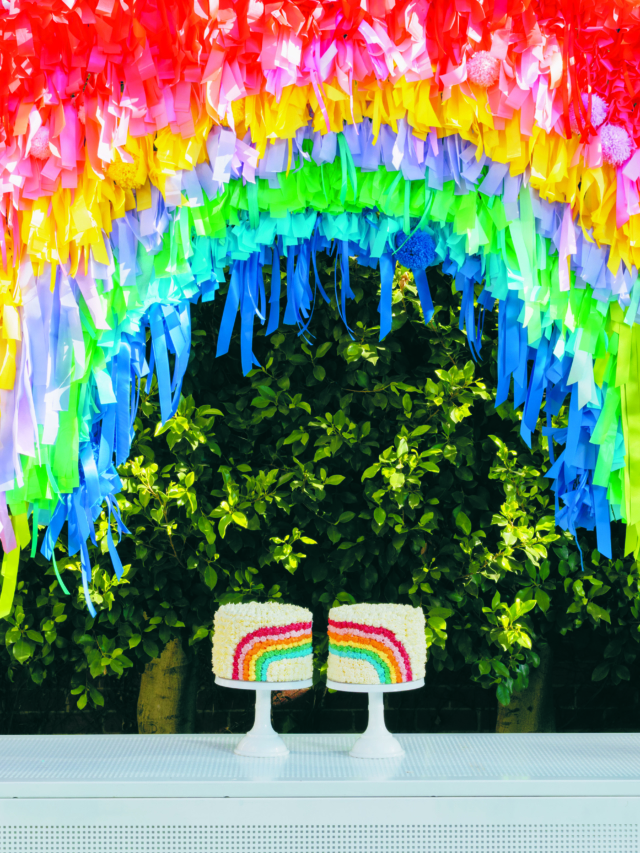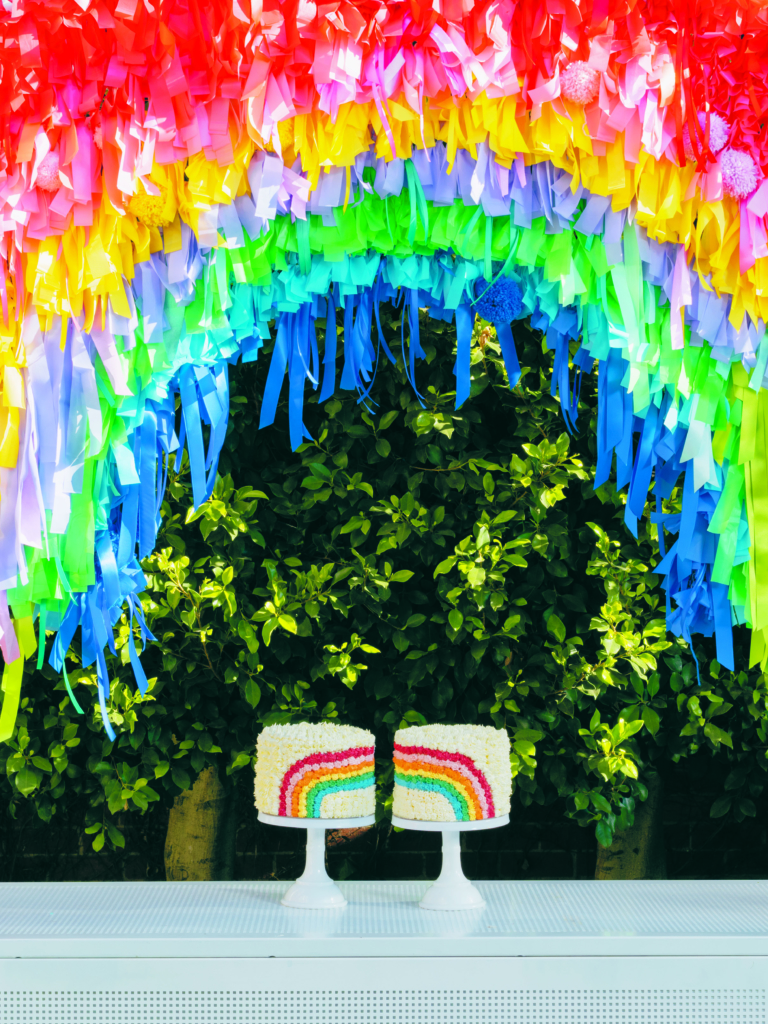 Ingredients
Cake batter
500 g (1 lb 2 oz) unsalted butter, softened, plus extra for greasing
575 g (1 lb 4 oz/2½ cups) caster (superfine) sugar
3 teaspoons vanilla extract
6 eggs
600 g (1 lb 5 oz/4 cups) self-raising flour, sifted
85 g (3 oz/²⁄³ cup) cocoa, sifted
375 ml (12½ fl oz/1½ cups) buttermilk
125 ml (4 fl oz/½ cup) natural red food colouring
Cream cheese icing
2 × 460 g (1 lb) packets cream cheese, softened
250 g (9 oz) unsalted butter, softened
900 g (2 lb) icing (confectioners') sugar
2 teaspoons vanilla extract
Natural food colouring in the shades of the rainbow (red, orange, yellow, green, blue, indigo and violet).
SERVES: 24 | TIME: 2.5–3 HOURS
NOTE: For this party, I wanted my cakes to be extra tall so I doubled the recipe amount and created two cakes with four layers each.
Method
Preheat the oven to 160°C (320°F). Grease and line two 20 cm (8 in) round cake tins with baking paper.
To make the cake batter, place the butter, sugar and vanilla in the bowl of a freestanding electric mixer and beat for 8–10 minutes, or until pale and creamy. Scrape down the sides of the bowl and add the eggs, one at a time, beating well after each addition.
Add the flour, cocoa, buttermilk and red food colouring, and beat on low speed until just combined.
Divide the batter between the two prepared tins and smooth the tops with a palette knife.
Bake each cake for 1.5 hours to 1 hour 40 minutes, or until a skewer inserted in the middle of the cakes comes out clean. Leave to cool in the tin for 10 minutes before turning the cakes onto a wire rack to cool completely.
While the cakes are cooling, prepare the cream cheese icing. Combine the cream cheese and butter in a large mixing bowl of an electric mixer and beat on medium speed for 1–2 minutes, or until creamy. Gradually add the icing sugar and vanilla and mix until smooth.
Trim the tops of the two cakes so that they are flat, then split them in half horizontally with a large, serrated knife to make four cake layers. Place one cake layer on a plate and spread about a quarter of the cream cheese icing on top. Place the second cake layer upside-down on top to create a nice flat surface, then press down gently. Repeat with the remaining two cake layers and another quarter of the icing to make the second cake.
Thinly spread some more cream cheese icing over the side of the cakes to crumb-coat, then spread a generous amount on top and smooth it out with a spatula.
Take one-quarter of the remaining cream cheese icing and divide it between small bowls. Shade each bowl of icing with the different food colourings and mix well. Transfer each coloured icing to separate disposable piping (icing) bags fitted with 1.5 cm (½ in) star tips. Keep the remaining cream cheese icing plain.
Working on the side of the cake, pipe a rainbow arch using each of the coloured icings. Your rainbow should wrap around roughly one-third of the cake. Repeat on the other cake.
Once you're happy with your rainbows, fill the remaining surface area of the cake with florets of plain icing.
This is an edited extract from Chyka Celebrate by Chyka Keebaugh published by Hardie Grant Books $40.00 and is available where all good books are sold.