Being hungry is probably not the best state to be in when writing about food. But that's exactly what has happened here! An appetiser or dessert just didn't seem good enough for today's Foodie Friday. What was required was some decent protein, a generous helping of carbs and sure, a little salad too.

This fun take on a traditional Caesar salad incorporates a homemade flatbread, which elevates it from a retro café standard to a fresh and exciting lunch treat that's sure to impress. If you're daunted by the idea of making your bread, then flatbread is your perfect launchpad: it's essentially foolproof! No one will notice if it doesn't rise quite enough, or comes out a little misshapen – in fact that's all part of the charm.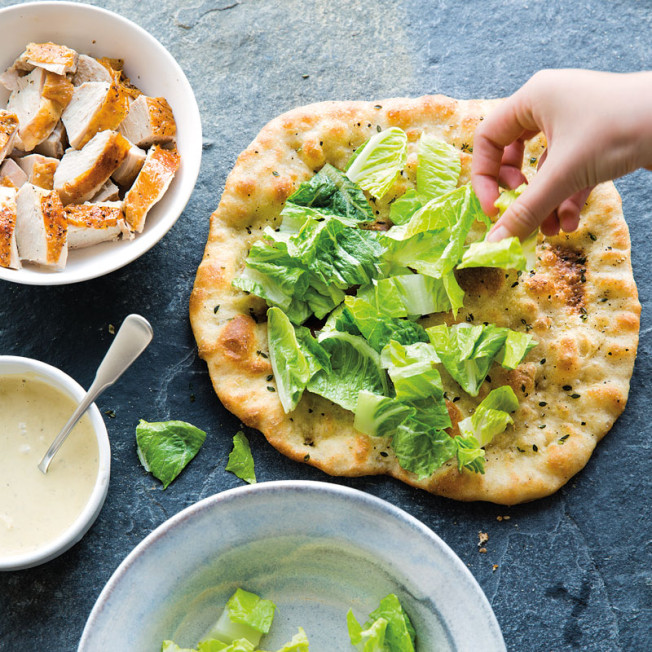 The flatbread of choice here is the Italian piadine, popular in Emilia-Romagna and commonly served alongside meats and cheeses. Here, it functions more like an oversized taco: simply pile the salad into it, fold it in half and dig in.
As with many simple recipes, the secret is in the quality of the ingredients. Always opt for the very best chicken you can find – ideally it should be free range and chemical free. A good tip for cos lettuce is to choose tight heads of baby cos – these tend to have sweeter, softer leaves. Finally, this Caesar dressing contains raw egg yolk (as does any homemade mayonnaise!), so be sure to let your guests know in case they have any health concerns.
STYLING TIP This is a fun dish to assemble at the table, and is perfect to share (if you're not quite as hungry as me!) so feel free to style accordingly. One handy tip from the Williams-Sonoma food styling team: try dark plates and serving surfaces (such as fashionable slate) to make the food really pop. Not that there'll be any need for encouragement once this treat hits the table.
Ingredients
For the piadine:
3 1/3 cups (530 g) plain flour, plus more for dusting
1/4 cup (45 g) wholemeal flour
2 1/2 tsp instant dried yeast
1 tbsp sugar
1 tbsp salt
1 1/4 cups (310 ml) warm water (about 40°C), plus more as needed
2 tbsp olive oil, plus more as needed
For the chicken Caesar:
2 boneless, skin-on chicken breast halves, about 500 g total
1/3 cup (80 ml) olive oil, plus more for brushing
Salt and freshly ground pepper
3 small garlic cloves
4 anchovy fillets
1 tbsp fresh lemon juice
1 large egg yolk
1 tsp Worcestershire sauce
6 tbsp (50 g) grated Parmesan
2 hearts of cos lettuce, cored and chopped
2 tsp fresh thyme leaves, chopped
Method
To make the piadine, in a food processor, combine the flours, yeast, sugar and salt. Pulse to mix the ingredients. With the motor running, add the water and olive oil in a steady stream, and then pulse until the dough comes together in a rough mass, about 12 seconds. If the dough does not form into a ball, sprinkle with 1 to 2 tsp water and pulse again until a rough mass forms. Let the dough rest for 5 to 10 minutes.
Process the dough again for 25 to 30 seconds, steadying the top of the food processor with one hand. The dough should be tacky to the touch but not sticky. Transfer the dough to a lightly floured work surface and form into a smooth ball. Place the dough in a large oiled bowl, turn to coat with oil, and cover with plastic wrap. Let the dough rise in a warm place until doubled in bulk and spongy, about 1.5 hours.
While the dough is rising, preheat an oven to 190°C.
Pat the chicken dry and put it on a small baking tray. Brush with 1 tbsp olive oil and season with salt and pepper. Roast the chicken until opaque throughout, 20 to 25 minutes. Remove from the oven and let cool. When cool enough to handle, cut or shred the chicken into bite-sized pieces. Set aside.
Raise the oven temperature to 230°C and place a pizza stone on the middle rack. Once the oven has reached 230°C, let the stone continue to heat for 15 to 30 minutes longer, without opening the door.
Put the garlic, anchovies, lemon juice, egg yolk and Worcestershire sauce in a blender and process until smooth. With the motor running, add the 1/3 cup (80 ml) olive oil in a steady stream and blend until well combined. Stop the machine, add 3 tbsp of the Parmesan and pulse to mix. Taste and adjust the seasoning. Set aside.
When the dough has finished rising, turn the dough out onto a lightly floured work surface, punch it down and shape into a smooth cylinder. Divide into 2 equal pieces. Shape each piece into a smooth ball, dusting with flour only if the dough becomes sticky. Cover both balls of dough with a clean tea towel and let rest for 10 minutes.
Divide the dough into 4 equal pieces. On a floured pizza peel, roll out each piece into a 15 cm round. Brush the piadine with olive oil, sprinkle with the thyme, and season with salt and pepper.
Carefully slide each piadine from the peel onto the hot stone in the oven and bake until golden brown, 4 to 6 minutes. Using the peel, remove from the oven, then transfer to individual plates.
While the piadine are baking, assemble the salad: In a large bowl, toss the cos lettuce with the Caesar dressing, the remaining 3 Tbsp Parmesan, and the chicken. Top each of the piadine with the chicken salad, dividing it evenly, and serve immediately.
Serves 4.
–This recipe is adapted from one in the Williams-Sonoma cookbook Pizza Night by Kate McMillan. Head to Williams-Sonoma for lots more foodie inspiration, or book yourself into a cooking class in their Bondi Junction Cooking School.