This crispy skin Cone Bay barramundi, pipis, vongole, mussels, braised leeks, avruga and lemon thyme volute (quite the mouthful, pardon the pun!) comes from renowned Sydney restaurant Catalina.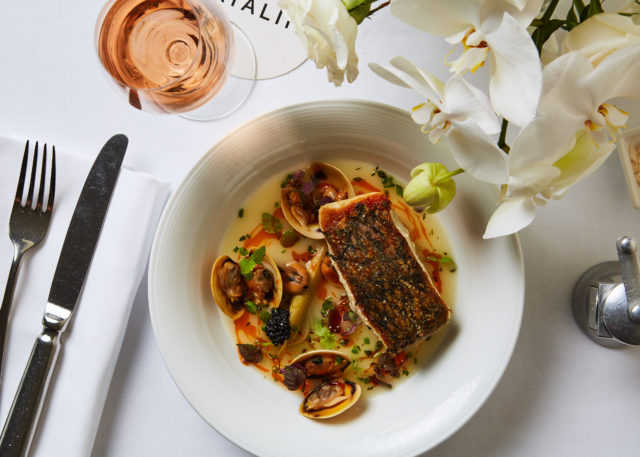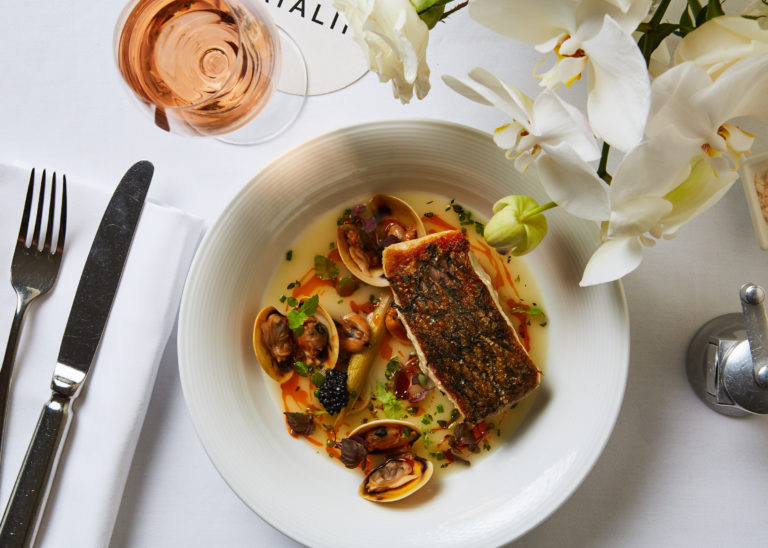 Ingredients (one serving)
1 snapper or 1 barramundi carcass (for fish stock)
40g of salted butter
40g of plain flour
300ml of boiled milk
180g mid fillet portion of Cone Bay barramundi
30ml olive oil
2 clams/ 2 pipis/ 2 vongole
50ml of white wine
400ml of velouté
A couple sprigs of lemon thyme
3 pencil leeks
20g lemon balm micro herbs
15g Avruga
Method
1 Prepare a basic fish stock using either snapper or barramundi carcasses. Approximately 2L worth. Cook for 25 minutes on low heat, strain then set aside.
2 Make a roux using 40g of salted butter and 40g of plain flour.
3 Whisk in 300ml of boiled milk then add 500ml of fish stock. Cook out for 5 minutes then strain through a fine sieve to remove any excess flour.
4 In a hot pan sear off mid fillet portion of Cone Bay barramundi skin side down using olive oil. After 2 minutes, turn heat on low then leave to cook for a further 6 minutes.
5 In a small hot pot place the clams/pipis/vongolé and add 50ml of white wine then cover with a lid.
6 After 90 seconds, remove the lid and add 400ml of velouté, a couple sprigs of lemon thyme and season to your liking.
7 Chargrill the pencil leeks and add to the clam/velouté pot
8 Serve the clam veloute then the Barramundi immediately, garnishing with lemon balm micro herbs and avruga.