This recipe for cashew Alfredo pasta with rosemary mushrooms was developed by Minako Umehara @365cleaneats for Naked Foods.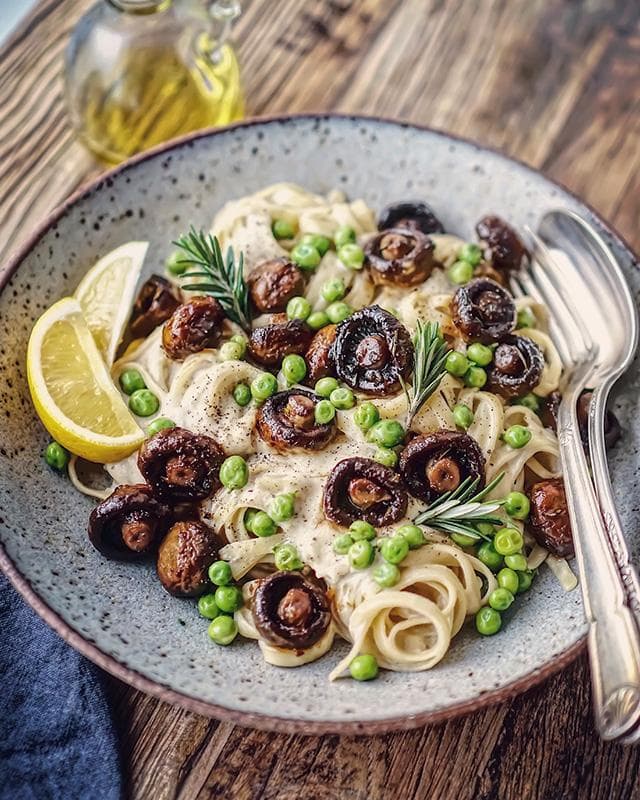 Prep time: 30 minutes | Cooking time: 20 minutes | Serves: 2
Vegan, Dairy Free & Refined Sugar Free
Ingredients
Rosemary infused roasted mushrooms
300g mushrooms, cleaned
2 garlic, grated
2 tbsp olive oil
2 tbsp tamari
2 tsp rosemary, minced
2 tsp balsamic vinegar
Cashew Alfredo Sauce (makes around 1.5 cups)
60g raw cashews, soaked in hot water for 30 min and rinsed
1/2 cup minced brown onion
11/2 garlic heads
1 tbsp olive oil
½ tsp pink Himalayan salt
240mL unsweetened plain almond milk
2-3 tbsp nutritional yeast
1 tbsp arrowroot powder
1/2-1 tsp maple syrup
Olive oil, pink salt & black pepper
To Serve
200g your choice of pasta, cooked
Lemon wedges
Method
Rosemary Infused Roasted Mushrooms
Preheat oven to 200⁰C. Toss mushrooms with other ingredients.
Transfer to a baking dish in an even layer. Roast it for about 10 minutes, flip and continue to roast 8-10 more minutes. Salt to taste.
Cashew Alfredo Pasta
Sauté minced onion and 1 minced garlic with 1 tbsp olive oil for a few minutes. Add 1/2 tsp pink salt and continue to sauté until they become tender.
In a high-speed blender, blend all pasta sauce ingredients well.
Transfer the mixture to a small pot and heat it for 10mins over low to medium heat, stirring continuously. Add more milk, salt, and black pepper to taste.
Mix the sauce and olive oil with cooked pasta, squeeze fresh lemon juice over it and mix well. Add black pepper and salt to taste.
For a gluten free option, use gluten-free pasta.
Naked Foods is Australia's destination for sustainable, organic, bulk wholefoods with a focus on sustainability, health, wellbeing and zero waste shopping. Shop online or in-store the first Monday of every month to receive 20% off storewide. That's this coming Monday ? #thankuslater