Did you know there was such a thing as Steak Sandwich Day? Well there is, and it's next week on 12 May! Texas-based beef lover, Jess Pryles, sticks to her Aussie roots with this classic steak sanga recipe. Thanks to Australian Beef.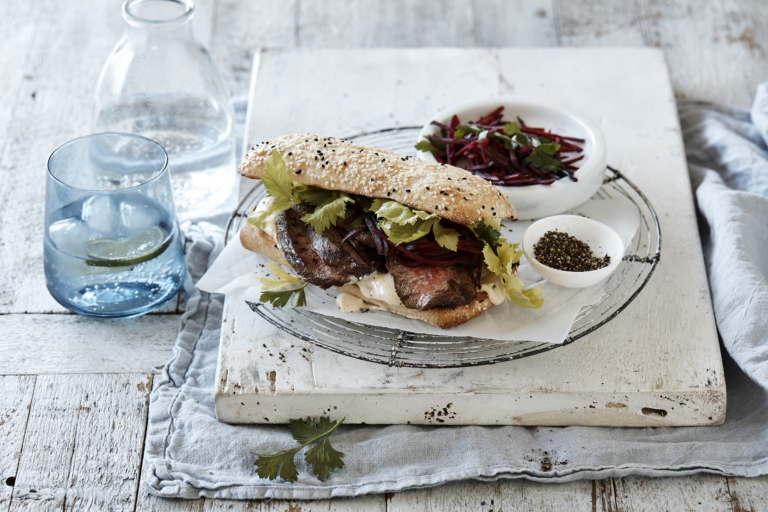 Preparation: 10 minutes | Cooking: 15 minutes | Serves: 6
Ingredients
700g flat iron steaks
5 large beetroots
1 medium lemon, juiced
2 tbsp olive oil
2 tsp balsamic vinegar
2 tbsp chopped parsley leaf 3/4 cup mayonnaise
1 tbsp prepared horseradish
6 crusty white rolls, split into 2 1 cup celery leaves
Salt and pepper, to taste
Method
For the horseradish mayo
1. Combine the mayonnaise, 2 tsp lemon juice and horseradish, then season to taste with salt and pepper
For the beetroot slaw
1. Peel the beets and cut in half. Place in boiling salted water and cook for 7-10 minutes until just soft enough to pierce with a fork. Remove from water and allow to cool.
2. Grate the beets (they will still be quite firm). Drizzle remaining olive oil and lemon juice, and balsamic vinegar over the grated bets and toss to combine. Add parsley, salt and pepper to taste and toss once more.
For the steak
1. Brush steaks with half the oil and season. Cook in a char-grill pan or barbecue on high heat for 5 minutes each side or until cooked to your liking. Set aside on a plate and loosely cover with foil for 5 minutes.
Assembly
1. Spread the mayonnaise on the bottom bun. Slice steaks across the grain then layer with beetroot slaw and celery leaves. Top with bun to serve.