Eggs are an excellent source of protein as they contain all nine of the essential amino acids. This recipe from Williams-Sonoma is the perfect way to use them in this weekend's dinner – plus it's healthy and super simple to make!
Peppery watercress is a nice contrast to the sweet and earthy flavour of beets. Use two colours of beets if you like, to really impress your weekend guests! For the best taste and vibrant yolk colour, try and seek out eggs from a local egg farm.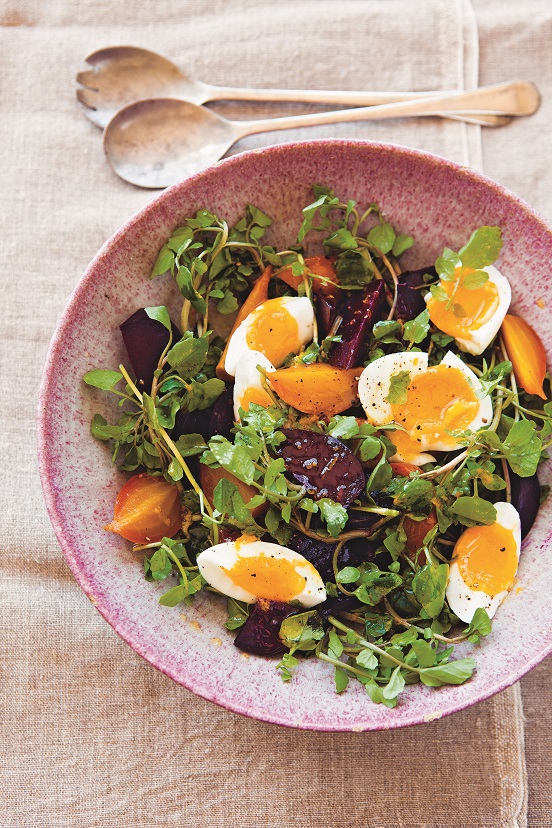 Ingredients 
700 to 800g of baby beets
6 to 8 eggs
Sea salt, to taste, plus ½ tsp
Freshly ground pepper, to taste
3 tbsps extra-virgin olive oil
2 tbsps white wine vinegar
2 tbsps fresh orange juice
1 tsp finely grated orange zest
115g watercress, tough stems removed with leaves torn into bite-size pieces
Method
1. Preheat oven to 200°C.
2. Trim the root and stem ends from the beets and wrap them in heavy-duty aluminum foil, making a separate packet for each colour, if using. Bake until the beets are easily pierced with a sharp knife, 45 minutes to 1 hour. Unwrap and let cool. Gently peel the beets with your fingers or a paring knife. Cut into quarters and put in a small bowl.
3. Meanwhile, place the eggs in a saucepan and add water to cover by 2.5cm. Bring to a boil over medium-high heat. Remove the pan from the heat, cover and let stand until the eggs are done to your liking, about 8 minutes for slightly runny yolks and up to 14 minutes for firm yolks. Drain the eggs, then transfer to a bowl of ice water to cool slightly, about 2 minutes. Peel the eggs and cut them lengthwise into quarters. Sprinkle each quarter lightly with salt and pepper.
4. In a large bowl, whisk together the olive oil, vinegar, orange juice, orange zest and the ½ tsp of salt to make a dressing. Pour half of the dressing over the beets and stir to coat. In another large bowl, combine the watercress and the remaining dressing and toss to coat.
5. Mound the watercress on individual plates or on a large platter and top with the beets. Arrange the egg quarters around the beets and drizzle with any dressing left behind in the watercress bowl. Sprinkle with a few grindings of pepper and serve immediately.
Serves 4.
Adapted from Williams-Sonoma Good For You, by Dana Jacobi (Weldon Owen, 2013).
Enjoyed this recipe? You can try many more at the Williams-Sonoma Sydney Cooking School. Whether you're a beginner or an experienced cook, book yourself in to learn a range of different techniques and cuisines.