Thanks to Australian Bananas for this week's recipe!
Serves: 6-8 | Prep: 30 mins + 3 hours chilling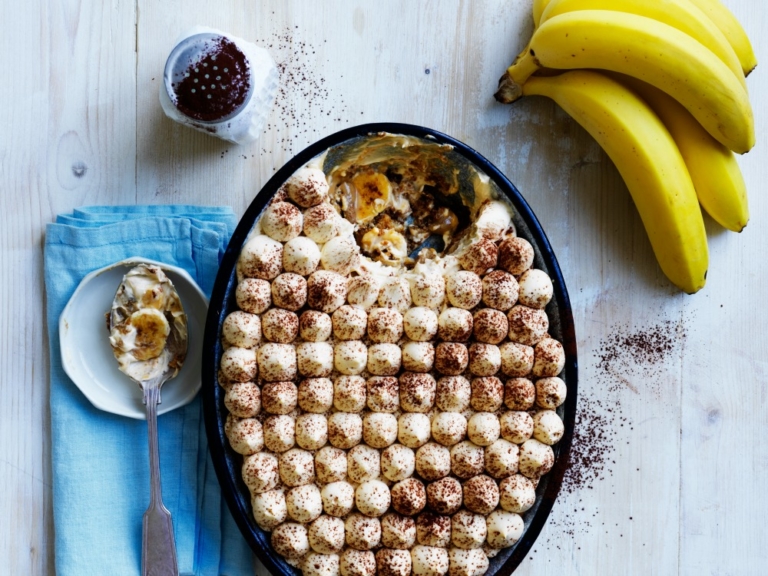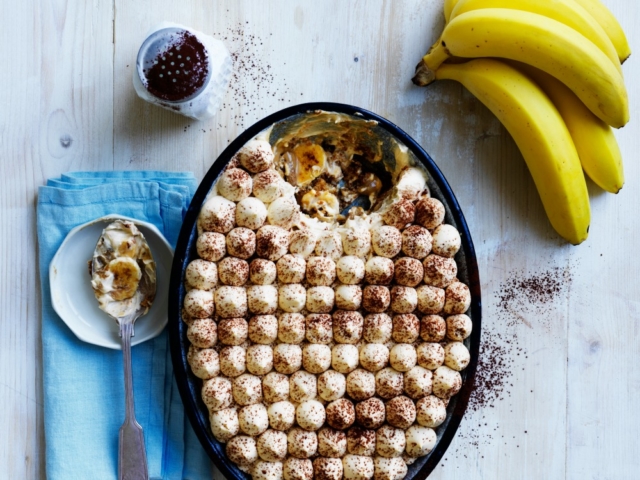 Ingredients
375ml thickened cream
395g can or jar caramel
250g mascarpone
1/3 cup instant coffee powder
1 cup hot water
1 tbs caster sugar
3 tbs kahlua
300g savoiardi sponge fingers
10 bananas, sliced (Lady Finger or Cavendish)
Cocoa powder, to serve
Method
Pour the cream into a large electric mixer. Add half of the caramel and whisk together on low speed to soft peaks. Add the mascarpone and whisk on low speed until just combined.
Combine coffee, hot water, caster sugar and kahlua in a shallow dish, stir to dissolve the sugar. Dip the savoiardi, one at a time into coffee mixture and arrange in a single layer over the base of a 5cm deep, 6 cup capacity dish, trimming to fit as required.
Mix the remaining caramel in a bowl until smooth. Carefully spread half over the sponge biscuits. Spread over a layer of caramel cream mixture then top with a layer of bananas. Repeat the layers.
Place the remaining caramel cream mixture into a piping bag fitted with a 1cm round nozzle. Pipe dollops on top of the banana to cover. Refrigerate 3 hours.
Just before serving dust generously with cocoa.
Tips
To make this child friendly, replace the kalua with 1⁄4 cup chocolate milk.
To check if your dish is big enough, pour 6 cups water into the dish and it should fill the dish. Your dish can be a little bigger but not smaller.