Being Australia Day next week, Williams-Sonoma has delivered with this delicious, fuss-free lamb recipe. Of course. Was there ever any doubt it would be lamb?
Perhaps less obvious is the choice to cook it in the oven instead of on the barbecue. But that's entirely up to you. The charred goodness of barbecued lamb is almost a national right in summertime, so feel free to ditch the meat thermometer, head outside and throw your chop on the barbie instead.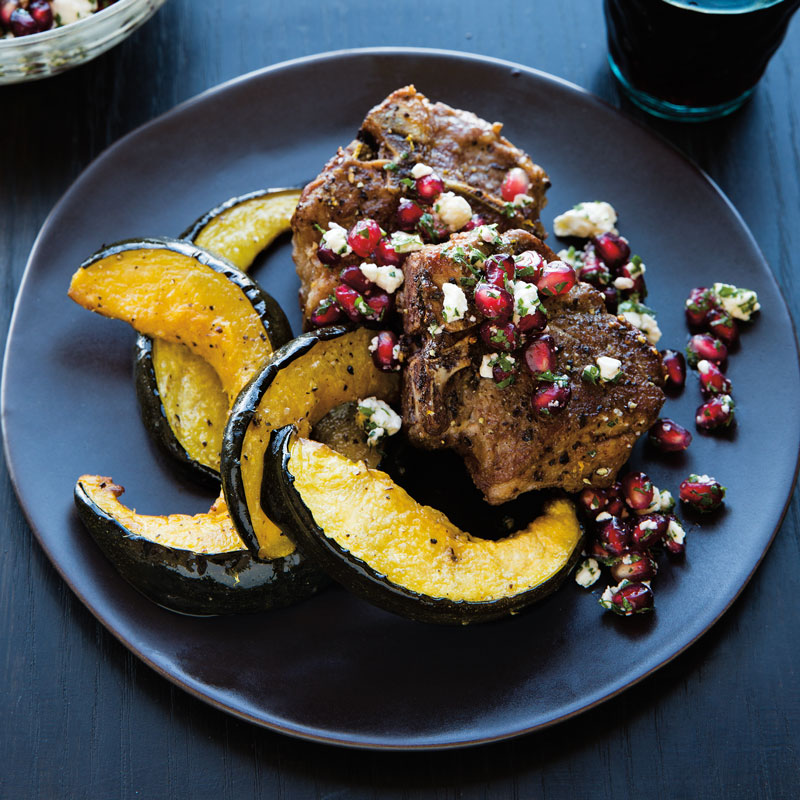 However, this is a great, simple way to produce delicious lamb chops in the oven – especially since you'll already have it preheated from roasting the pumpkin. It definitely saves on cleaning up, and is a handy recipe to recall come wintertime.
Lamb Chops with Feta-Pomegranate Topping and Roast Pumpkin
Serves 4
Ingredients
12 lamb rib or loin chops, each about 2 cm thick (about 1.25 kg total)

5 Tbsp (80 ml) olive oil

Grated zest and juice of 1 lemon

Salt and freshly ground pepper

1 small pumpkin or half a larger one (about 750 g), seeded and cut into 1 cm slices
For the feta-pomegranate topping:
60 g feta, crumbled

1/3 cup chopped flat-leaf parsley leaves

1/3 cup pomegranate seeds

Grated zest of 1 lemon

1 tsp olive oil
Method 
1. Preheat an oven to 190°C. Line a baking tray with foil.
2. In a large bowl, combine the lamb chops with 3 Tbsp of the olive oil and the lemon zest and juice. Season well with salt and pepper and toss to coat evenly. Let the lamb stand at room temperature for about 15 minutes.
3. Pile the pumpkin slices on the baking tray. Drizzle with the remaining 2 Tbsp olive oil, season well with salt and pepper, and toss to coat. Spread the pumpkin in a single layer and bake for 10 minutes.
4. Remove the pumpkin from the oven and add the lamb chops on top of the pumpkin on the baking tray. Bake until the pumpkin is fork-tender and caramelised around the edges and an instant-read thermometer inserted into the thickest part of a lamb chop reaches 55°C, about 20 minutes. (Do not flip the lamb chops.) 
5. While the lamb cooks, make the topping. In a small bowl, stir together the feta, parsley, pomegranate seeds, lemon zest and olive oil. Season with salt and pepper and set aside.
6. Remove the lamb from the oven, cover loosely with foil and let rest for 10 minutes. Place the lamb and roast pumpkin on a platter and sprinkle with the topping. Serve immediately.  
Love this recipe? Head to williams-sonoma.com.au for all the best food and entertaining inspiration this summer.