A fabulous way to jazz up store bought croissants for an easy Sunday morning brunch, this simple recipe is brought to us by Laurent Bakery founder Laurent Boillon who has generously shared his secrets to achieving that classic creamy almond filling. Mmm…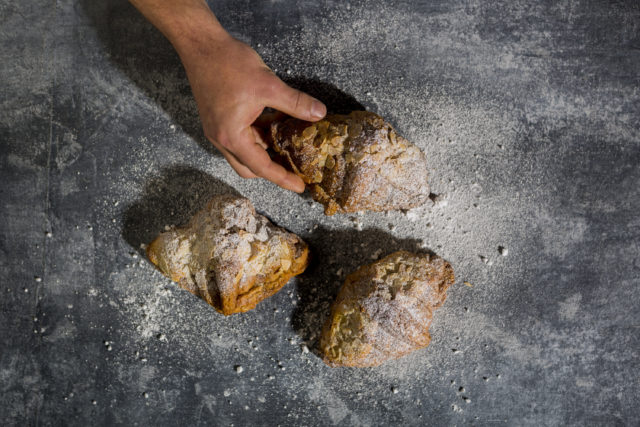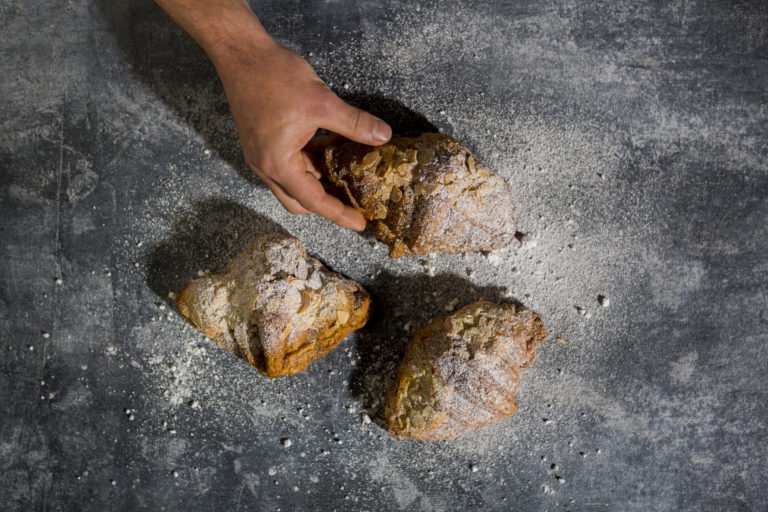 Ingredients
200g quality butter (at room temperature)
260g icing sugar
260g almond meal
100g custard
2 small eggs (50g each)
25g corn flour
100g caster sugar
100g flaked almonds
50g icing sugar (for decoration)
6 croissants (one day old)
Method
Sugar syrup
Dilute 100g of sugar in 100ml of water. Bring it to the boil in a pot and then set aside to cool.
Almond cream
In a large bowl with a spatula, generously mix 200g butter (at room temperature) with 260g icing sugar until it's a pale creamy texture without lumps.
Add eggs, 100g custard, 260g almond meal, 25g corn flour all at once and mix gently until smooth.
Assembling the croissants
Carefully cut the croissants horizontally with a bread knife and place them open sided on a baking tray lined with baking paper.
Turn the oven onto fan at 180˚c.
Fill up the water bottle spray with the sugar syrup (still warm) and spray evenly all over the cut croissants.
Spread some almond cream on the bottom halves of the croissants.
Place the tops halves on and spread the remaining almond cream on them.
Scatter some flaked almond on top of the croissants to stick to the cream.
Put them in the oven at 170˚c and bake for 17 minutes depending on the oven setting (on fan around 160˚c to 170˚c or conventional heating around 170˚c to 180˚c)
Check after 10 minutes and turn down the temperature if the croissants start to take too much colour on top.
When ready, leave them to cool and dust them with icing sugar for decoration.
Tips: Be aware that every oven is different and you will need to adjust the oven temperature to allow time for the croissant to bake inside. Also, you can substitute plain croissants with brioche buns or chocolate croissants.