Straight from the heart and fresh from the kitchen, this no-fuss culinary creation from Adam Liaw, in celebration of AYAM's 125th Anniversary, is sure to impress.
"When I cook, I like to keep things simple. There is no correlation between how difficult a dish is to cook and how good it tastes. Food is fun and cooking for the family shouldn't be a chore," he said. "We don't need to overcomplicate our food when we're cooking at home. A few sauces in the pantry are all the seasonings you need to turn whatever ingredients you have on hand into a delicious family meal."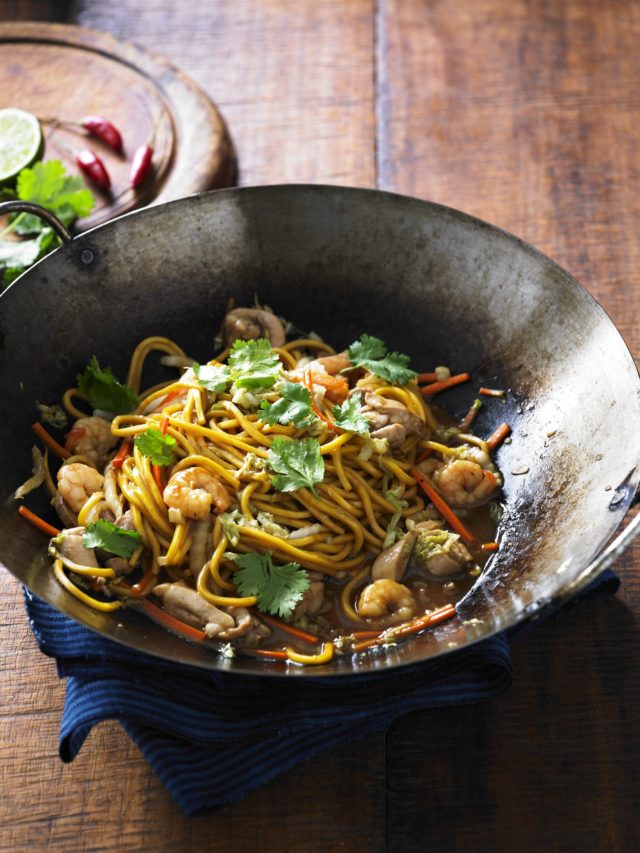 Ingredients
200g chicken thigh, skin removed and thinly sliced
2 tbsp peanut oil, or other vegetable oil
2 thick slices of ginger, bruised
3 cloves garlic, roughly chopped
2-3 large leaves of Chinese cabbage, sliced
1 small carrot, cut into matchsticks
100g peeled and deveined raw prawns, butterflied
1 tbsp AYAM oyster sauce
1 tsp AYAM light soy sauce
1 tsp AYAM dark soy sauce
¼ tsp ground white pepper
a pinch of caster sugar
1 cup chicken stock, or water
500g thick fresh Hokkien noodles
1 tsp cornflour mixed into 1 tbsp cold water
½ cup coriander leaves, to serve
2 tbsp fried shallots, to serve
Chicken marinade 
1 tsp AYAM soy sauce
1 tsp Shaoxing wine
1 tsp cornflour
½ tsp AYAM sesame oil
Method
Combine the chicken with the chicken marinade ingredients. Heat a wok until it is very hot and add in the oil around the edges so it runs into the bottom of the wok. Add in the ginger first and then after a few seconds, the garlic. Toss the garlic and ginger around in the oil until the garlic starts to brown and then add in the chicken. Stir fry the chicken until it starts to brown, add in the cabbage and carrot, and then the sauce ingredients except the chicken broth. When the vegetables soften, add in the chicken broth and bring to the boil. Add the prawns and cook through. Taste the sauce forming in the bottom. It should taste strong and flavourful. Adjust for seasoning.
Poke a few holes in the bag of noodles and massage gently to loosen them. Add in the noodles and stir fry to combine. Continue to cook for about 2-3 minutes until the noodles are nearly al dente. Pour over the cornflour mixture, and stir through until the sauce is thickened and coating the boodles. Transfer to a plate, garnish with coriander and fried shallots.
Serves 4.