Here we go with all the pictures, judges' comments, scoring, my thoughts and where to buy from last night's room reveals!
Will and Karlie: last with 20.5 points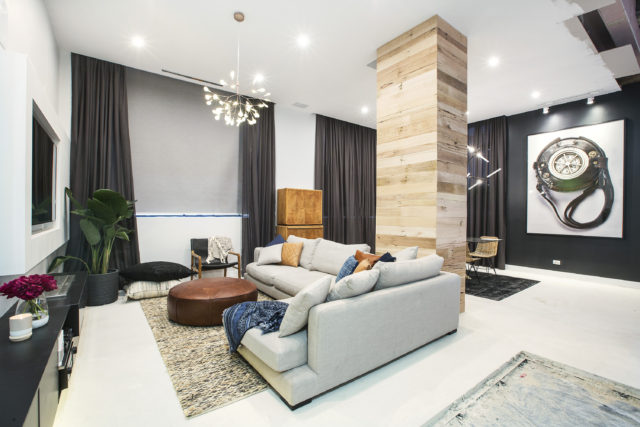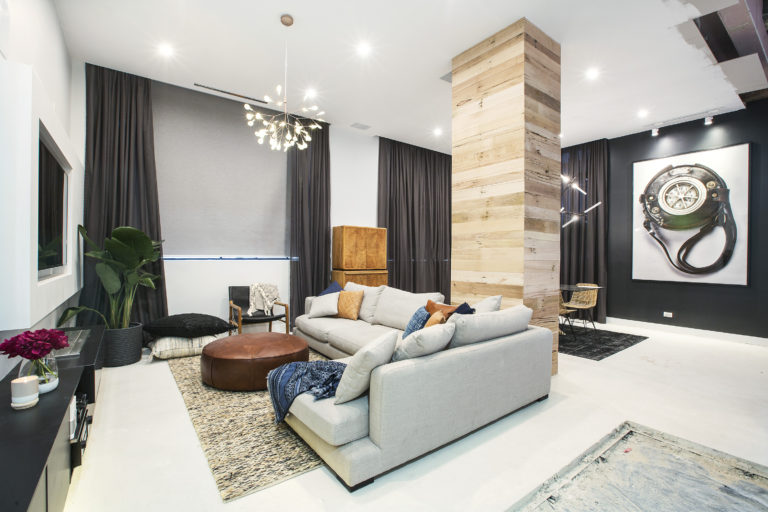 First impressions seemed to be good but the judges' comments soon turned to criticism, mainly about the use of space and having too much in it!
Neale said he felt hemmed in and he didn't know why they would choose to make the column bigger by cladding it with timber.
Shaynna said they'd made the room feel half as big as it was.
My thoughts? Wasn't keen on the timber cladding or the large artwork and agreed about it being too busy but it was still a nice room. Loved the West Elm rug.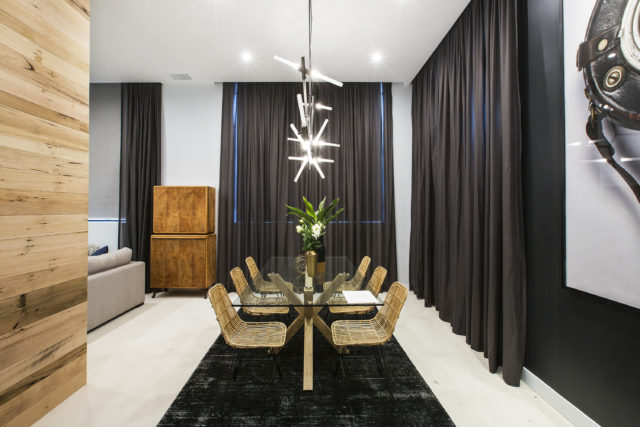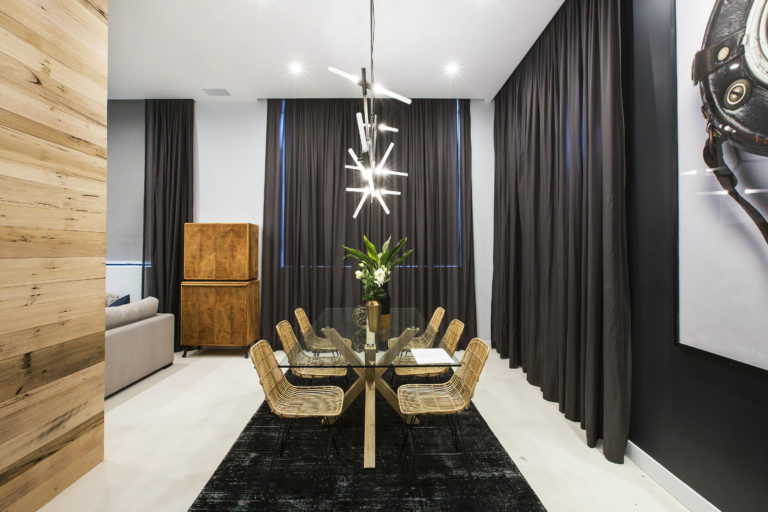 Dan and Carleen: won with 26.5 points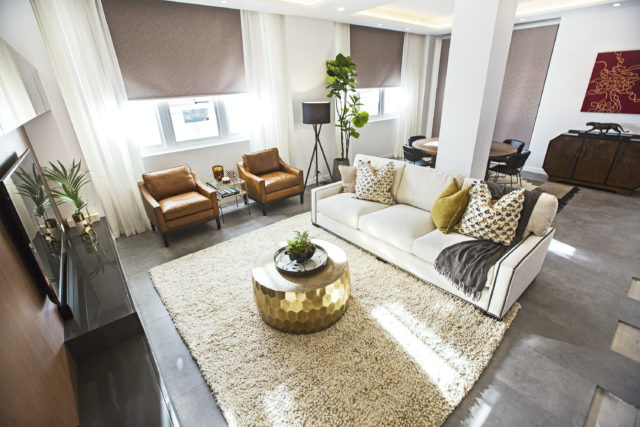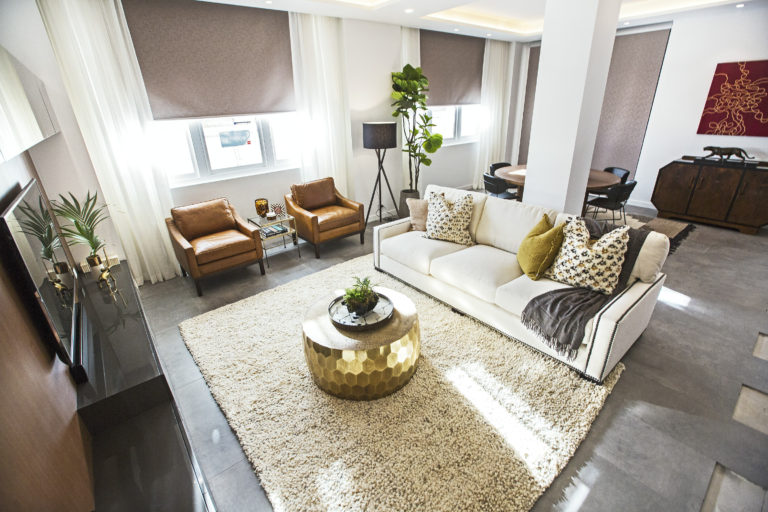 Lucky these two chose to use their bonus point from last week as it ended up making all the difference. Until that point (literally!) they'd been tied with Julia and Sasha, who were then pushed into second place.
Shaynna said the space felt open and twice the size of Karlie and Will's. Neale said it had a different vibe to the rest of their apartment; quite luxe and glamorous. "They've taken the Deco theme and turned up the dial."
Darren loved the feature TV wall, saying it felt like it was from a high end furniture store.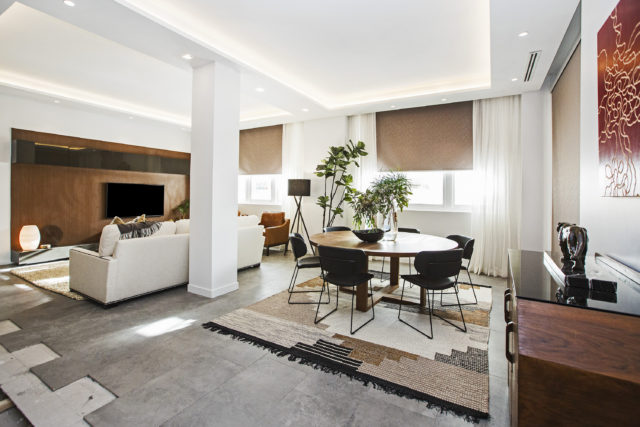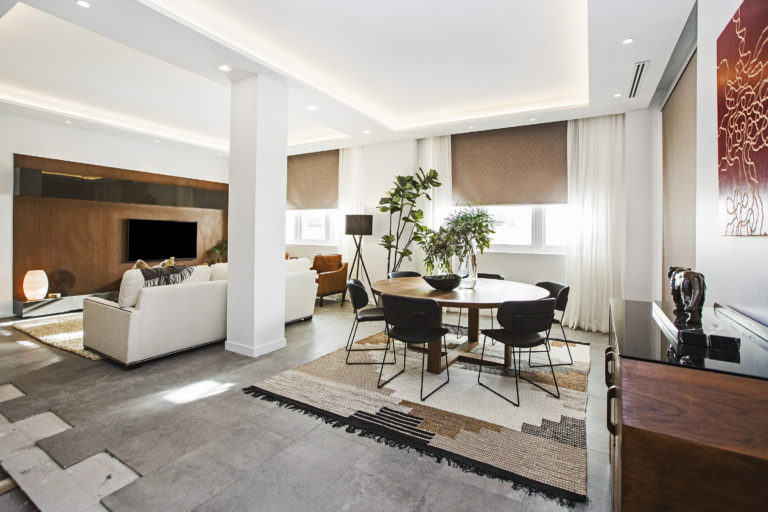 Neale said a young, design savvy buyer would appreciate what had been done and that they'd upped their styling game.
Shaynna thought the dining table and chairs were beautiful but Darren questioned why they'd picked tiles for the floor and then not used underfloor heating. In often-chilly Melbourne!
Neale concluded they'd really grown in the last few weeks and that the room felt expensive.
My thoughts? A great room but I preferred the girls' and thought it should have won. In here, I loved the Pottery Barn gold coffee table and side table.
Ben and Andy: third with 22 points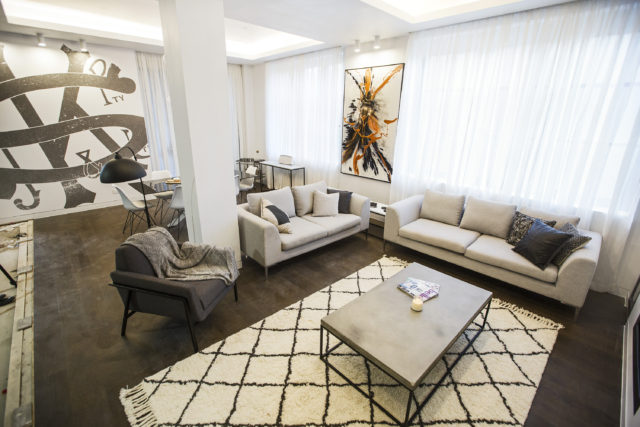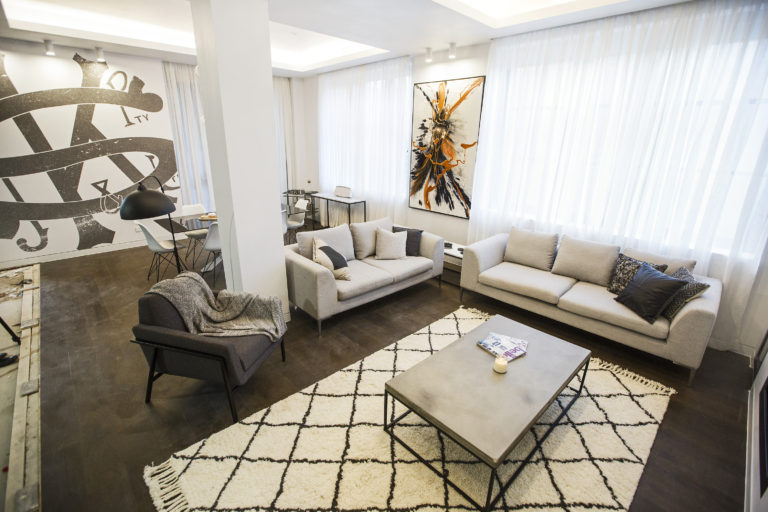 Shaynna said the artwork real was a real signature for the boys now but Neale said they were in danger of overdoing the big artworks referencing the building's history. Enough now!
Neale liked the feel and palette but Shaynna said the dining area and couches weren't high end enough. Darren agreed, saying it felt like a display suite. Oh, and the couches were too far from the coffee table and the TV, too high!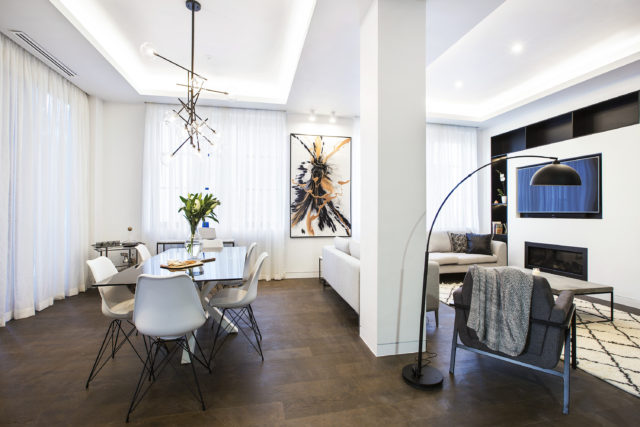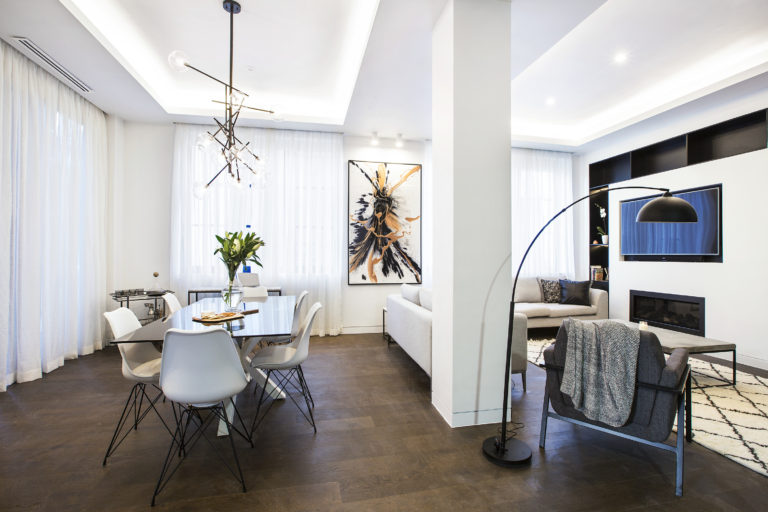 Shaynna concluded the boys had come a long way and if they took advice on board it would be great. Neale said the room had enough visual interest to keep them in the game.
My thoughts? Not a patch on some of their other rooms and didn't feel cohesive at all. Needed a much bigger rug too! I agree with Neale that the they're in danger of overdoing the wall mural art. I hope they'll be back on top form next week because they can do so much better!
Julia and Sasha: second with 25.5 points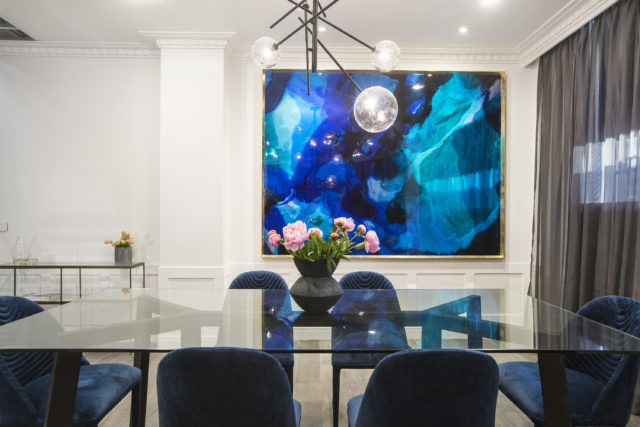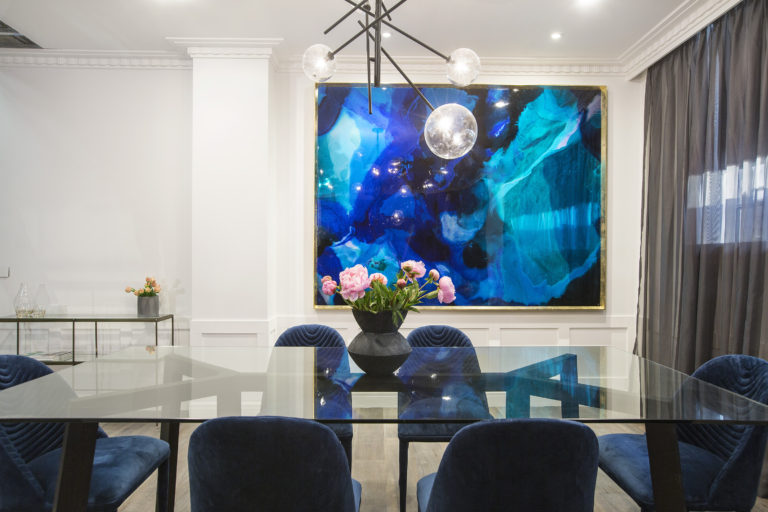 Shaynna and Neale LOVED the new window and the city views. If only they knew the trouble it had caused them with Chris and Kim! The judges said it was well worth whatever they'd paid.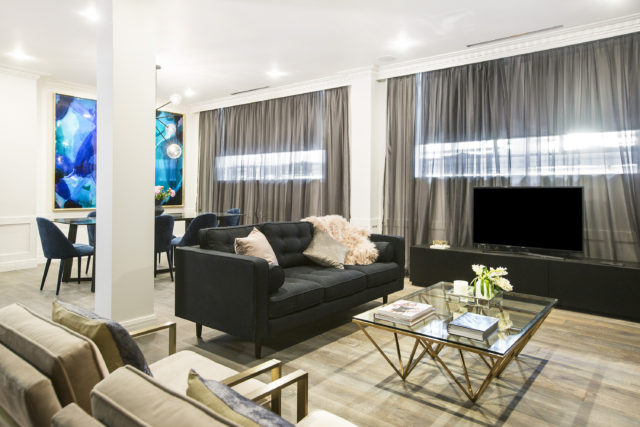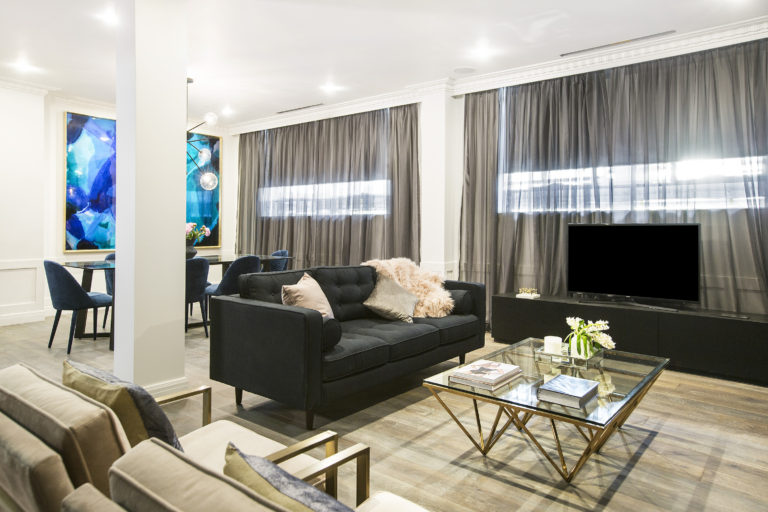 Darren and Shaynna were wowed by the "amazing" artwork and Neale said it looked like a magazine cover! "This is the modern take on Deco. Absolutely right. So now."
They also loved their use of the paneling they'd last seen in challenge week.
My thoughts? IN LOVE with so much in this room! The art (buy a cheaper limited edition Megan Weston print here), the dining chairs (swoon), those blush velvet West Elm chairs! Great choices! The girls were robbed! Although I really think they need some rugs to zone the space and anchor the furniture more.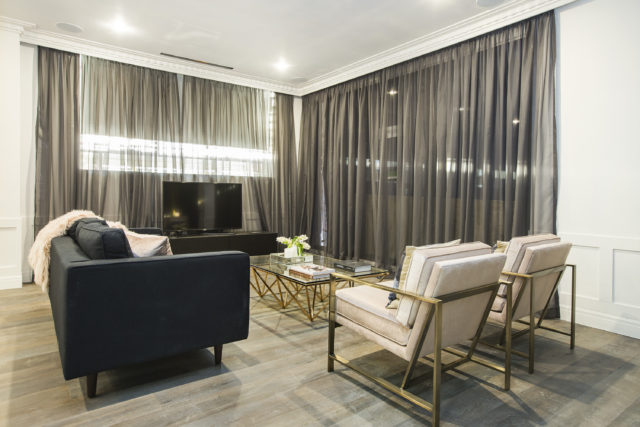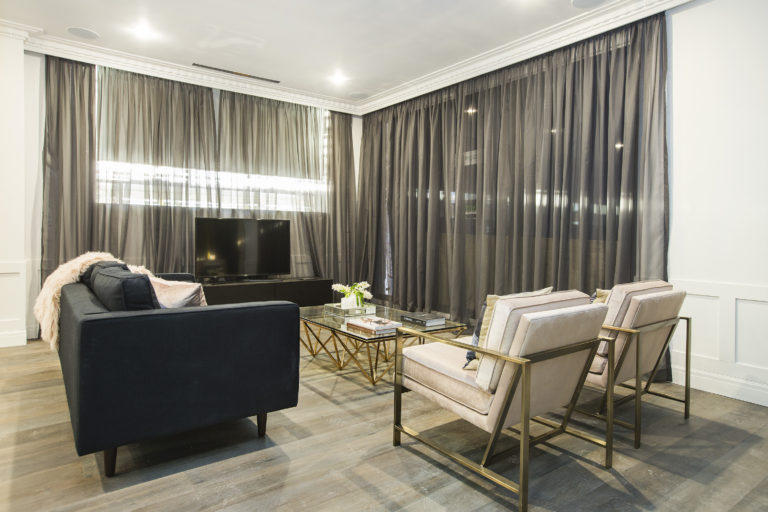 Chris and Kim: fourth with 21 points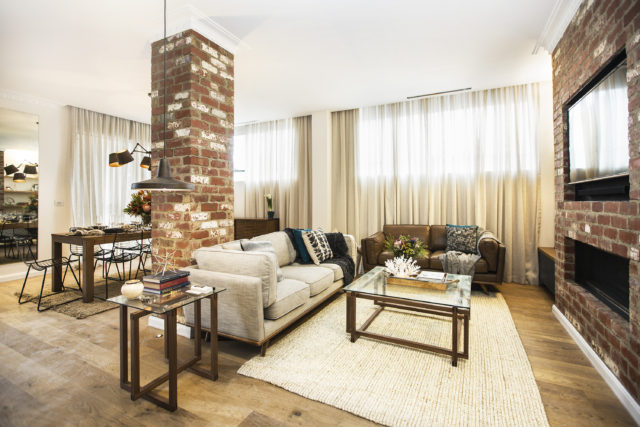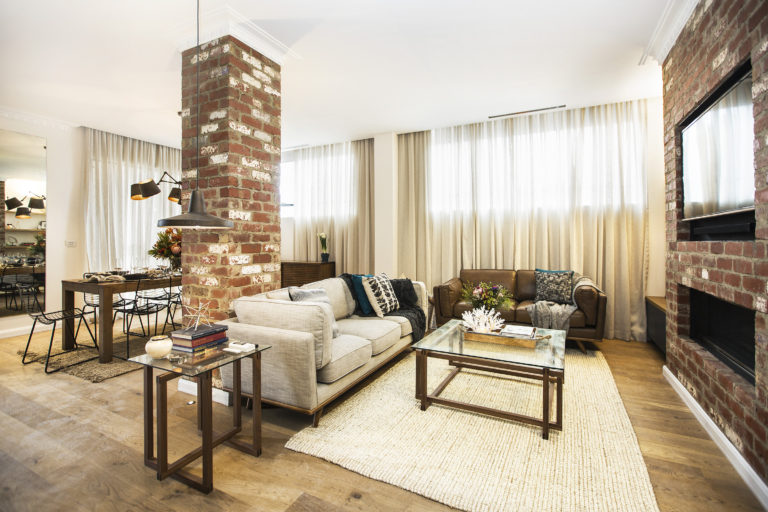 Poor Chris and Kim came in for some criticism again this week. Neale said he didn't know where to look because it felt like they'd thrown everything but the kitchen sink into this room.
Shaynna loved some of choices and the colour palette but said she felt like her head was going to explode.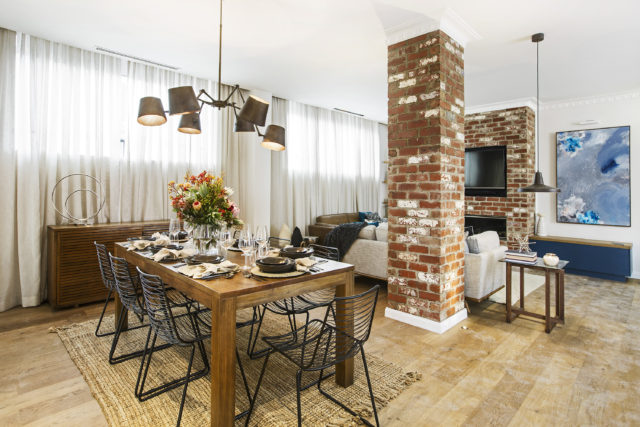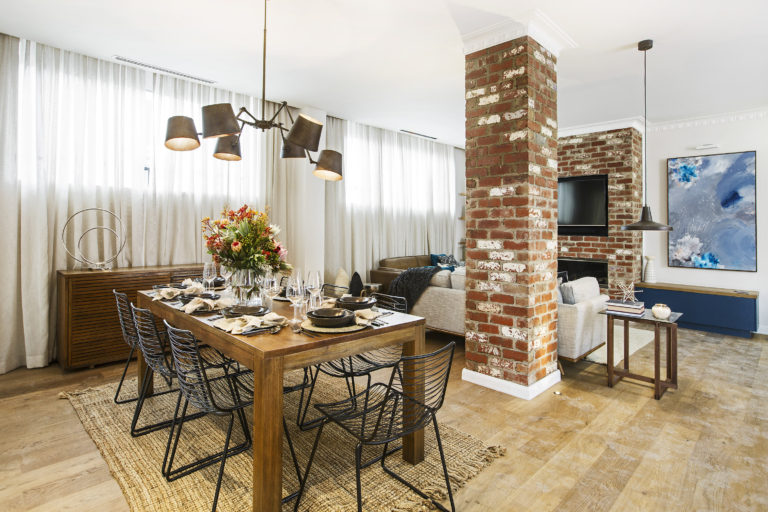 Darren loved the fireplace but again the TV was way too high for comfortable viewing. Shaynna feared it felt like a country house; a country house interior in the penthouse, Darren  added.
My thoughts? I thought the judges were perhaps a little harsh but agreed the look was too country for a Port Melbourne penthouse. It was so cosy though! The exposed brick didn't work here like it has in Karlie and Will's rooms. I always feel bad for these guys because they try so hard and they're so nice!