Having already had the challenge of narrowing our favourite kids' bed linen down to 10, we thought the next best thing to do was to find the 10 best kids' beds! After all, there's no point having gorgeous linen if you have nothing to put it on. So check out the amazing ones below and get ready for some serious kid envy!
Fenwick Bedhead from Heatherly Design Bedheads: Offering a whole lot of freedom from the comfort of your own home, simply log on, choose your fabric and then tailor the cross stitching to suit. Available in a huge array of fabrics, colours and sizes (single to super king), you can also purchase an upholstered bed to match.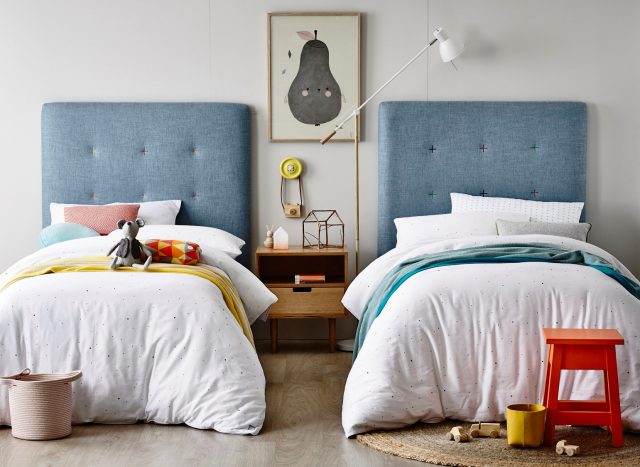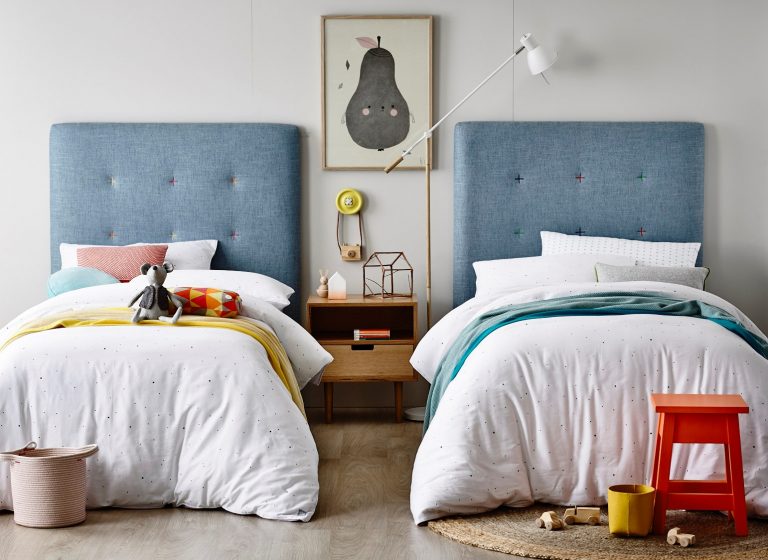 Miller Bed from Incy Interiors: Classic, timeless and coming in the most gorgeous emerald colour, the popular Miller (available in single and king single) is expertly crafted out of sturdy and strong metal. Available in a range of Dulux colours, you can also purchase matching bedroom furniture to create the perfect restful space.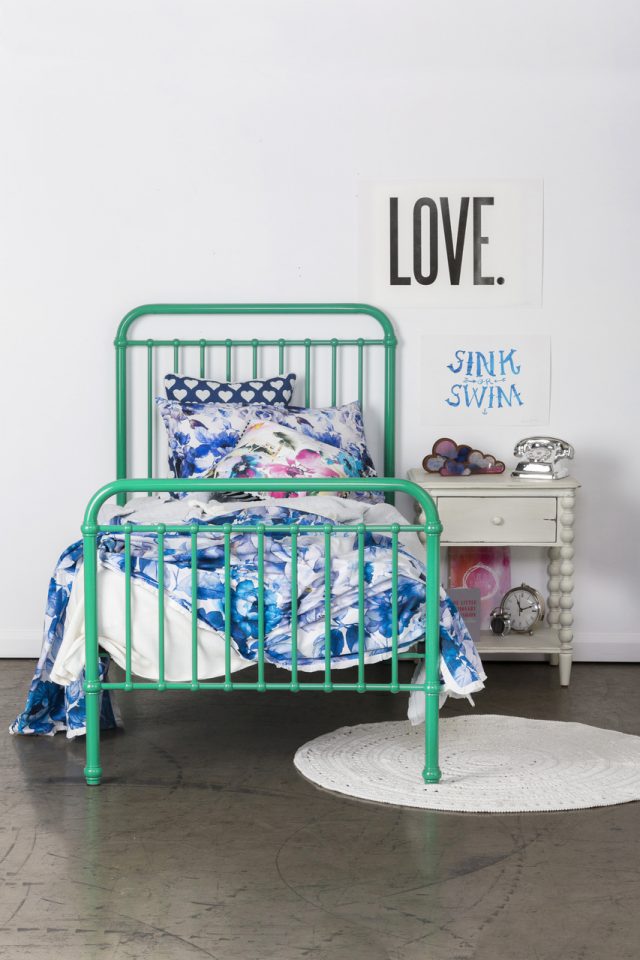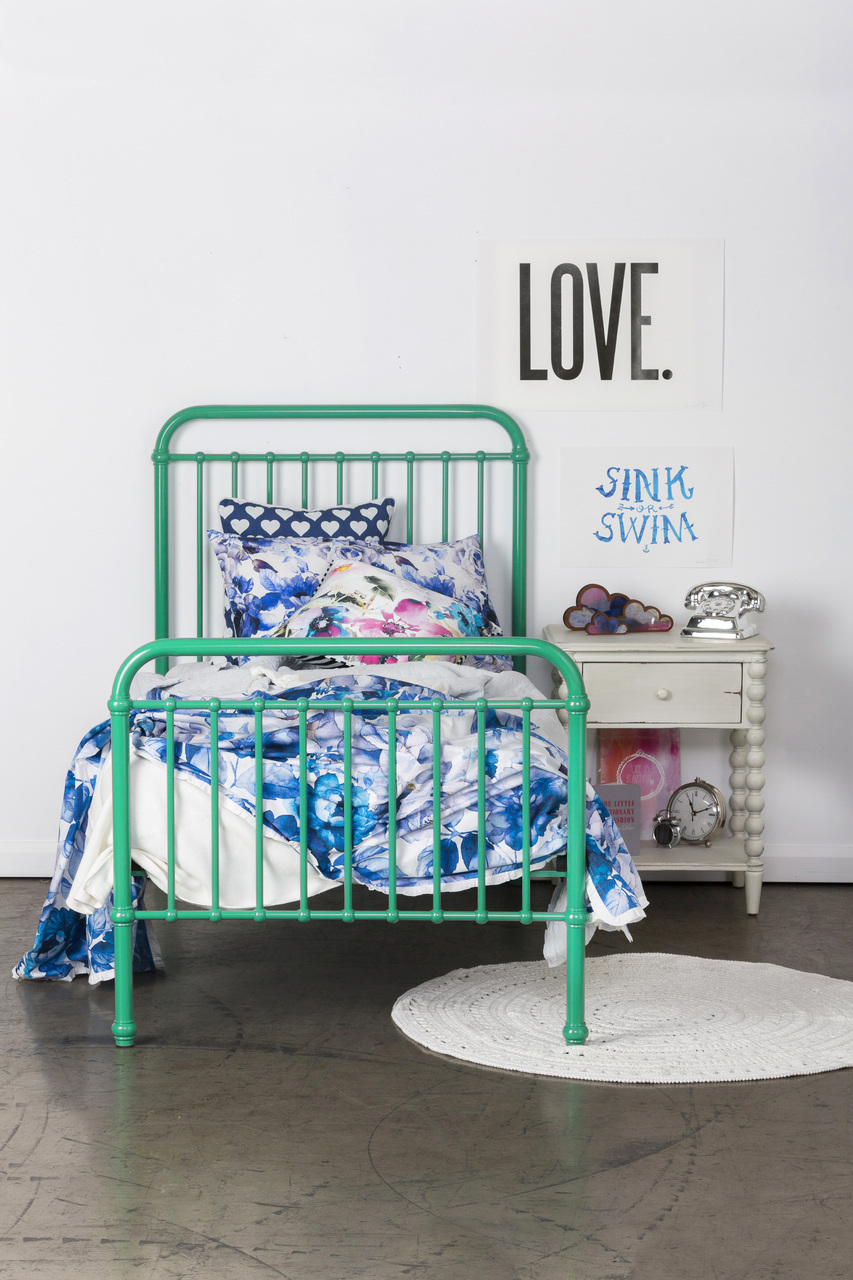 The Pop bed by Hardwick & Cesko: This made to order Tasmanian oak and pine number is currently sold out but due to be available early this year. We love the fun Australian design by David Hardwick, based on paddle pop sticks.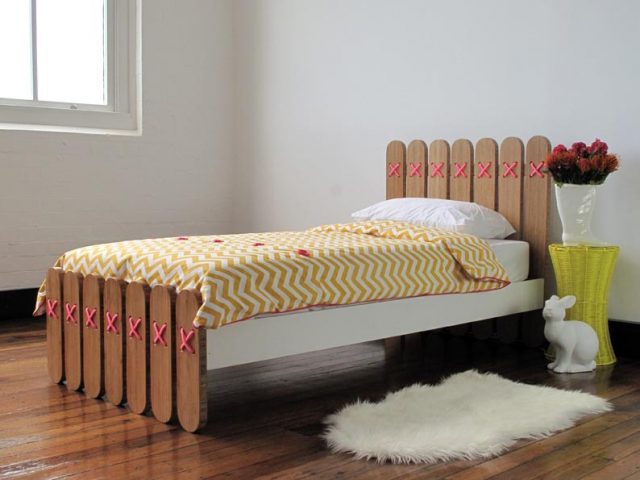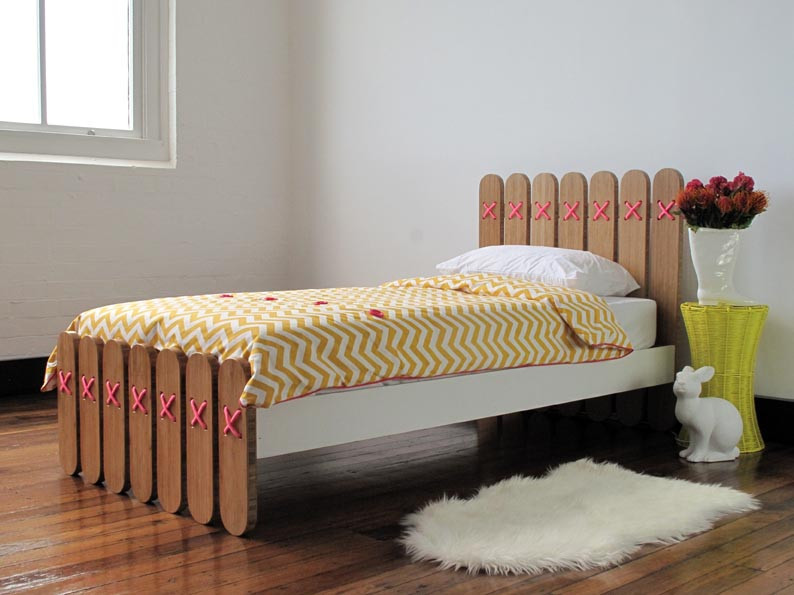 Sleigh Bed from Lilly & Lolly: A real big boy/girl bed, this classic Sleigh Bed features curved sides to create a sense of privacy and comfort. Available in single, king single and double, a trundle comes as an optional extra.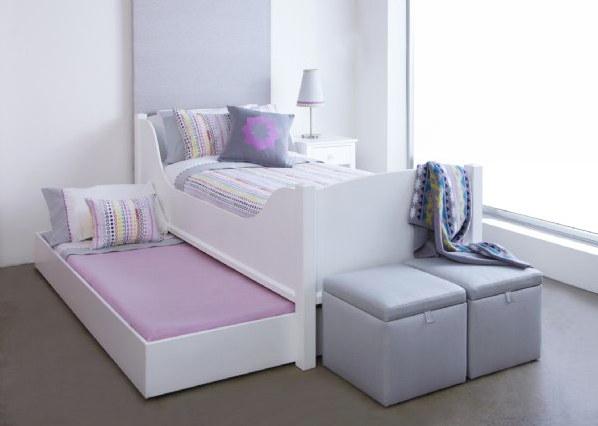 Kalon Caravan Divan Bed from Kido Store: The perfect big kid bed for your toddler, the Kalon Caravan Divan can also transition seamlessly into a couch, so you can have it for years to come! Small in size and low to the ground, there are six colour options.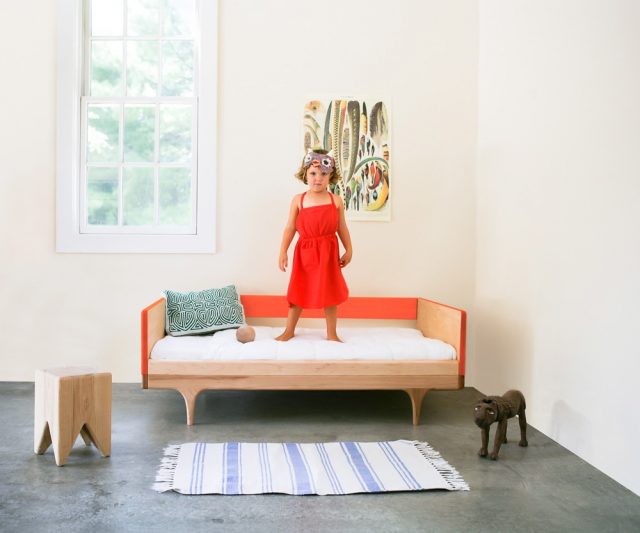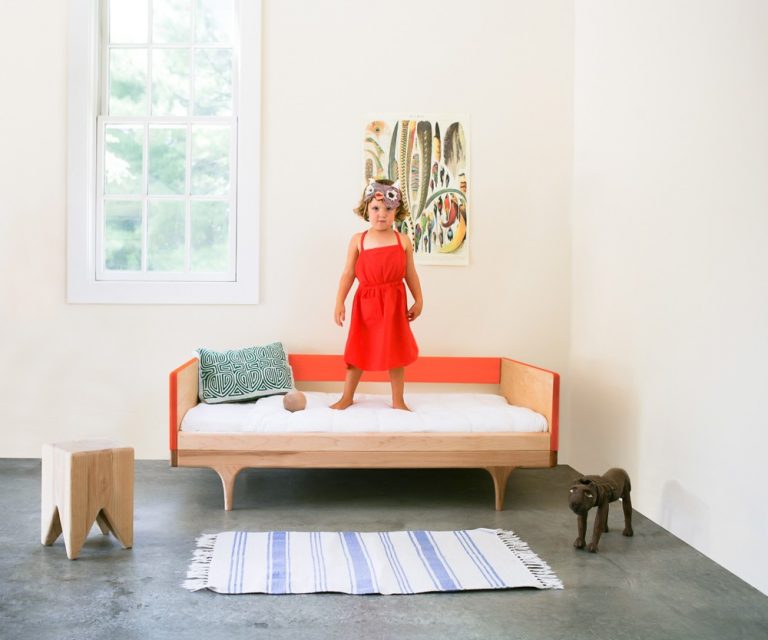 Madeline Canopy Bed from Pottery Barn Kids: It was my childhood dream to have a four-poster, so I know the Madeline Canopy Bed, with its intricate floral moulding and fluted posts, would have gone down a treat! As an extra, the mattress platform can be raised to accommodate a trundle or lowered to create a comfortable height for small children.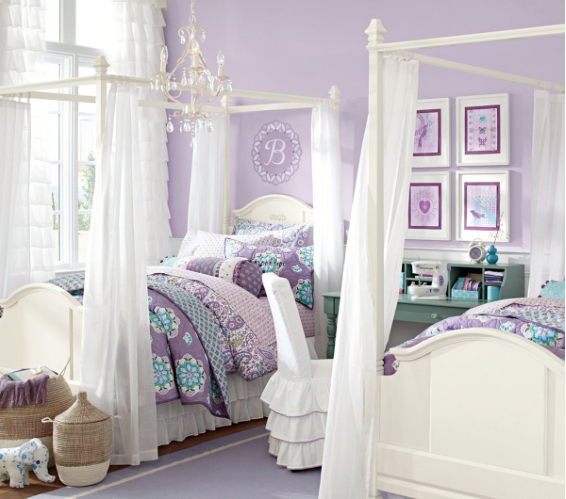 Sunday Bed from Bednest: With its winged sides, the Sunday Bed is the perfect cosy cocoon. In single and king single (with tall and trundle options also available), you can customise the bed thanks to a wide variety of fabrics; from the neutral tones that will stand the test of time to the totally impractical but fun bright colours.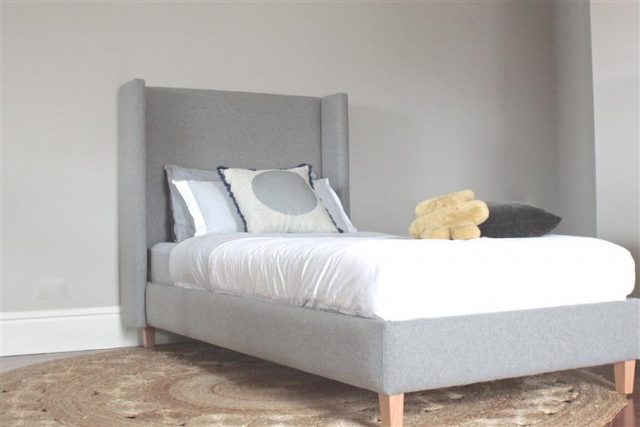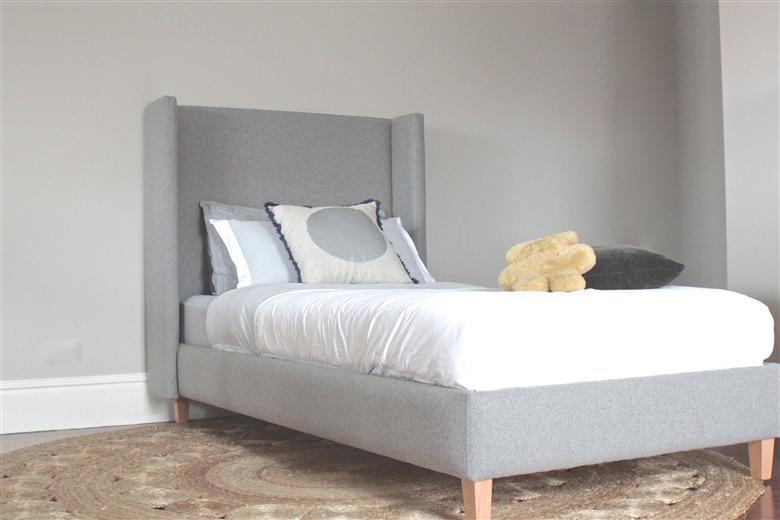 Oeuf Perch Bunk from Out of the Cot: Incredibly versatile, the Oeuf Perch Bunk (in birch or walnut) can be configured as a traditional bunk to save space, an L-shaped bunk to fit into unusual spaces, or alternatively both beds can be separated; so you can set up the top bed in one room (with cupboard, dresser or desk underneath) and the lower bed in another — two rooms done! We love the flexibility of this one, meaning you'll get use out of both beds for years to come.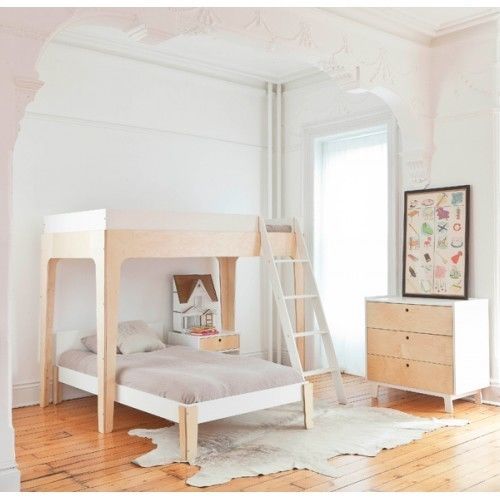 Nifty Junior Bed from Ubabub: Starting as a cot, the Nifty converts easily to a junior bed, the perfect next step for a toddler. With its 'not-so-big' size and close proximity to the floor, the solid and beautifully designed bed will provide a sense of familiarity and comfort.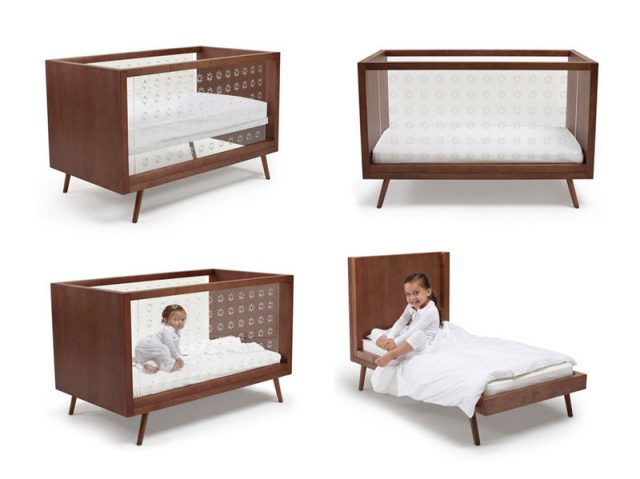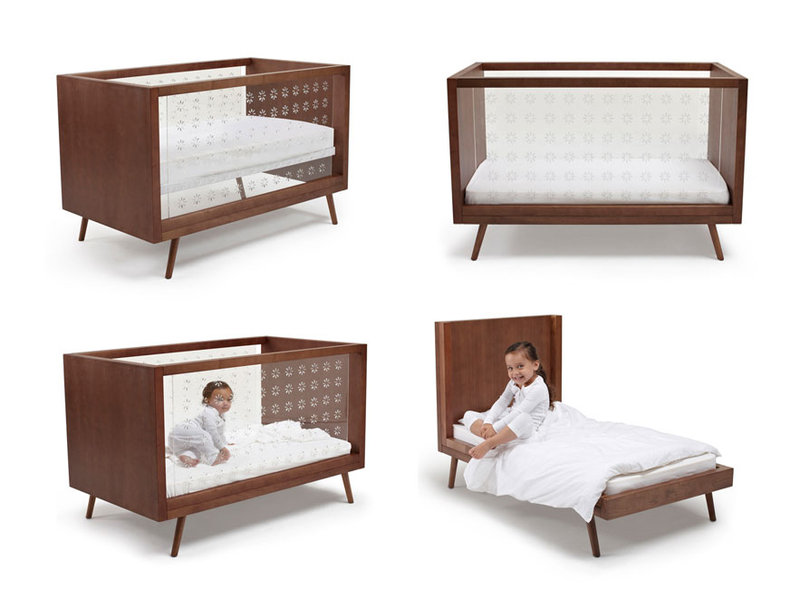 Huckleberry Bed from Bedtime: Made from reclaimed pine, no two beds are the same. Ideal for the rough and tumble of a child's room, this bed will be all the better, not the worse, for wear! Available in single and king single, there is a wide range of matching accessories, including trundles, bedside tables and bed guards.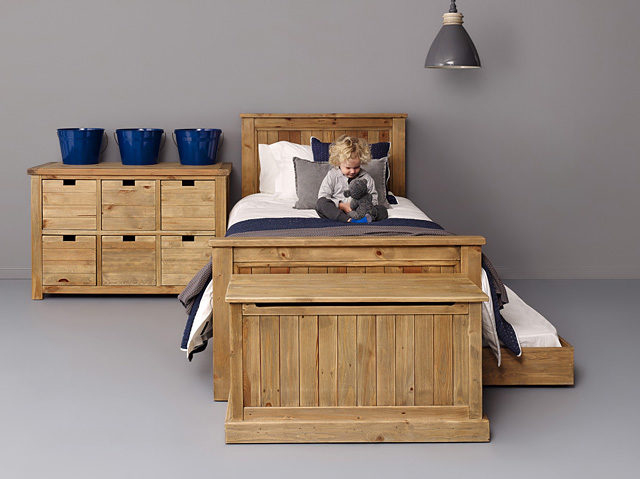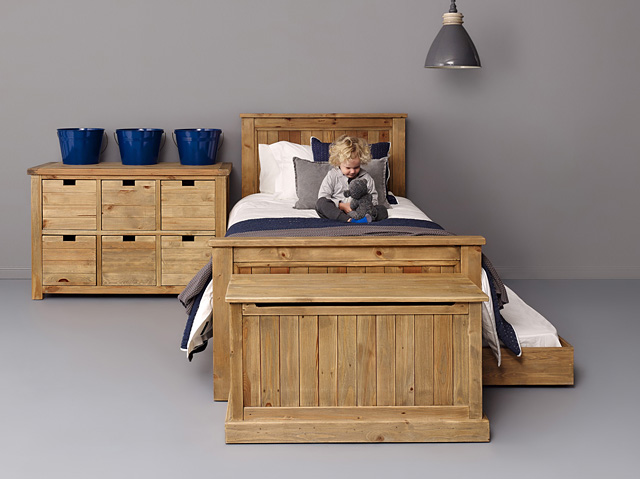 We hope you found this list useful. Please let us know which beds you'd add!