This week, we bring you this luscious version of French toast topped with caramelised bananas. French toast is one of the best ways to revive day-old bread before it turns stale and unpleasant.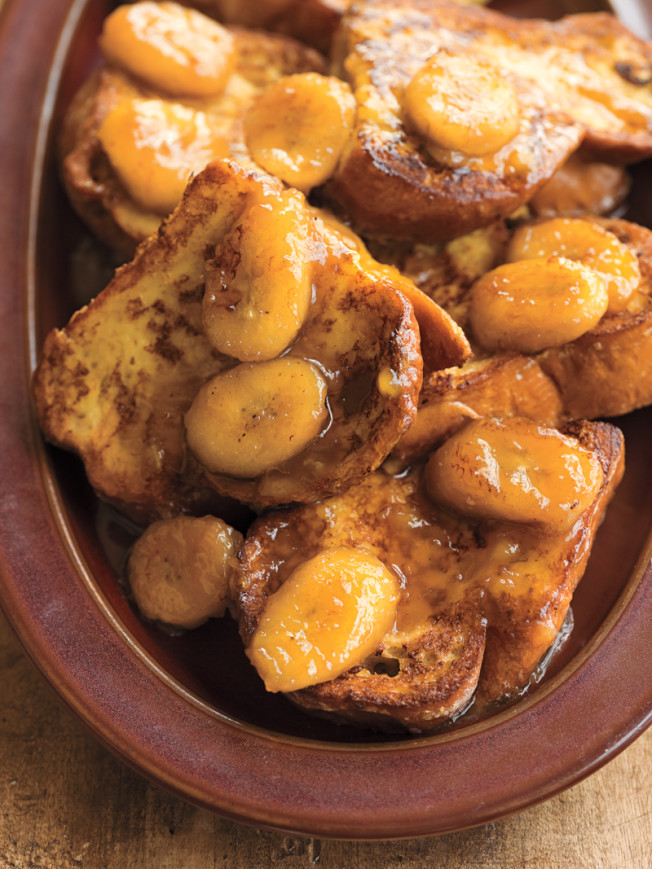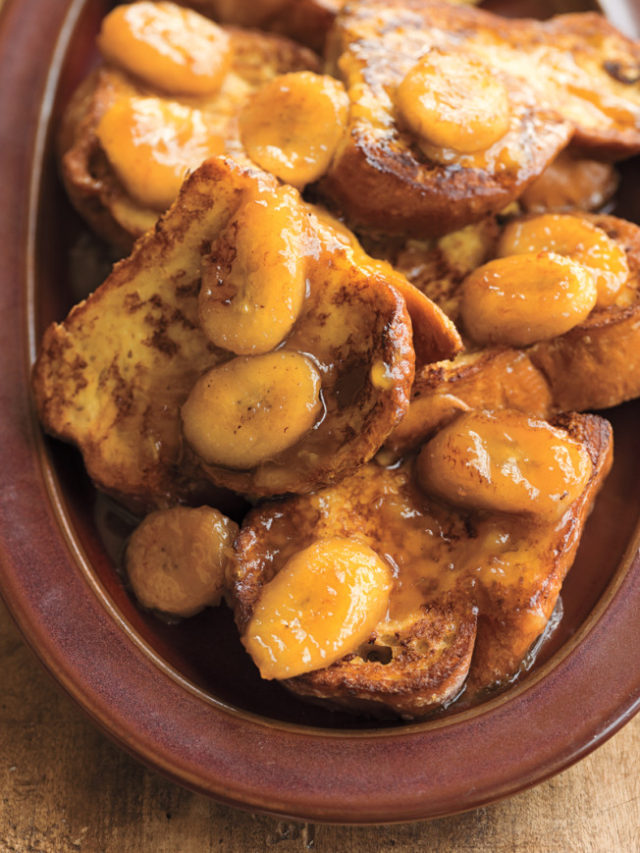 You need a good quality pan to distribute heat evenly, otherwise you end up with burnt bits! Williams-Sonoma currently has 20% off all cookware, which means it's the perfect time to go out and treat yourself.  This recipe will make an unforgettable weekend breakfast!
Ingredients
6 eggs
1 cup milk
1 tsp vanilla extract
Finely grated zest of 1 large orange
1/8 tsp freshly grated nutmeg
6 slices brioche or other egg bread
Canola oil for cooking
3 firm but ripe bananas
2 tbsp unsalted butter
3 tbsp firmly packed light brown sugar
½ cup fresh orange juice, plus more as needed
2 tbsp dark rum (optional for an adults only breakfast!)
Method
To make the French toast, preheat an oven to 180°C.
In a large, shallow bowl, whisk together the eggs, milk, sugar, vanilla, orange zest and nutmeg. Cut the bread slices in half, add to the egg mixture and turn gently to coat evenly. Let stand until the bread has soaked up some of the egg mixture – about 1 minute.
Place a griddle over medium-high heat until hot. Lightly oil the griddle. Remove the bread from the egg mixture, letting the excess liquid drip back into the bowl, and place on the hot griddle. Cook until the bottoms are golden brown, about 2 minutes. Flip and cook the other sides until golden brown, about 2 minutes more. Place the bread on a lined baking tray, transfer to the oven and bake until the centre of the bread is heated through but still moist, about 10 minutes.
Meanwhile, peel the bananas and slice diagonally. In a large fry pan over medium-high heat, melt the butter. Add the banana slices and cook, gently turning them occasionally, until they begin to brown –  2 to 3 minutes. Sprinkle in the brown sugar and cook until it melts – about 1 minute. Gently stir in the 1/2 cup orange juice and the rum (if you're using) and cook until the liquid has reduced slightly – about 1 minute. If the sauce seems too thick, add a little more orange juice until it reaches the desired consistency. Serve the French toast piping hot, topped with spoonfuls of the caramelised bananas.
Serves 4.
Variation: Sliced apples, pears, nectarines or peaches are all meltingly delicious when caramelised in butter and sugar. Just substitute an equal amount of whichever fruit you prefer for the bananas. If you like, match the fruit juice—apple juice or peach nectar—to the type of fruit you are using.
Find more decadent and soul-warming dishes in Comfort Food by Rick Rodgers. Enjoyed this recipe? You can try many more at the Williams-Sonoma Sydney Cooking School. Whether you're a beginner or an experienced cook, book yourself in to learn a range of different techniques and cuisines.