Celebrating ten years next month, Heatherly Design is celebrating with a fabulous new collection. From a minimal mustard bedhead to a lovely Kate Spade upholstered one and a luxurious tan leather foot stool, it's arguably their best yet!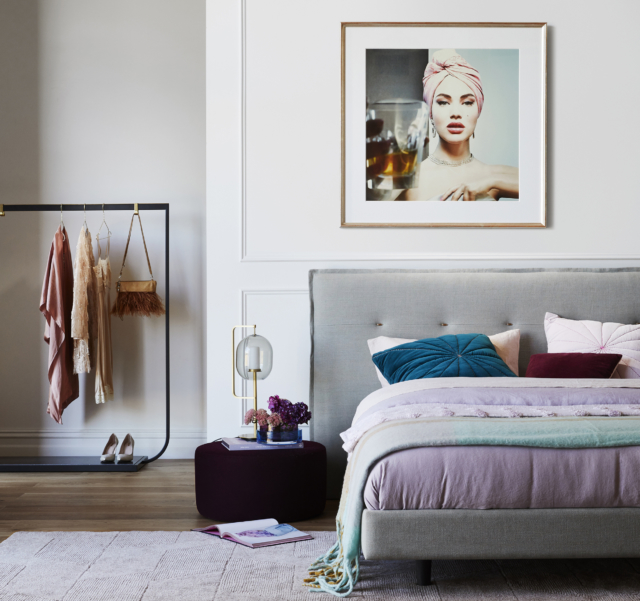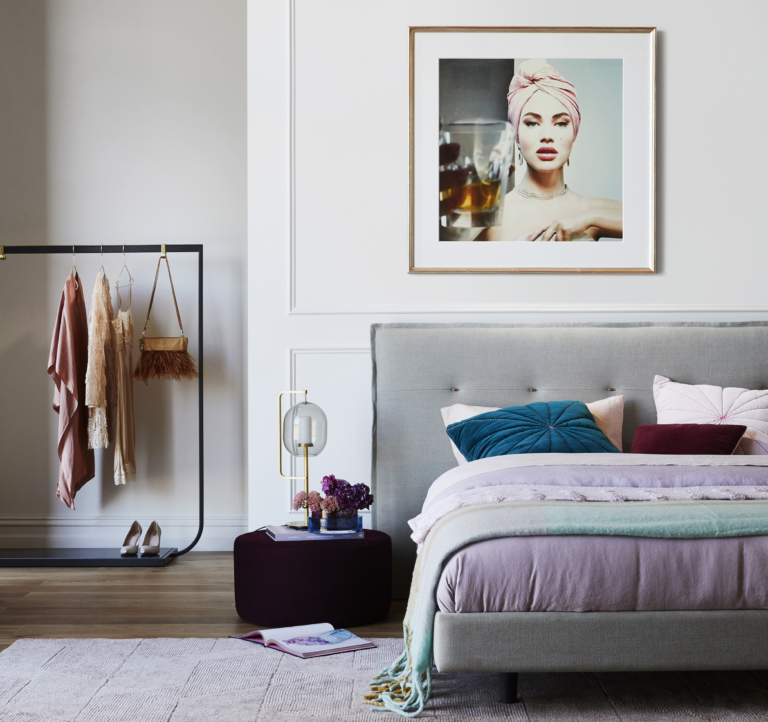 "The Lucia is the sister to our best-selling Rupert with the added bespoke detail of toggles made of leather and timber in the body of the bedhead.  We really wanted to showcase something different in this bedhead and our upholstery team harked back to the duffle coat toggle from years gone by for that truly unique touch," says owner and director Georgie Leckey.
The design also features the latest trend in beds – an oversized bedhead paired with a smaller base. "Bedheads wider than mattresses are a strong look. You can see this in our Lucia design using a king bedhead on a queen base, and the Lincoln too," says Georgie.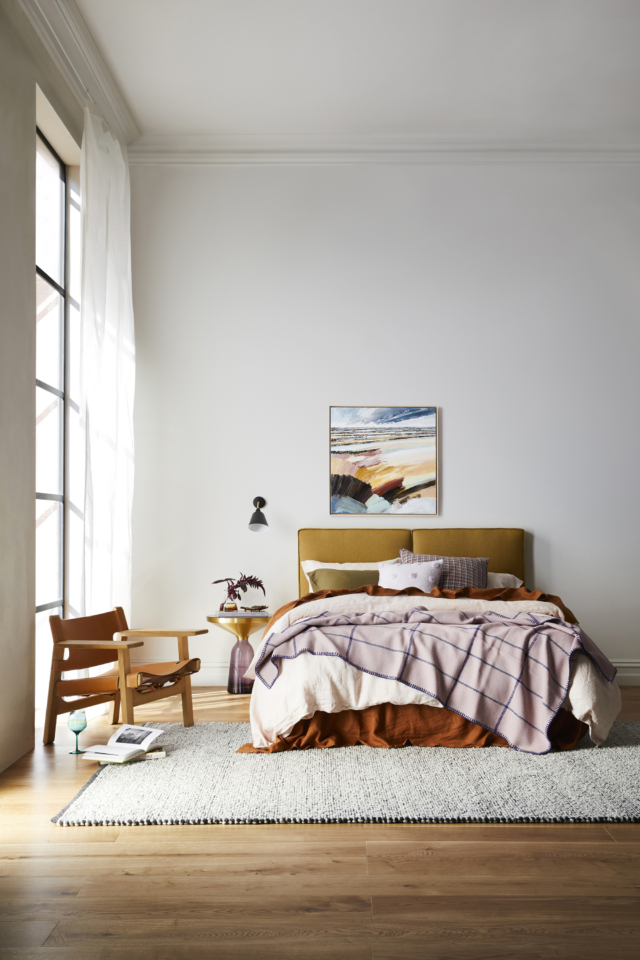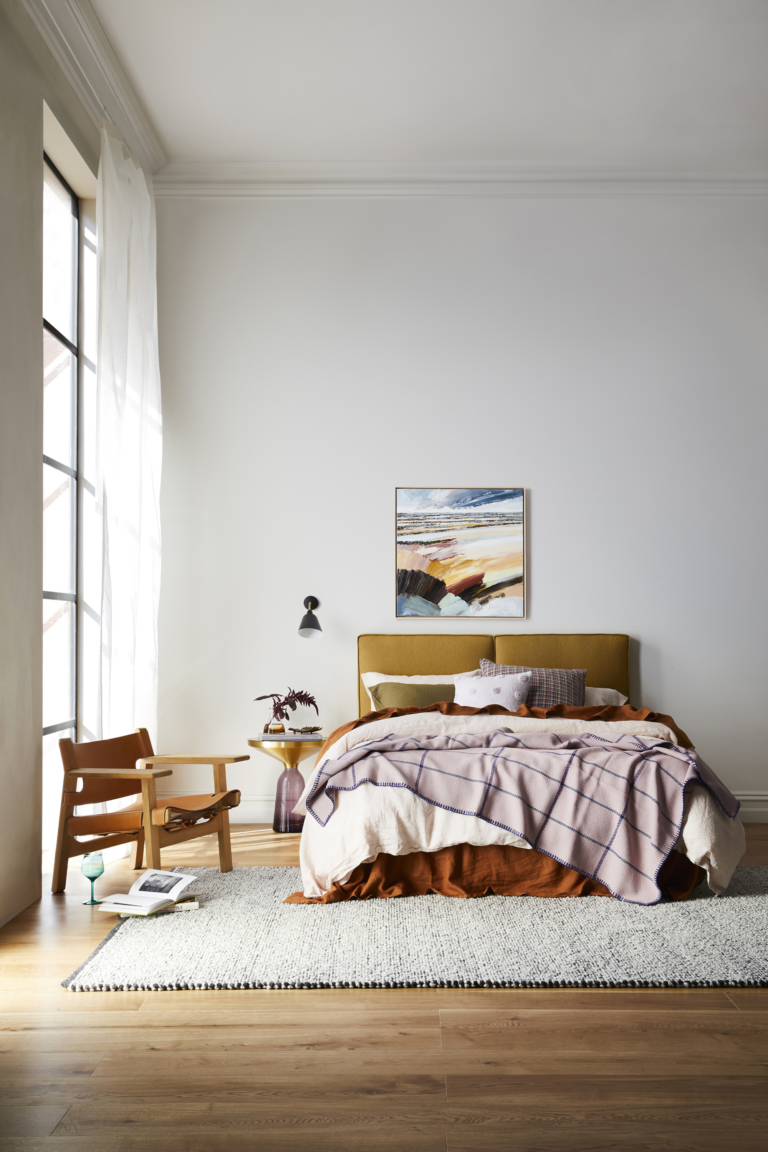 With its low profile and mustard hue, the Armelle bedhead is a subtle yet sophisticated design that has feature piping. "It's the perfect bedhead for those that don't necessarily think they need a bedhead. It is low, sleek, incredibly comfortable and understated," says Georgie.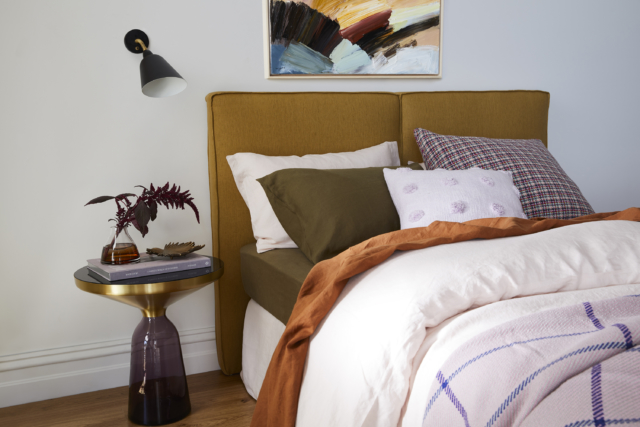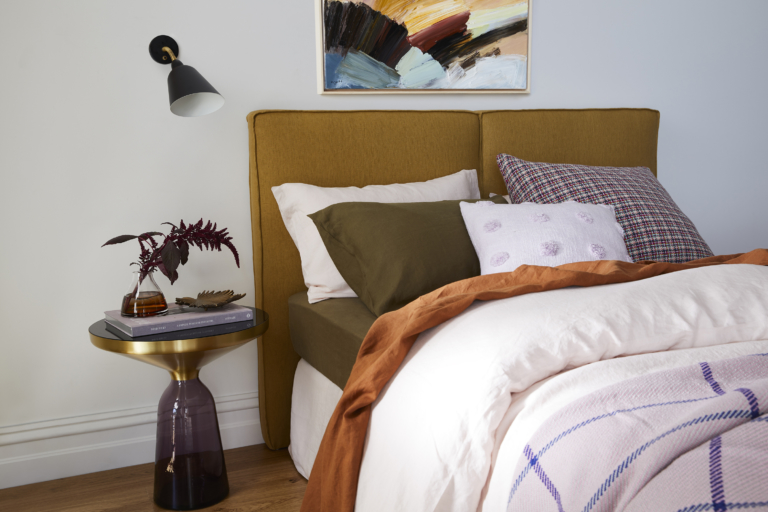 "The Portobello is a black and white theme I have been longing to do for some time, so when this beautiful geometric weave came our way it was the perfect design for this scheme. We have chosen a king bedhead on a queen base and played around with scale," says Georgie.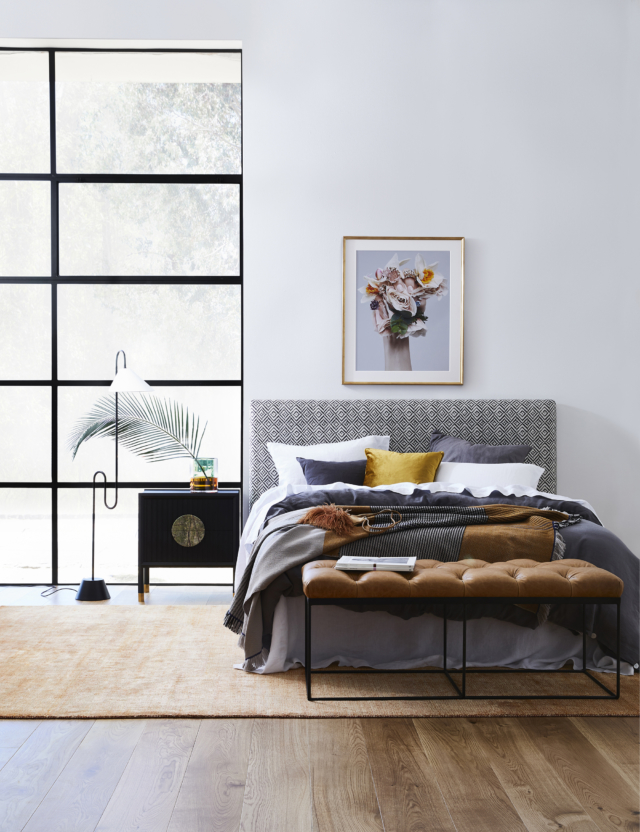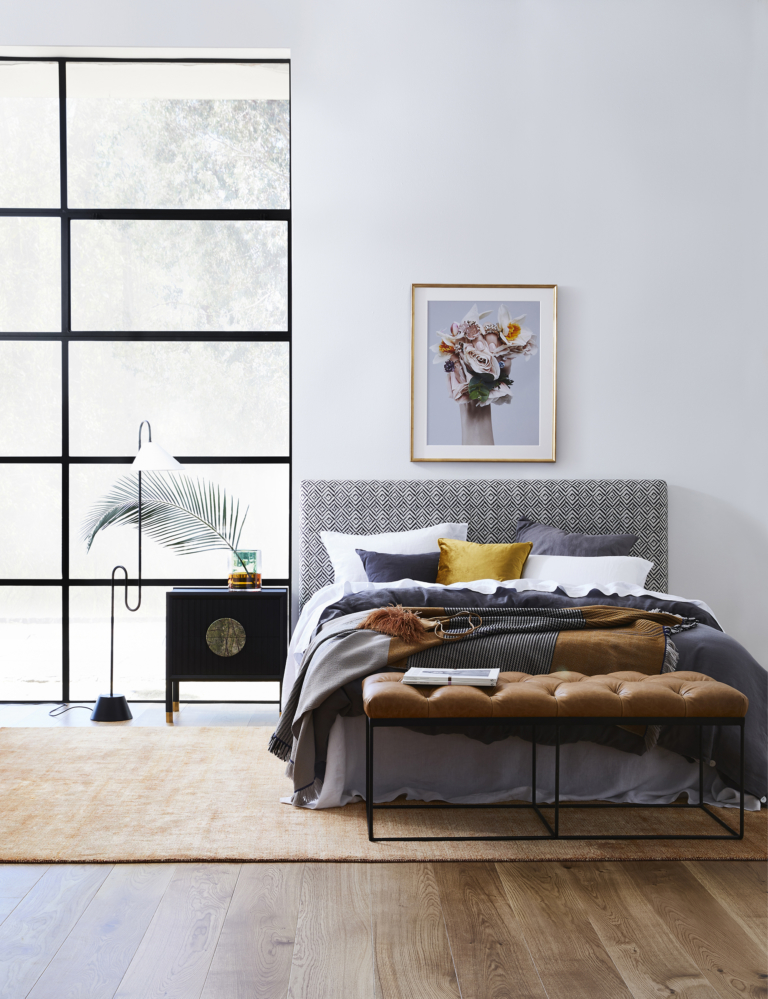 And straight to the top of my wish list is the new 'Tate' footstool with its buttoned buttery tan leather seat paired with a black wrought iron base. "The frame is made locally here in regional Victoria with our expert upholsterers completing the detailing of the seat," says Georgie of the design that was inspired by the beautiful gallery stools and lounges you can find inside London's Tate gallery.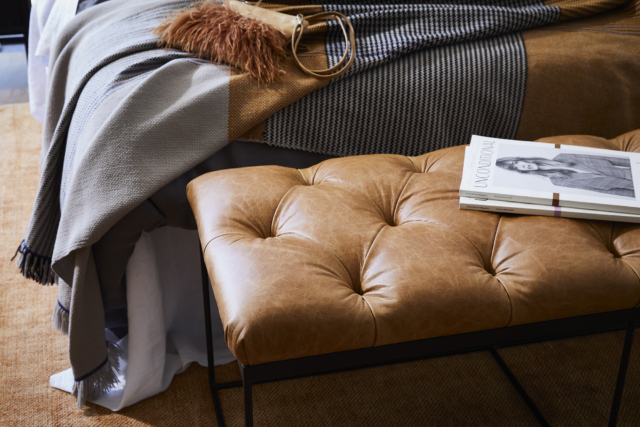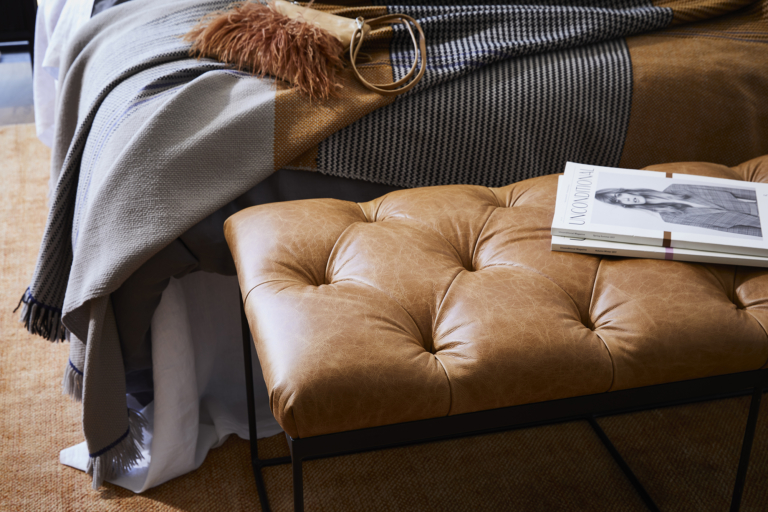 Our small friends haven't been overlooked either with the new range – the Stella is a gorgeous semicircle design that's upholstered in fun polka dots. "The Stella children's range is lots of fun and it's finished in a stunning Kate Spade fabric. This circle patterned fabric called for a semicircle bedhead and what fun we had with this one personalising each bed with different colours!" says Georgie.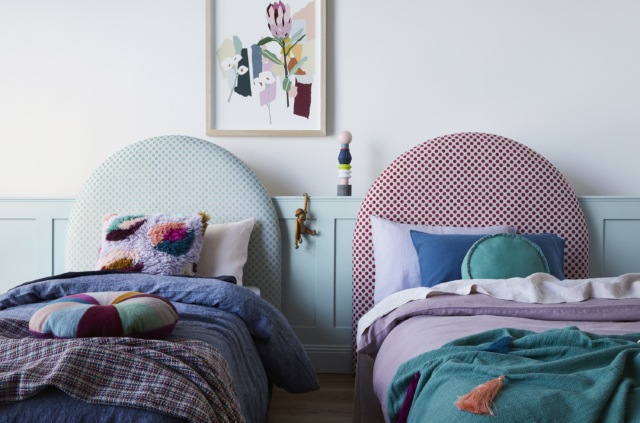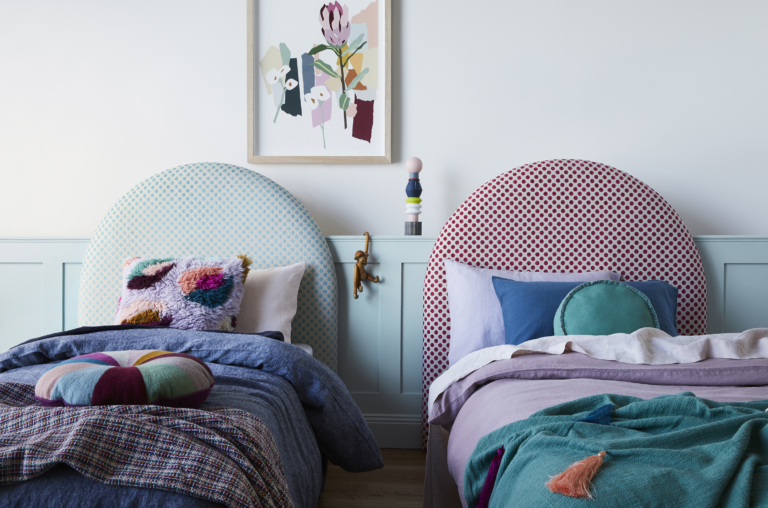 Photography: Armelle Habib | Styling: Julia Green and Noel Coughlan