Featuring interior designer Anna Spiro's latest textile collection, these new bedheads from Heatherly Design are rather swoon-worthy. The designer's signature love of pattern is very much on show in the Australian-made range. "My bedroom is my sanctuary. This new collection brings together some of my favourite new fabrics with Heatherly Designs' loving care, bespoke craftsmanship and attention to detail," says Anna.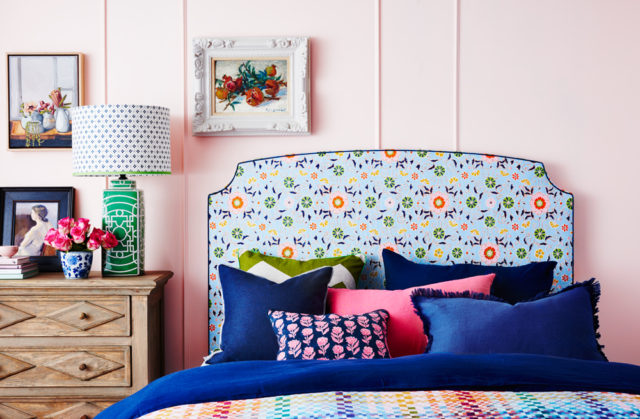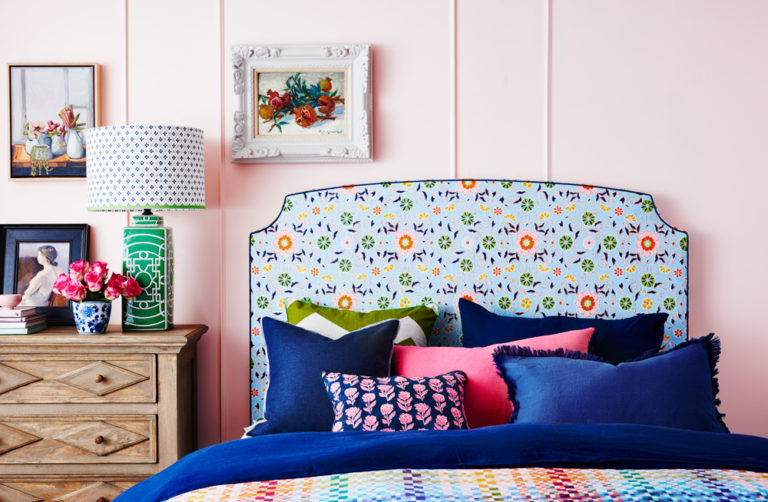 "We are committed to supporting Australian industries and when Heatherly Design approached us about this exciting collaboration, we jumped on board without hesitation. The handcrafted nature of Heatherly's bedroom furnishings sits perfectly with our artisanal hand screenprinted fabrics. The fact that the entire end product is crafted here in Australia makes us very proud," says Anna.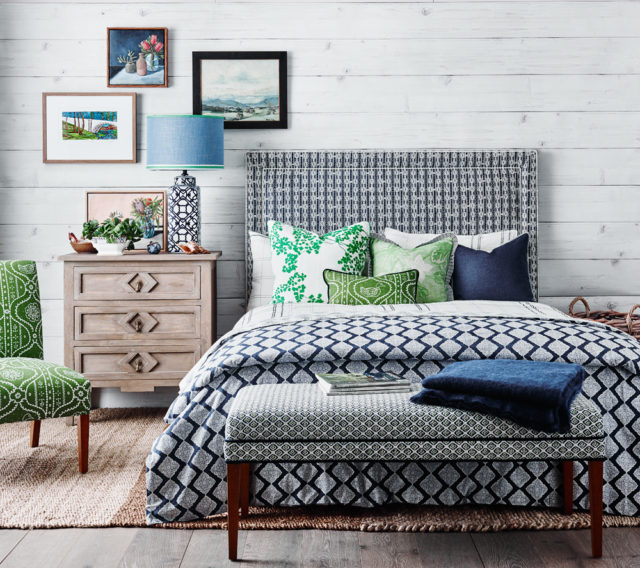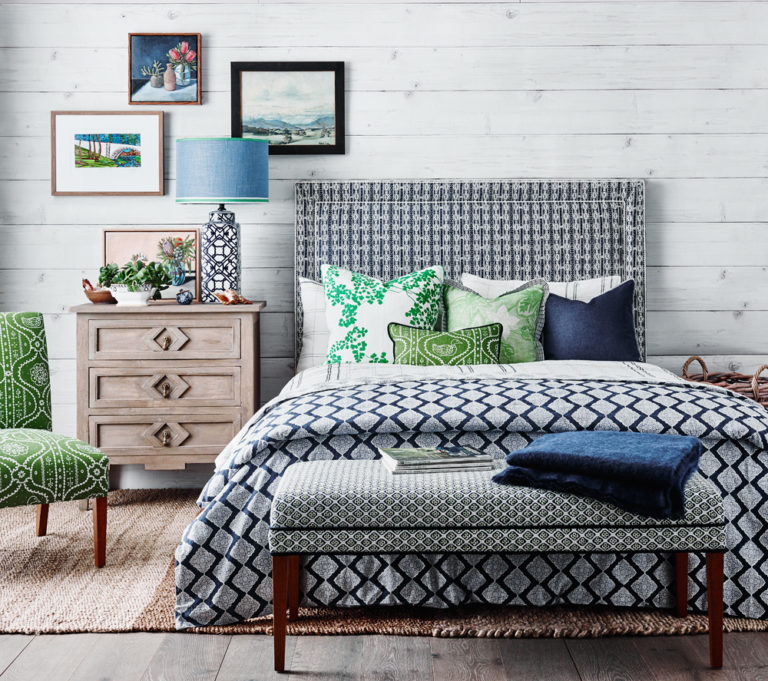 Heatherly Designs creator and director Georgie Leckey is similarly chuffed with the collaboration. "I am so proud to introduce this collection, the first of my Art Series. The designs are truly unique and a true reflection of our combined taste and style, as well as a fresh take on our individual creative inspiration." Georgie has long been a fan of Anna's work and created these styled shots in collaboration with the designer.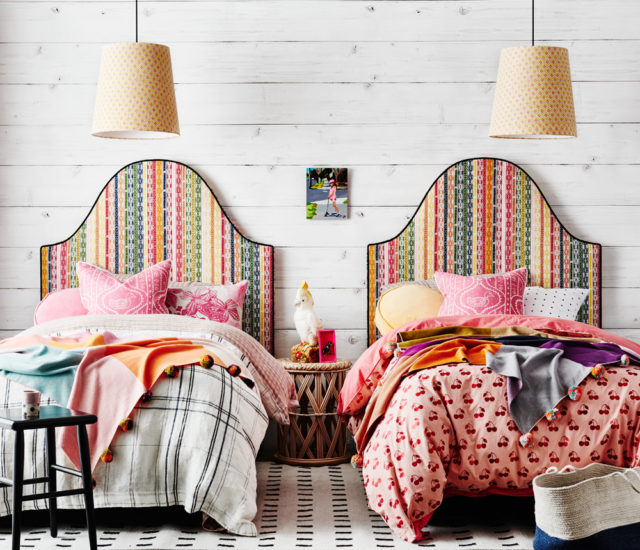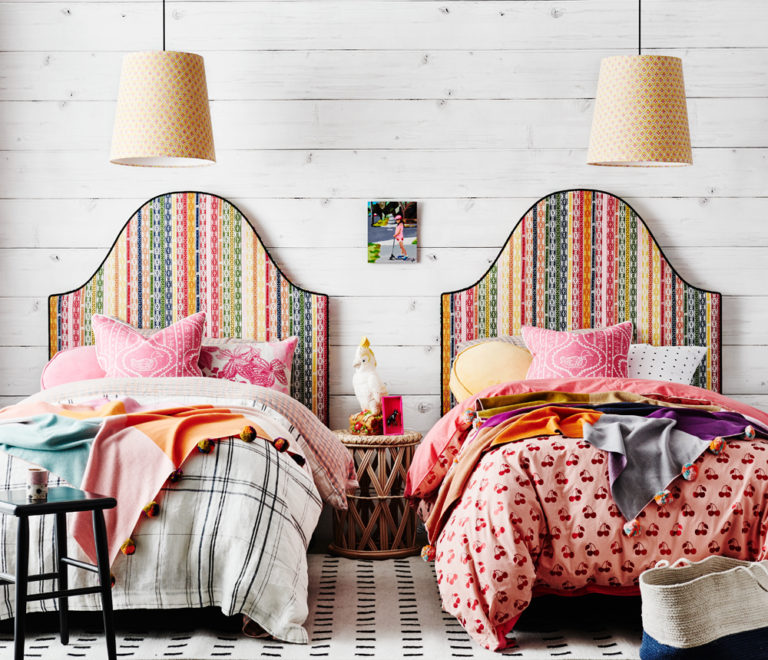 My favourite from the range, the Clareville bedhead, features a deep blue Anna Spiro fabric Kahuna with contrast piping. "The bedhead is teamed with a Kaka Duck fabric Fenwick chair and Adele footstool at the end of the bed finished in the charming Paniola print. This bedroom was inspired by a recent visit to Clareville, a stunning little inlet north of Sydney, where the pace is slow, the boats are charming and the feeling is good! I am sure the end result has more than captured this emotion," says Georgie.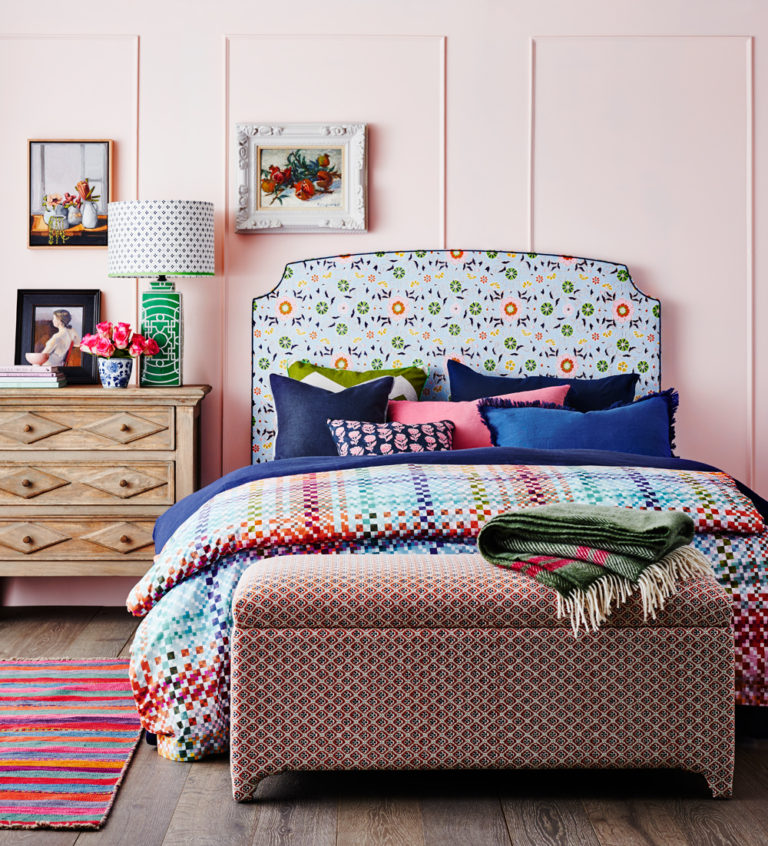 Featuring plenty of texture and layering, the Luella bedhead looks fabulous finished in Anna's Leilani fabric and the Genevieve single beds look gorgeous in the designer's Kahuna Multi fabric too – perfect for a shared girls' room. "We hope to encourage mums to be more confident in having a bit of fun with fabric selection and colours – Kahuna teamed with Kaka Duck cushions and other stunning accessories is a great way of expressing this," says Georgie.
Prices start from $1,990. Shop online.