It's been an action-packed first couple of nights on the new season of The Block with the 48-hour challenge kids' rooms revealed last night (more on that later and our top picks to buy). Not surprisingly, they weren't perfect, and it's what we've come to expect from week one. Let's face it, it's a hell of a lot for anyone to get their head around and to call the state they found the Gatwick Hotel a fleapit would perhaps be too kind! I actually don't know how they can cope sleeping there without getting pest control and industrial cleaners in. Bleugh!
But the new teams cracked on, and we've got to know them quite well already. The stronger characters are already emerging and I'm starting to place bets on who'll be first to have a big fallout. I personally get so tired of people saying the show should be more about renovating and less about drama. It's reality TV, people, get over it! And if you don't like it, watch something else! Ratings and Logie wins prove they're doing something right so why mess with a winning formula?! There's also plenty of renovating to be seen.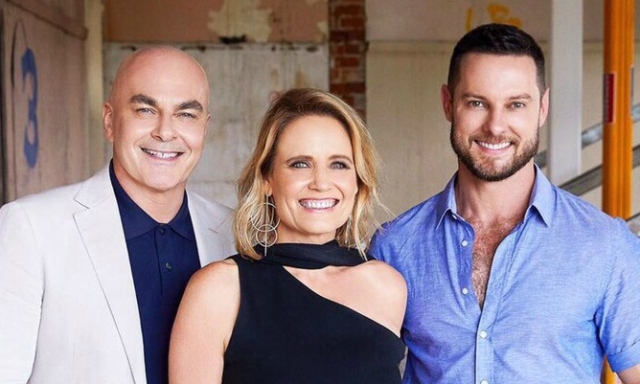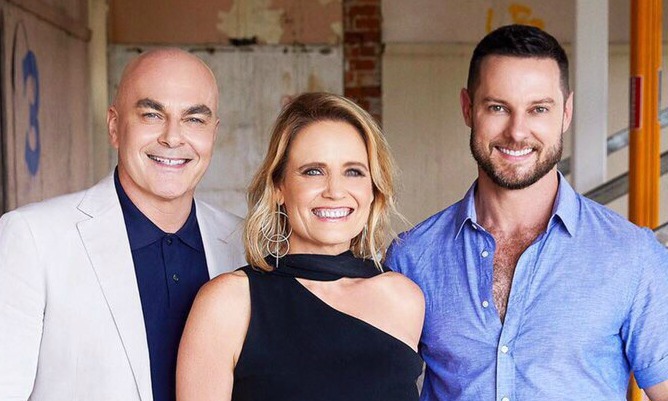 While these weren't the most exciting or impressive rooms, there was a lot riding on them, with first place getting to choose their apartment first, and so on. Surprisingly, the slick rooftop penthouse additions were not the first two to be picked and only time will tell if the contestants made the right call there.
We now also know that next week's reveal is going to be the main bathroom. No messing around there! I can't wait to see how they go!
So onto the kids' rooms and the judging…
BIANCA AND CARLA
The former pro netballing friends from Melbourne came third and picked apartment five, one of the penthouses.
Shaynna said their room was "wonderland" and Neale called it clever. The judges liked how it was a playroom as well as a sleeping room.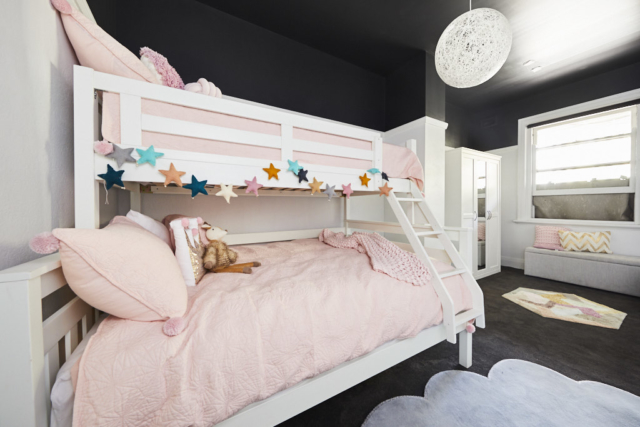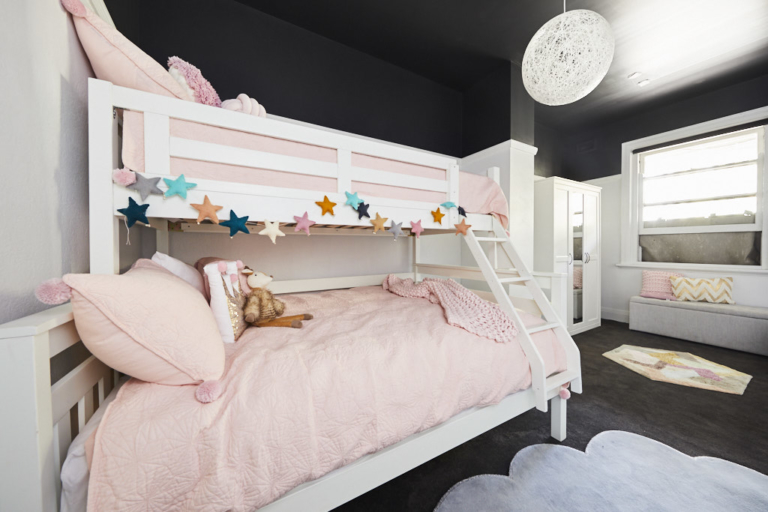 Darren loved the stone-effect paint but called out the blanket box dangerously close to the opening window. Shaynna also criticised the one very blank wall.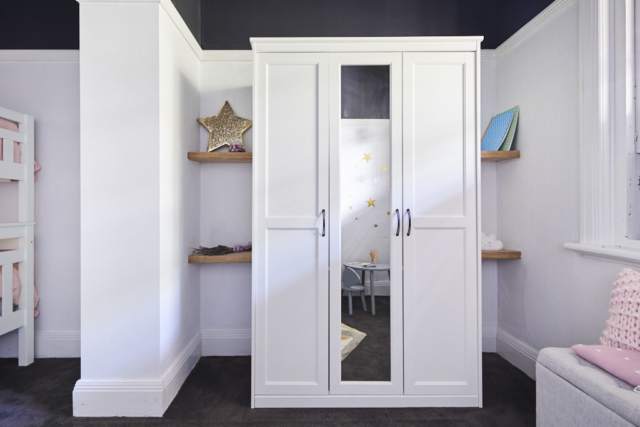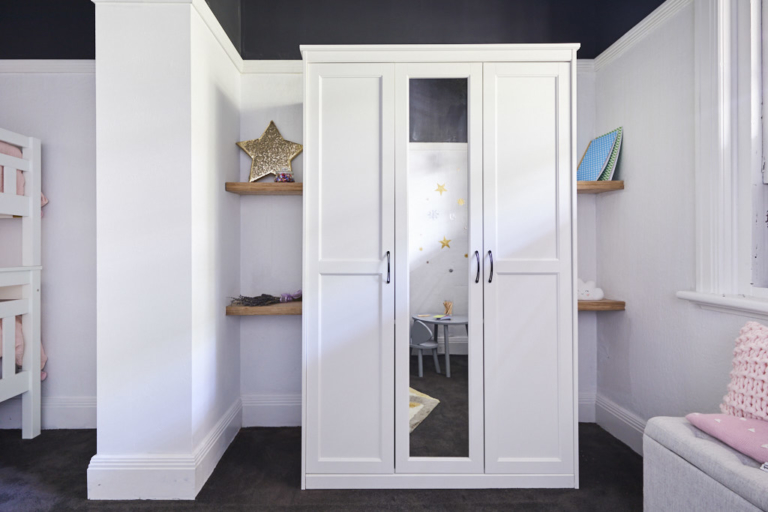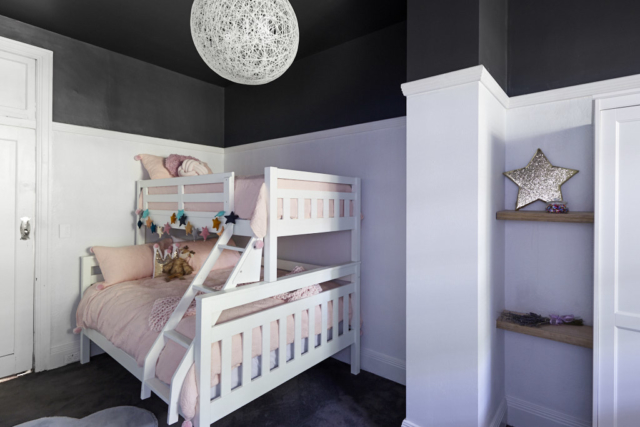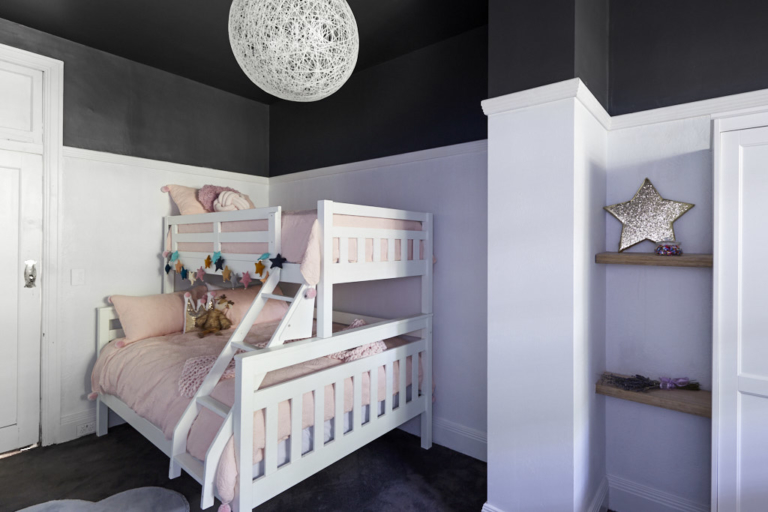 Our picks: Nofred mouse table and chairs and Silver lining cloud rug.
***
COURTNEY AND HANS
The flight attendant and the pilot from Perth came last, landing apartment two, the biggest, which they weren't unhappy with.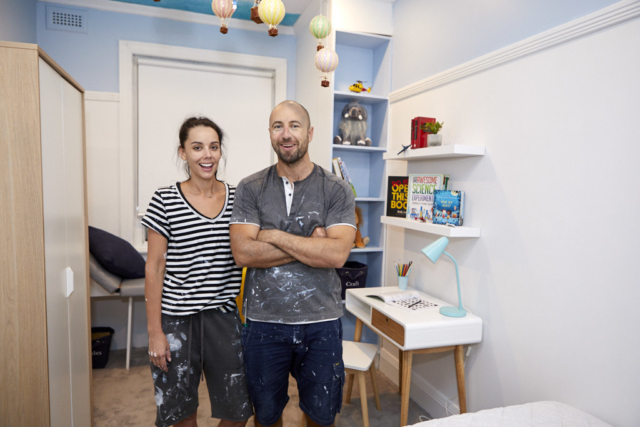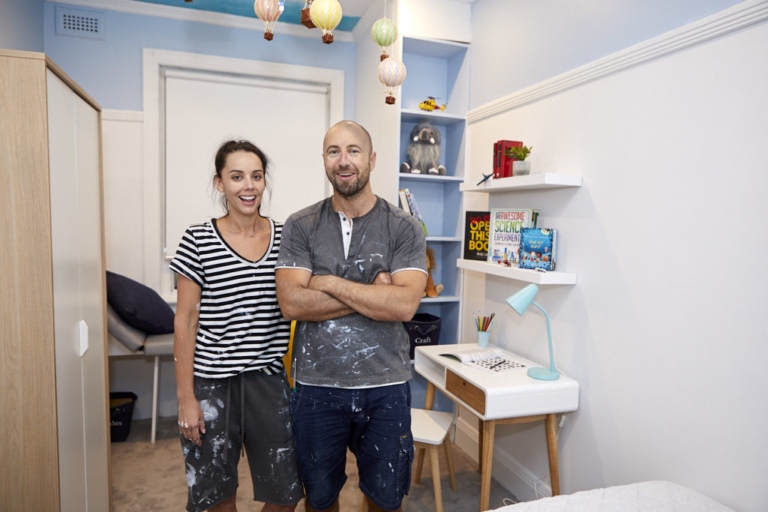 Darren said it was a really beautiful show of effort; cute and whimsical. That cloud wallpaper ended up making the impact they'd hoped but it went a bit downhill from the ceiling!
When the judges looked around they found too many gaps and examples of poor workmanship.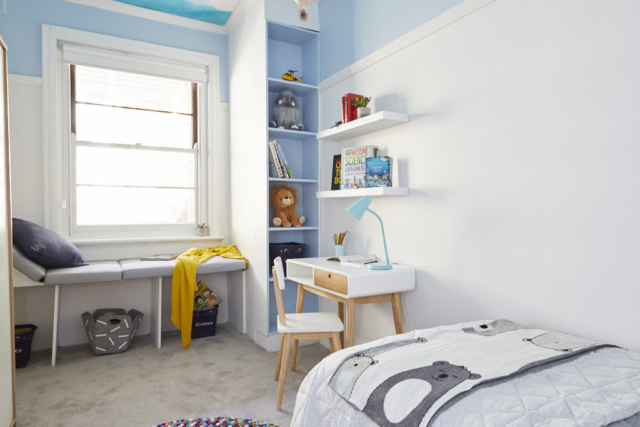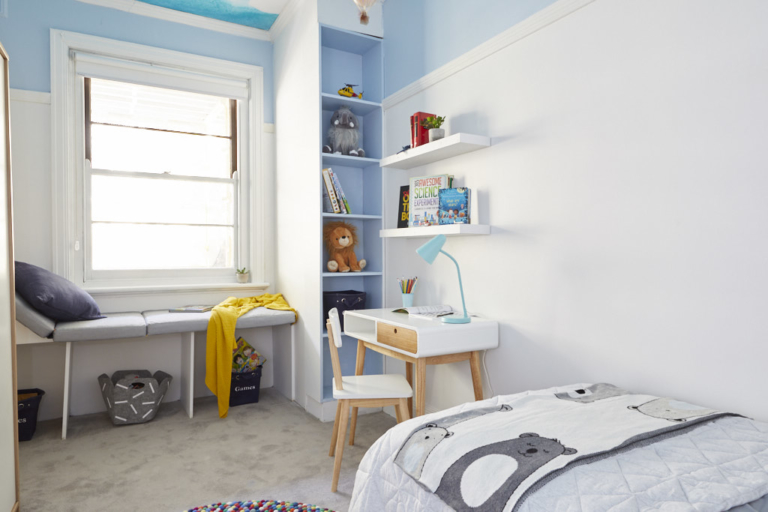 And another dangerous benchseat under the window (are you seeing a theme here?!) also lost them points.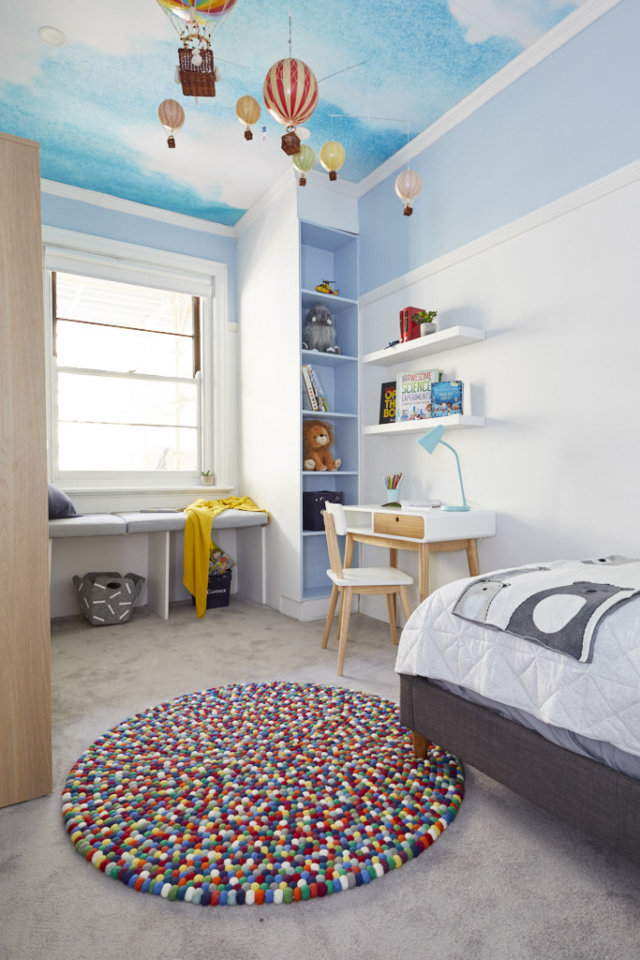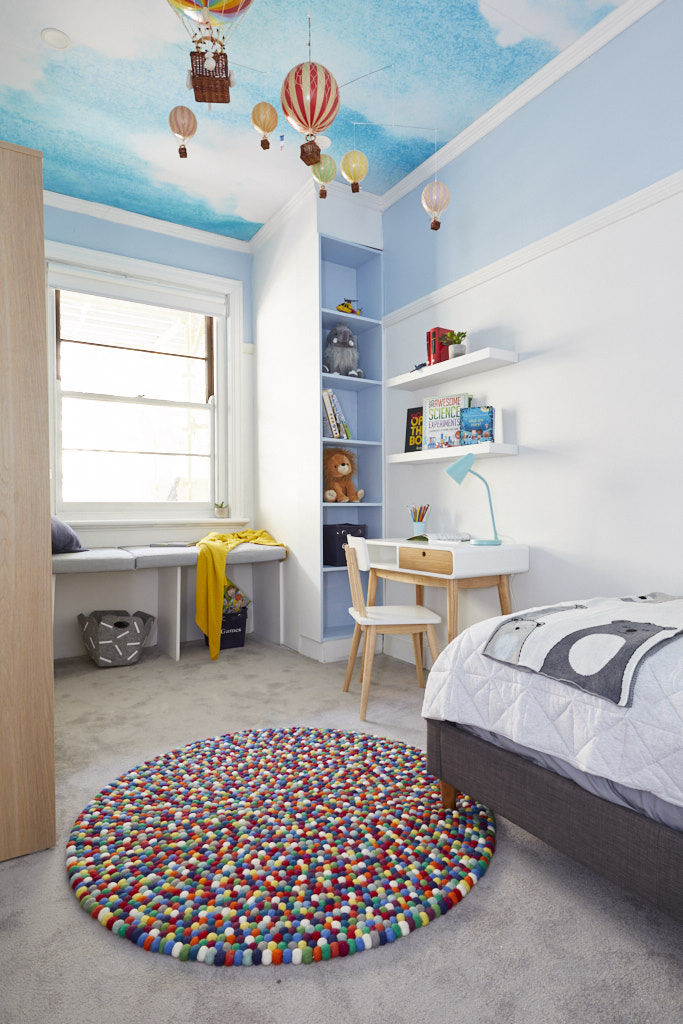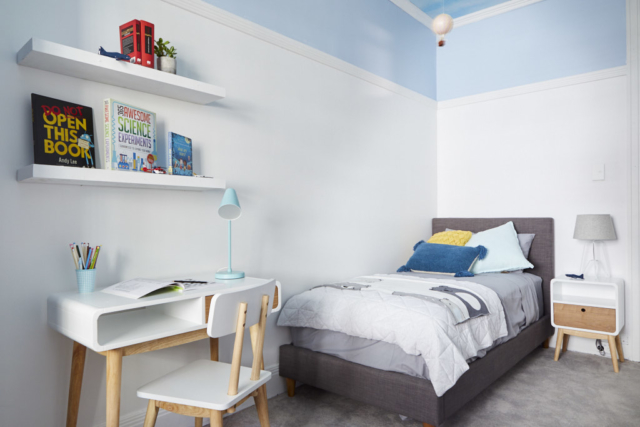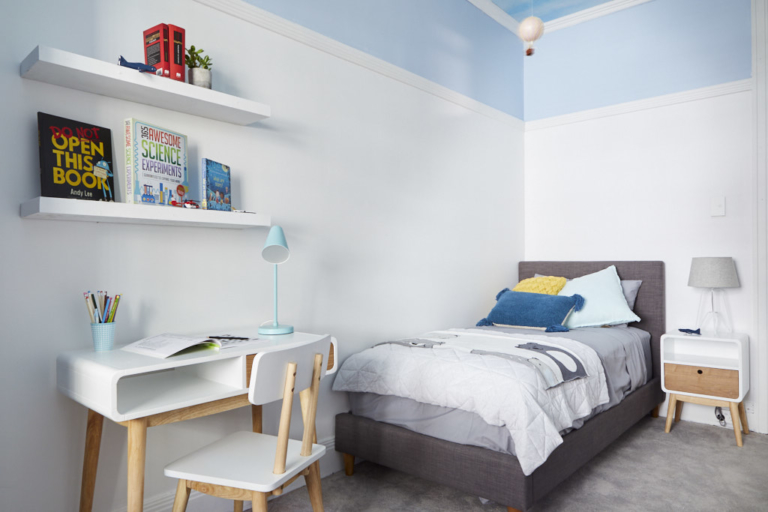 Our picks: Vintage hot air balloon, felt ball rug and Head in the Clouds wallpaper
***
JESS AND NORM
The Queenslanders came fourth yet still bagged one of those penthouses, apartment four.
Neale said they'd really put a lot of thought and energy into it and Shaynna loved the idea of it. Darren thought the vignette of artworks and the shelving were cute.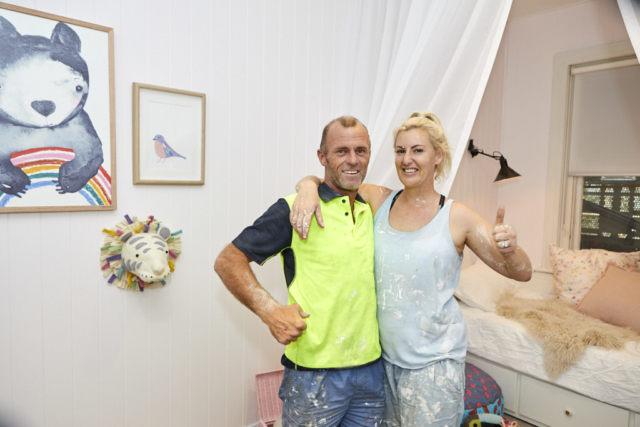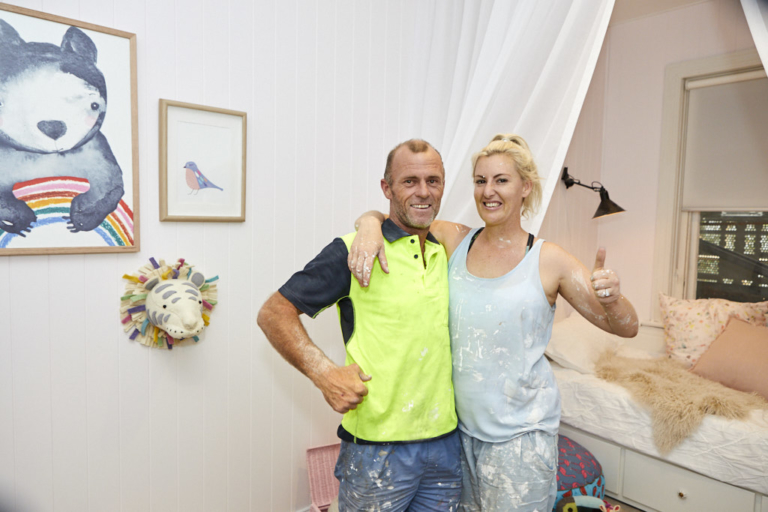 But Shaynna added it was the first room she'd walked into and felt their panic with many unfinished elements.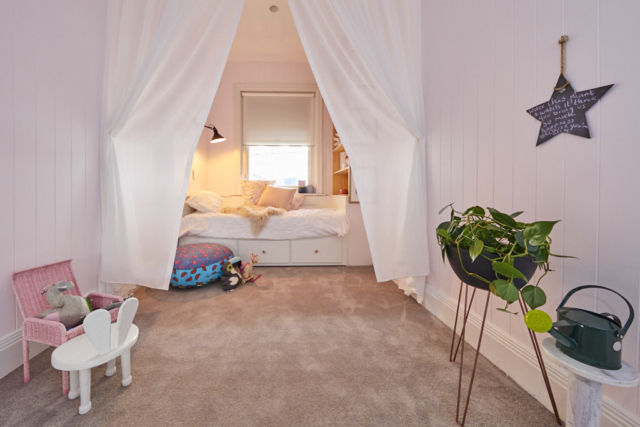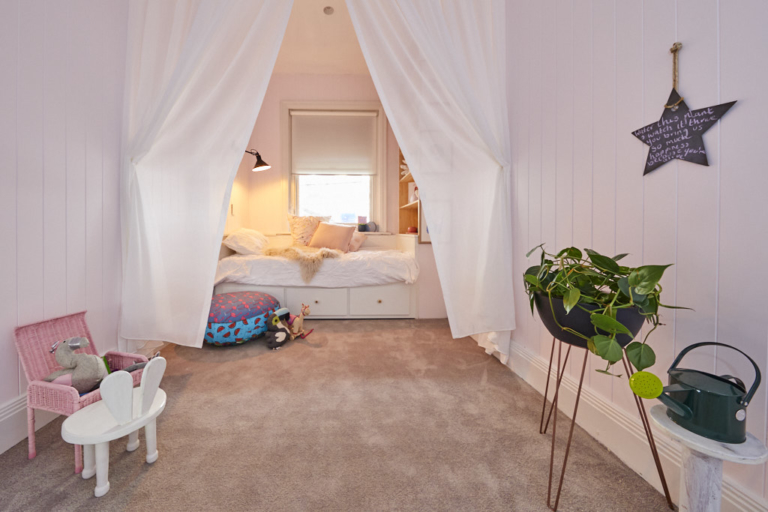 And once Darren pointed out the bed built in under the window was not only dangerous but illegal, it all went a bit wrong!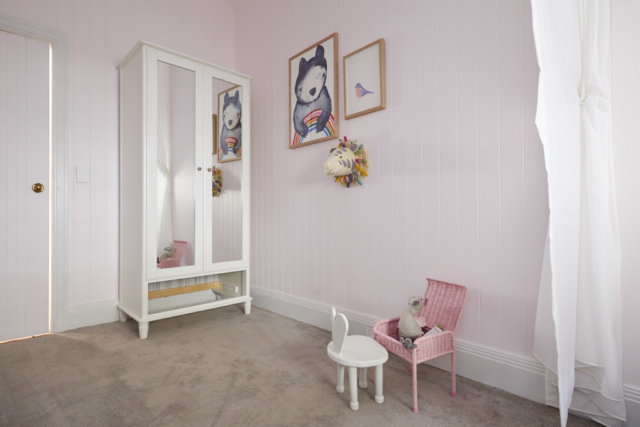 Our picks:  Rainbow hugs artwork and lion print
***
KERRIE AND SPENCE, the eldest couple, a nurse and owner builder from the Barossa Valley in SA, came second and took the gamble on apartment one which contained the mysterious safe. It paid off as it was full of $150k worth of vouchers!
The judges called their room simple, elegant, and appropriate for a teenage girl but it didn't really nail the kids' room brief. Yes it was a nice room, but it wasn't a kids' room!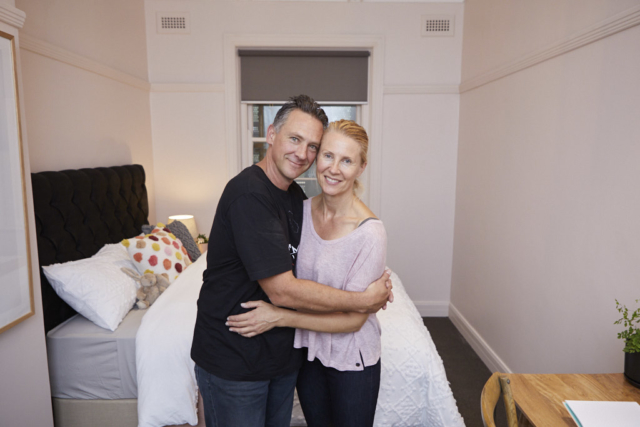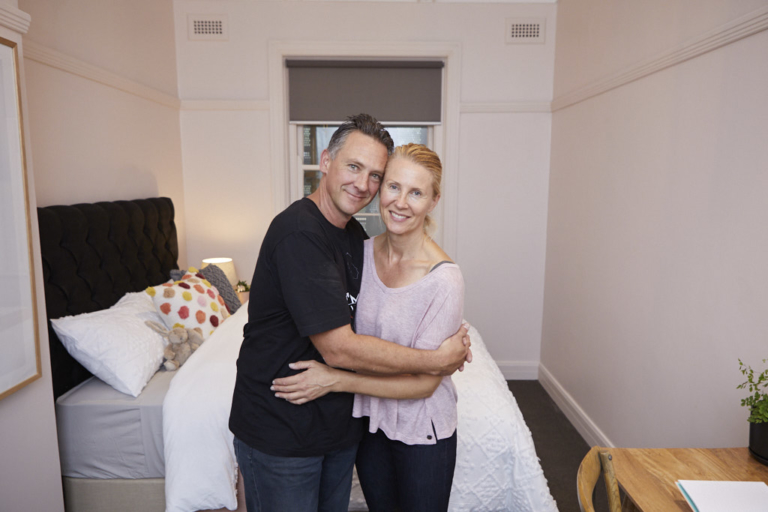 They were impressed by the coffered ceiling (I loved it too). Neale said the colour palette harked back to the era of the building but was contemporary too. And Shaynna said they'd done nanna chenille in a really current way. It was clear they were a team to be reckoned with.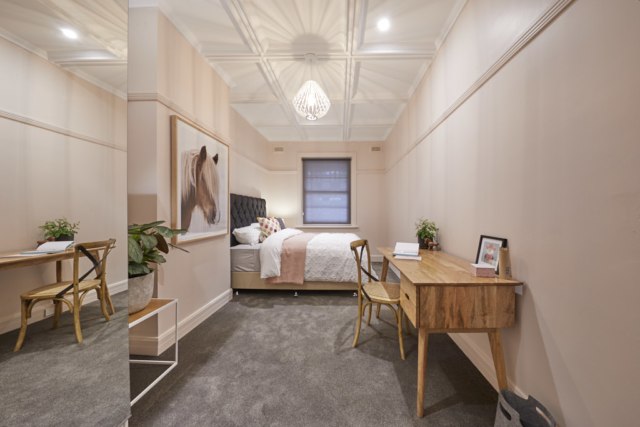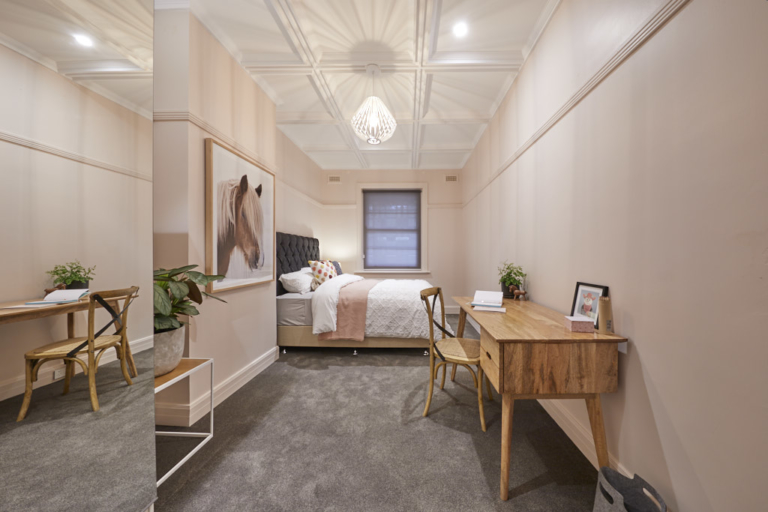 BUT (there's always a but!) Shaynna said she'd be so bored lying in bed with nothing to look at but an empty wall and Neale rightly questioned if it worked as a kids' room? Shaynna said not at all.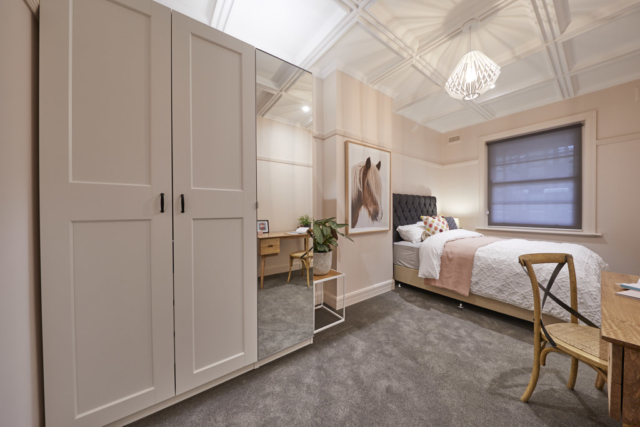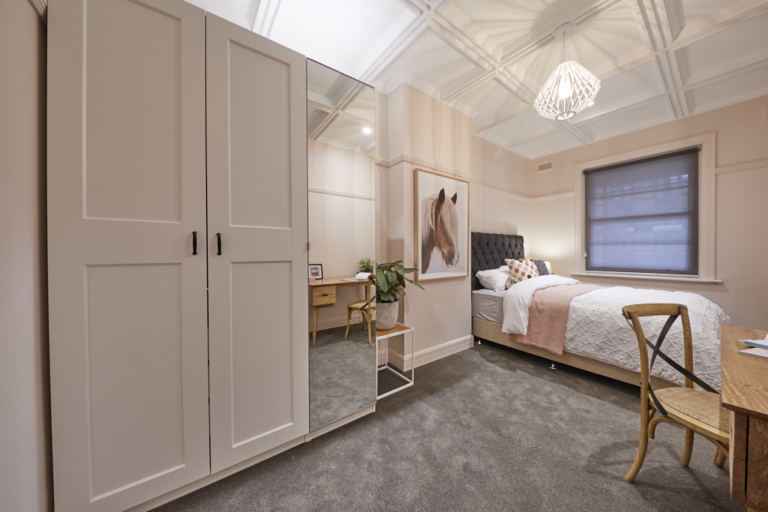 But they agreed the couple had created an amazing perception of luxury in just 48 hours. Let's not forget what they started with!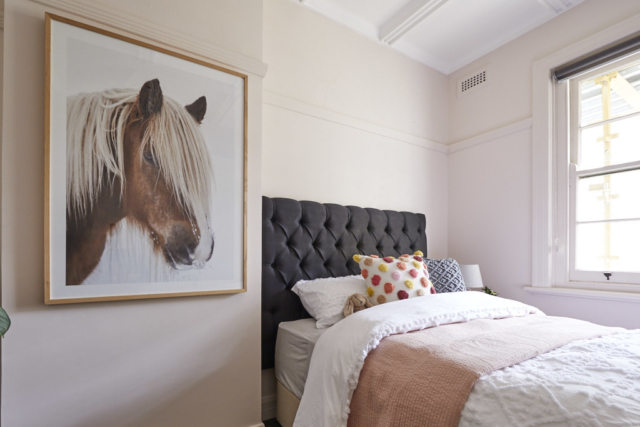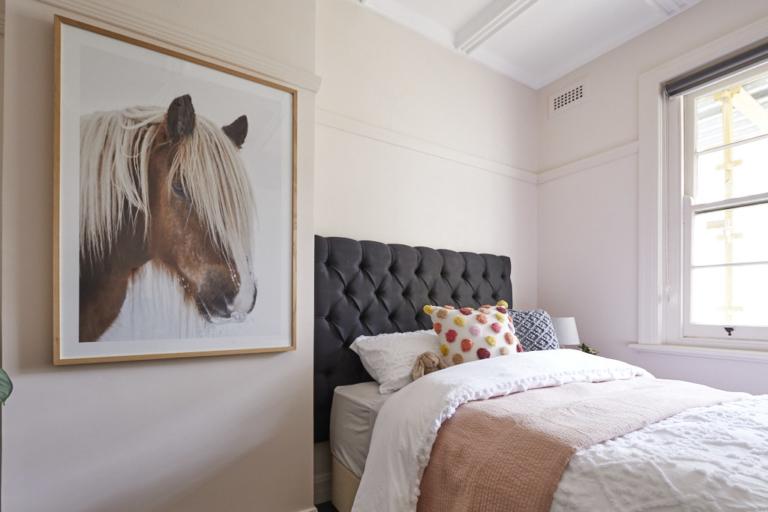 Our picks: Framed horse photograph, pendant light and blush vase.
***
HAYDEN AND SARA came first, the newlyweds with a baby from Sydney. She's (another) flight attendant and he's a master builder (helpful!). With the pick of the apartments, they ignored the penthouses and went for apartment 3. 
Using multiple tradies paid off for this pair. Shaynna said the room said kids straight away. She loved the bedside niche to put books in and thought the tent was fun.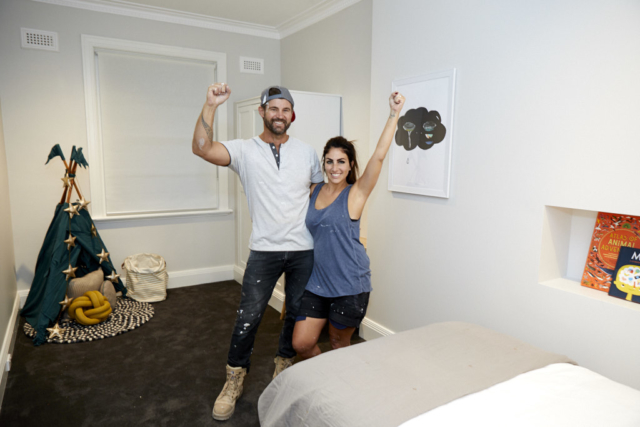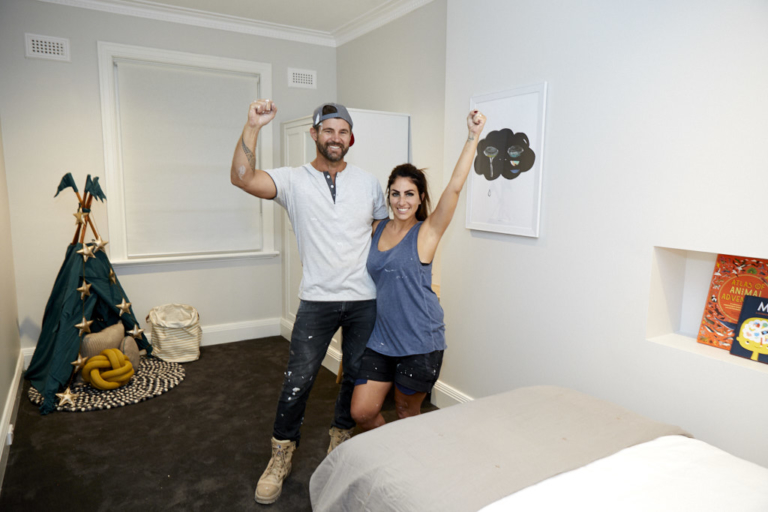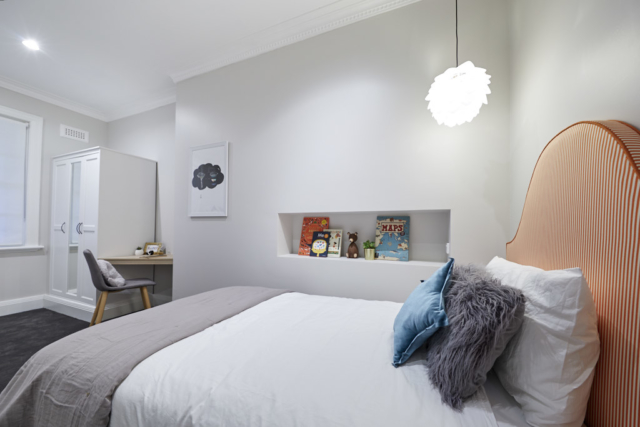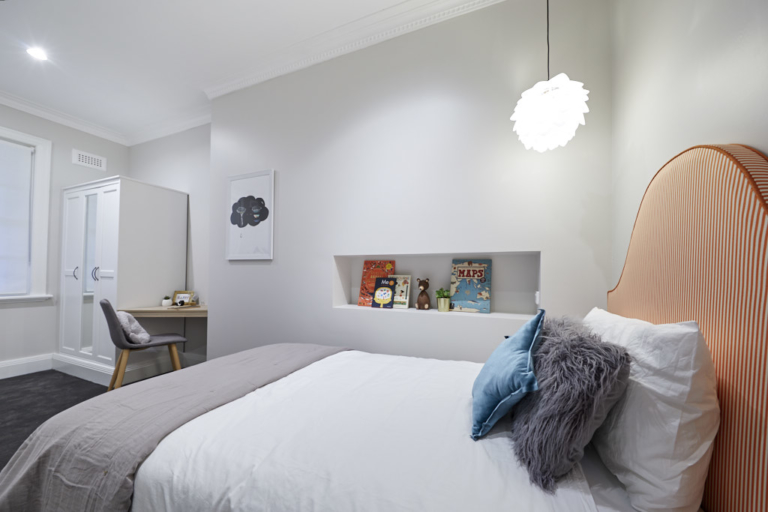 Neale said it had a really lovely feel about it and Darren loved that you could pop your head in to check on your child without them seeing you or waking up because of the bed placement. It had a big open play space which was exactly what a kid's room should be about.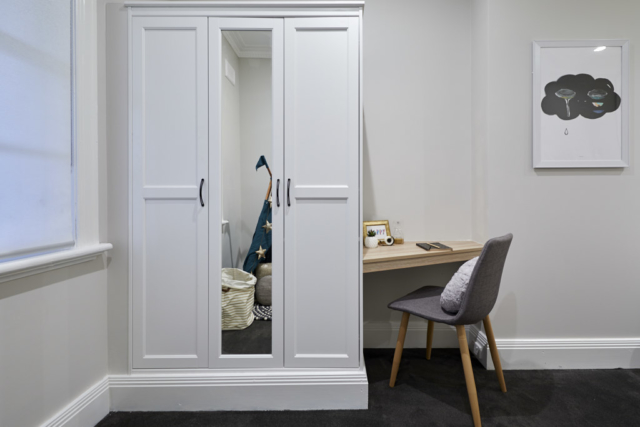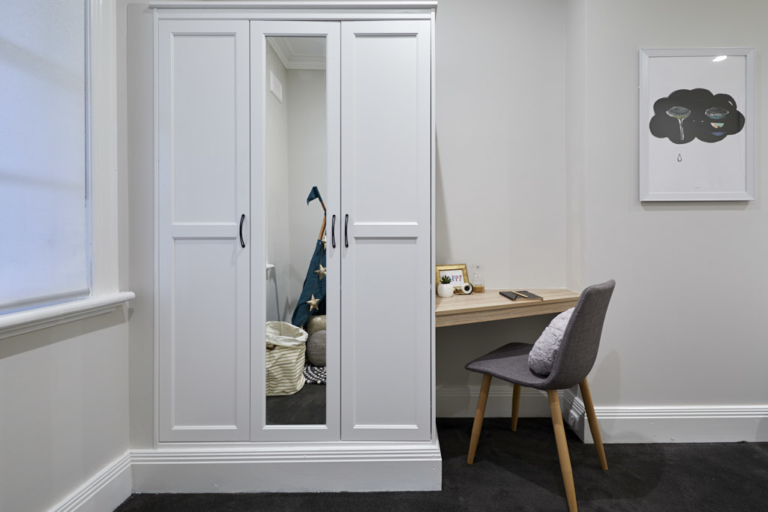 Shaynna was impressed they'd matched the wardrobe to the entry door which showed great attention to detail and could really only fault the execution of the skirting which was a bit rough.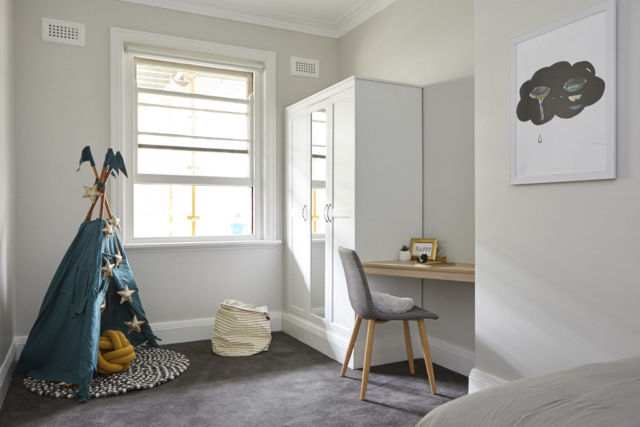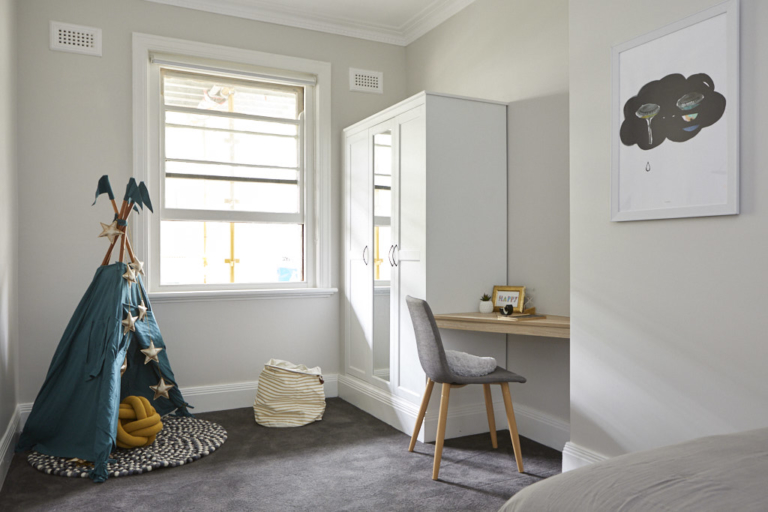 Our picks: Genevieve bedhead from Heatherly Design Bedheads and Numero 74 padded star garland