This season, Sheridan collaborated with renowned Australian stylist, Steve Cordony, and asked him to show us how to transform your home with hotel inspired luxury.
"The hotel luxe look is about checking into a lovely hotel and having crisp sheets and warm towels – so why shouldn't we apply this to our everyday lives? As with everything, it's the small details that make your space beautiful and more importantly make you feel special," Steve says.
Hotel Luxury: three different ways.
"Structure is important when creating a hotel luxe bedroom. Clean crisp lines, and tailored pillows create a sense of elegance and formality. I love layering with European pillows, with standard in front and a smaller breakfast accent cushion in front. I love having a throw at the base of the bed and using a bed topper and deluxe feather and down quilt all create a luxuriously indulgent looking bed. Each look is about creating a contemporary, luxurious space that feels indulgent and super chic while remaining warm and inviting."
Contemporary chic. Everyone knows hotel luxury begins with layering of high quality 1200 thread count sheeting. With Palais Luxe in Dove, I wanted to make sure the environment was light, airy and more feminine. I love using shades of grey and this particular tone of grey is warm but still contemporary. I kept the accessories monochromatic and accented with a touch of gold to give a hint of the unexpected.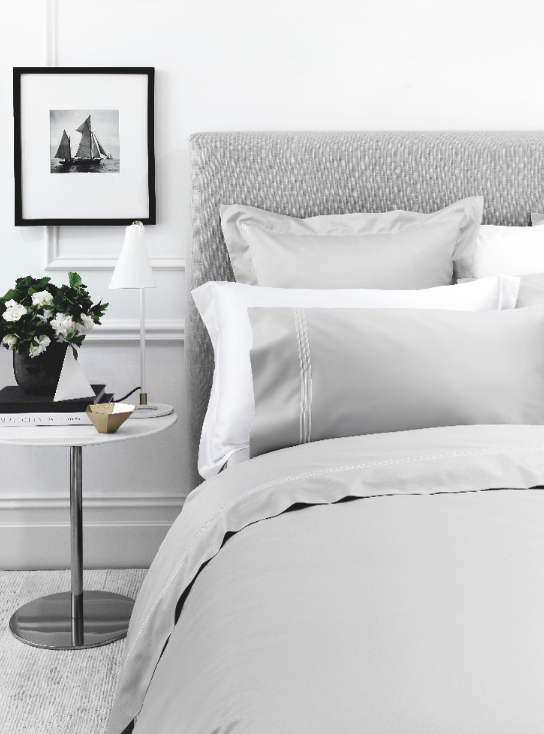 Boutique style. The classic Millennia receives a boutique-hotel makeover in a new midnight tone. Deep navy is one of my favourite colours as it has so much depth and the subtle stripe pattern of the bed linen adds that touch of sophistication. I accented with a tonal colour palette of natural rattan on the bedhead, which gives great texture, aged brass, gold, mirror and chrome.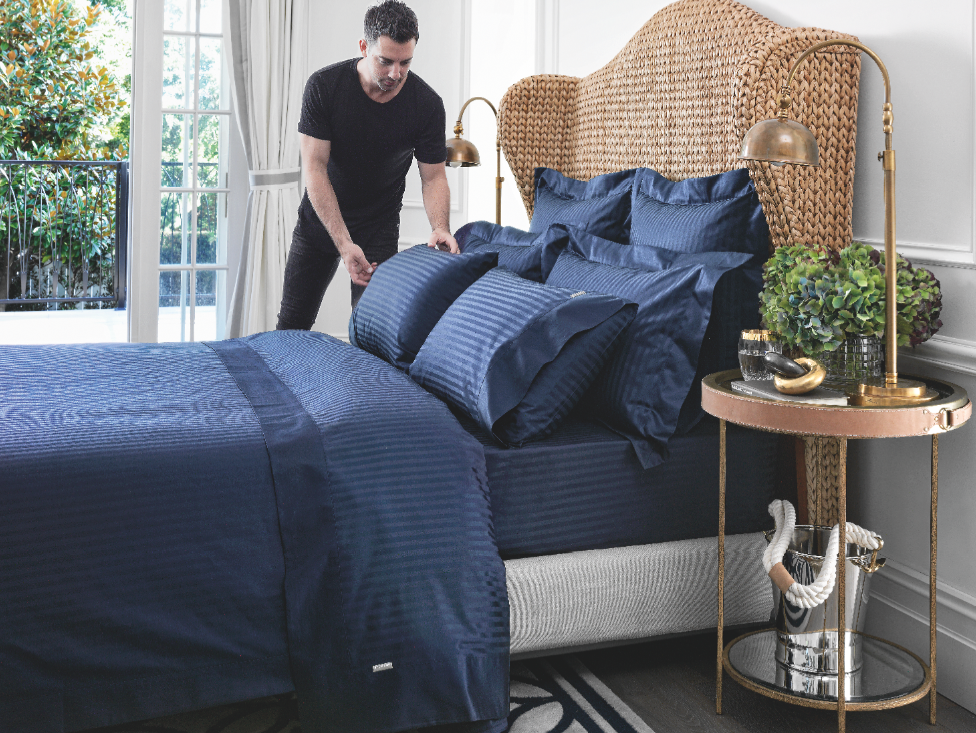 Graphic and masculine. Anyone who knows me, knows I love black and white – it's a classic and luxurious palette. For styling 1200 thread count Palais in Silver I wanted to create a graphic, more masculine look. Keeping the shapes strict and formal with accessories and furniture work perfectly with the structure and subtle pattern of the linen. Think Tom Ford meets Palm Beach.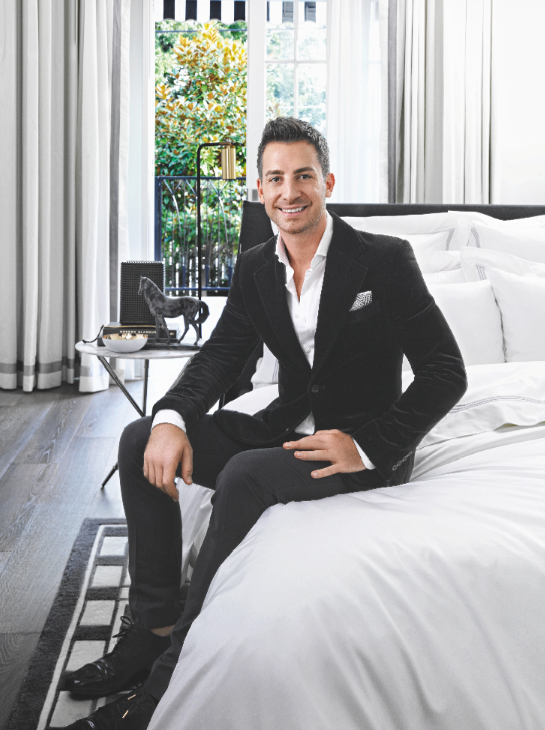 Create a sanctuary. The bathroom is one of the most important rooms in the home. It is a sanctuary that should feel personal and comfortable and styled like any other room in the home. Simple ideas such as rolling or folding hand towels on a side table beside the bath with some fresh flowers and a scented candle adds an elegant touch. There is nothing more indulgent than monogramming and having personalised initials on your towels – it's all about the details!