There's a strong Mediterranean influence infused throughout this serene Melbourne family home befitting its Croatian owners – a fifty-something builder, his wife and two grown-up sons. "They came to me because they do a lot of construction and move from house to house. This time they wanted something really special because they intend to stay in the home for a long time. Ultimately they wanted something unique and experiential," says the project's interior architect Georgia Ezra.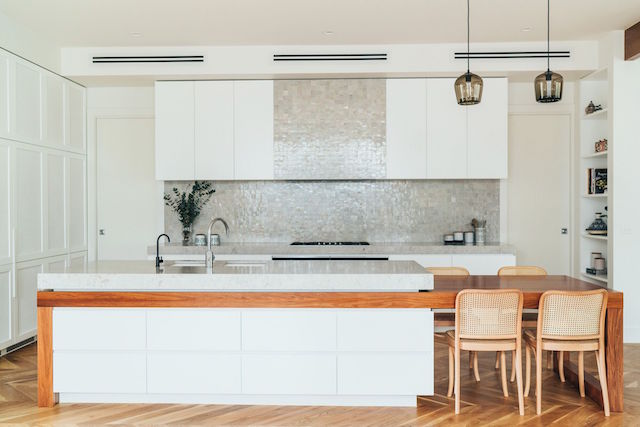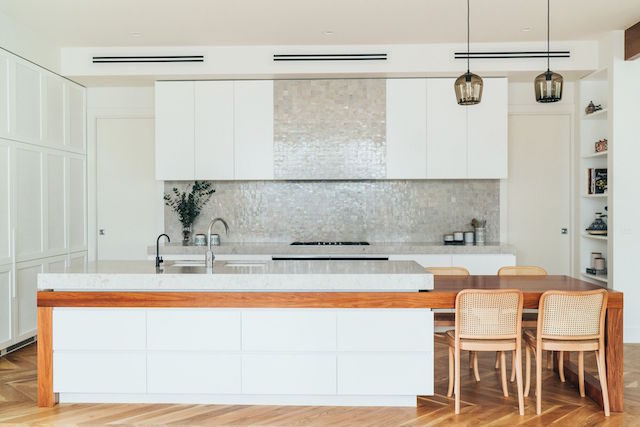 Combining Tasmanian oak veneer paneling with beautiful handmade clay tiles and bespoke rattan joinery, the home is rich in texture and brimming with gorgeous details. "The project definitely has Mediterranean influences in there but it draws on the 1970's and mid-century modern design too," says Georgia.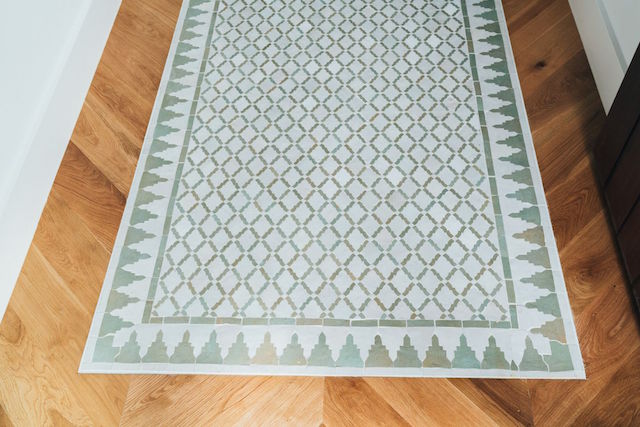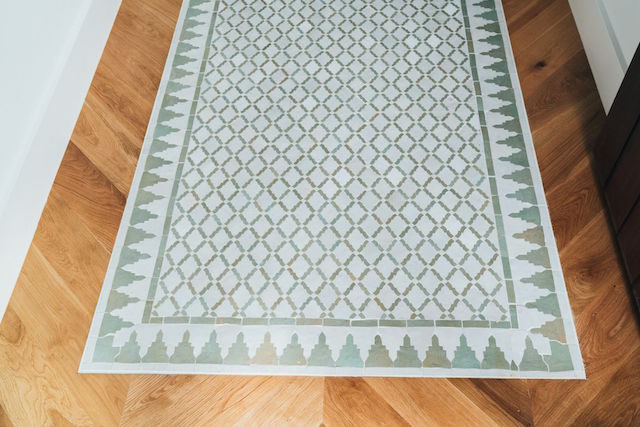 Featuring custom, Moroccan zellige, colour-glazed clay tiles, the front entrance is a design highlight. "It's as if there's a runner or rug inset into the floor," says Georgia of the pale green and white tiles that were created by her company, Tiles of Ezra. Another notable flooring detail is the gorgeous Australian hardwood timber that is laid in a Chevron pattern throughout the home.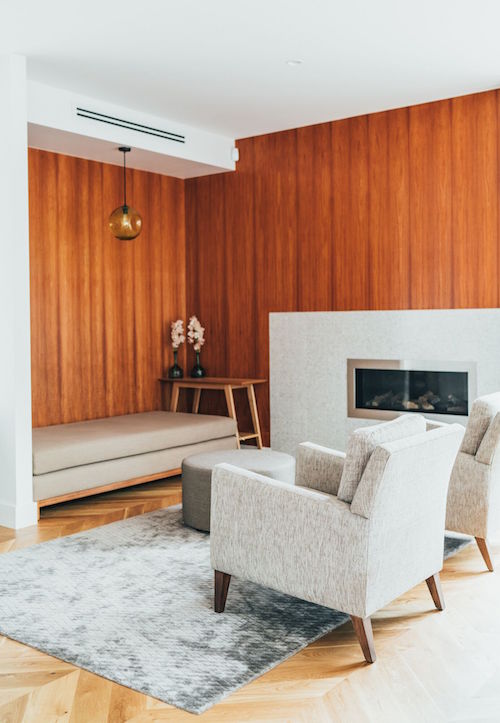 Georgia's unique tiles feature elsewhere too – most notably around the fireplace and kitchen splashback. "At about $1,200 per square metre, the intricate, mosaic tile surrounding the fireplace is a very high-end luxurious design cut by hand," says Georgia.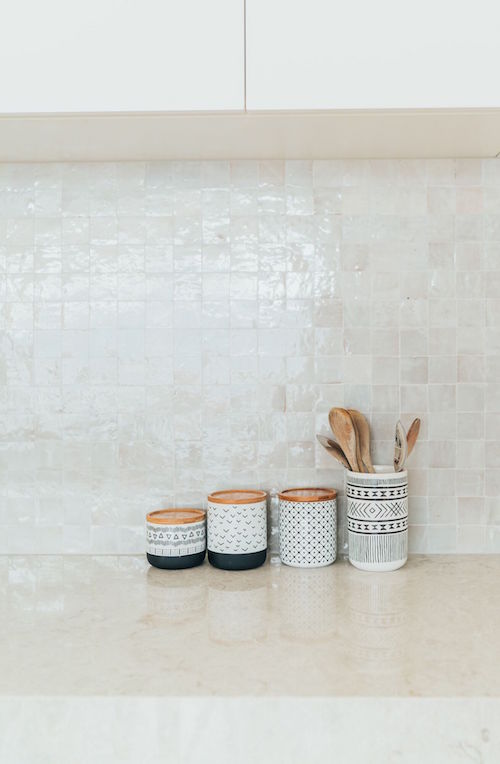 The tiles on the splashback and rangehood have a gorgeous, shimmery pearl-like finish created in their manufacture. "They're made entirely from clay that is glazed and put in the kiln at a high temperature. The variation in tone depends on where they're placed in the kiln. There is serious variation — some are bluer while others are more pink, white or grey which creates great depth. It's not considered a defect to have knocks, chips and dimples present on the glaze."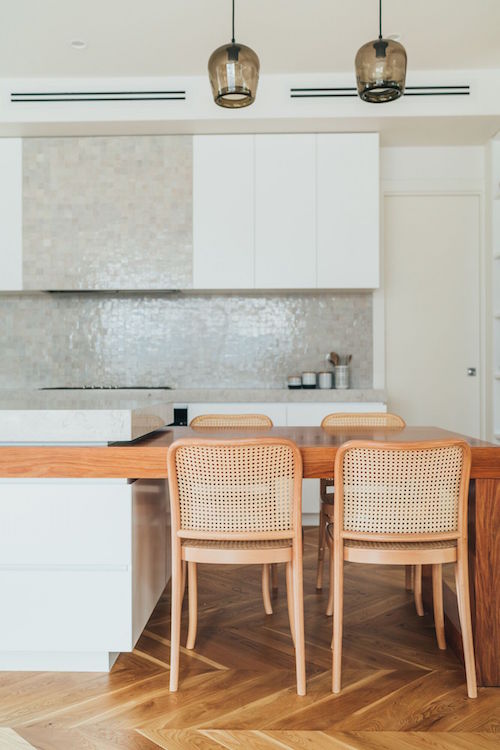 The kitchen island bench is another highlight with the bespoke joinery featuring a combination of timber and stone. "The owners wanted something that was super functional but also acted as a casual dining place. At 720mm high, the timber table is a functional dining height and the family eat there every night on their beautiful Thonet chairs," says Georgia.
A unique feature, the kitchen features a bank of cupboards fronted in white rattan. "We had to take the rolls of rattan, dunk them in water and hold them down before spraying them in two-pack paint," says Georgia.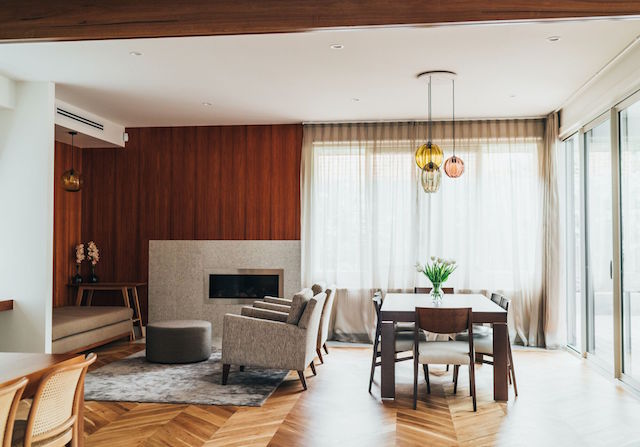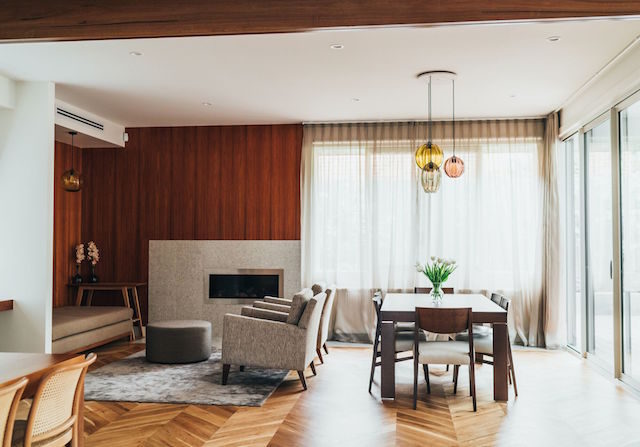 "I don't think the photos do it justice. When you walk into the home, the whole area opens up – it's experiential. It's one of those homes that you walk through and feel something special. This is one of my favourite jobs ever and the clients love it too," says Georgia.