A brutalist building constructed in 1977, and known previously as the Roundhouse, Newcastle's iconic council administration centre has been transformed into Crystalbrook Kingsley, a luxury hotel that is the city's first five-star offering. Developed by Crystalbrook Collection, with architecture by EJE Architecture and interiors by Suede Interior Design, the project offers a refreshing revitalisation of an iconic heritage building.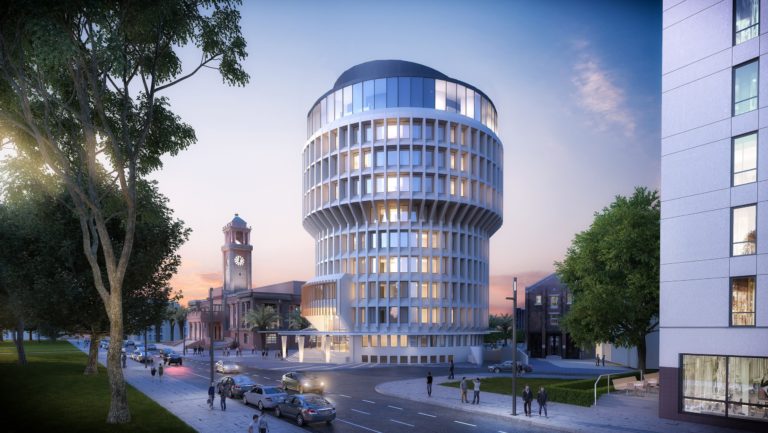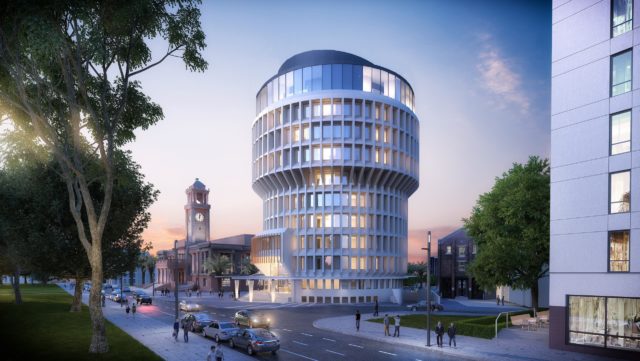 "Our design is subservient to the existing building and successfully retains the beauty of the original structure. It is respectful to the true qualities of this representative example of the Modernist, Brutalist style in Newcastle," says EJE Architecture director Barney Collins of the hotel that has 130 rooms.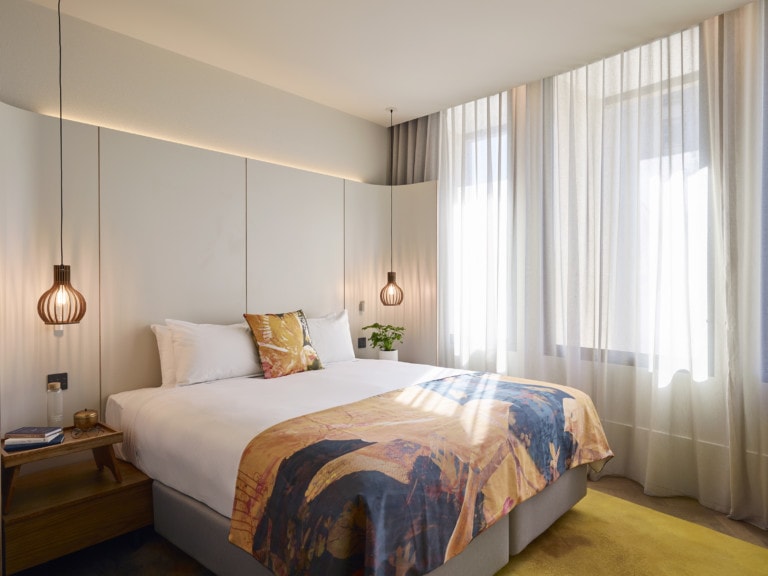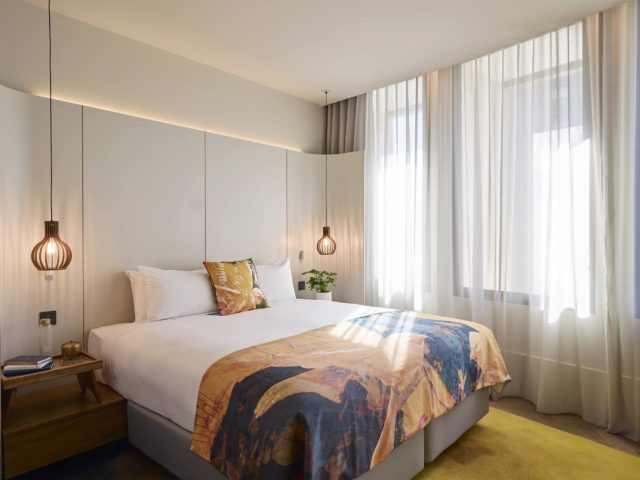 "Our intention was to create a contemporary and elegant look while softening the proportions; showcasing a vision of modern architecture while preserving the historical value of the existing brutalist structure," says Barney.
The original building was designed by locally based architects Wilson and Suters in collaboration with Melbourne-based architects Romberg and Boyd who were inspired by Boston City Hall, Massachusetts.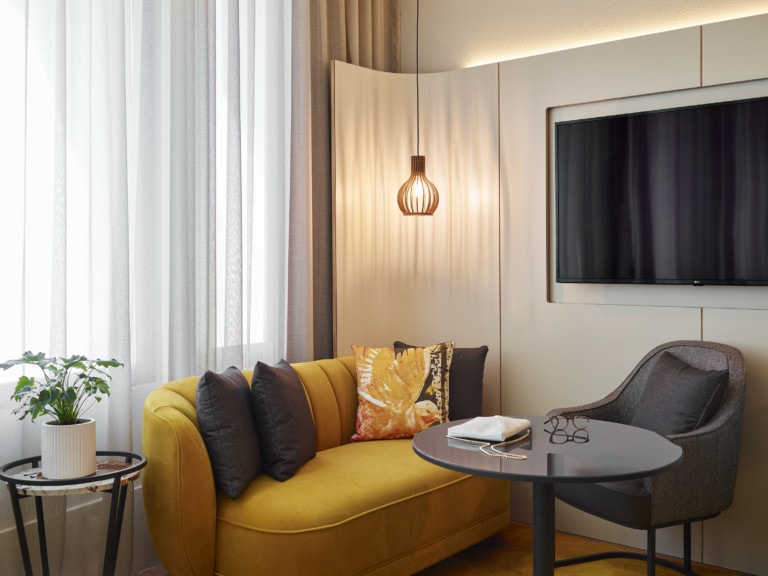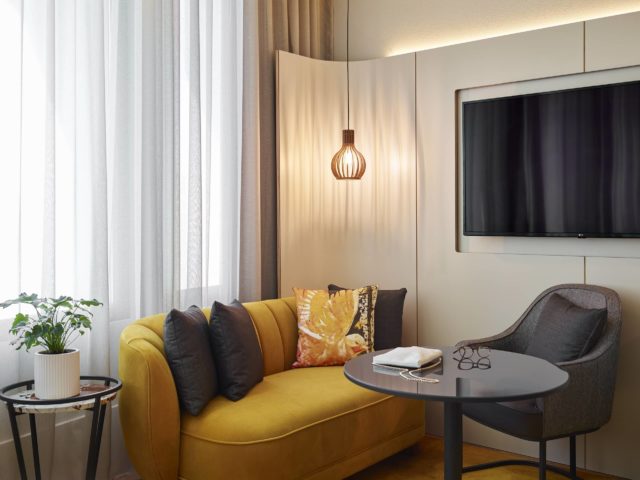 Compared to the outside of the building, and its striking overall form, the interiors have been designed to balance the visual weight of the architecture. Inside, there's undulating forms, warm bold hues and plush materials that combine to create comfortable yet sophisticated spaces The colour palette references Newcastle's mining past and there's hints of birds, footprints and feather motifs too.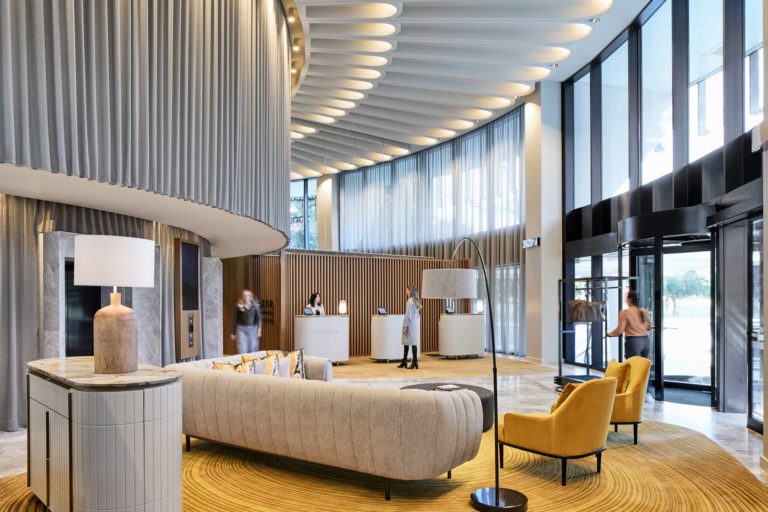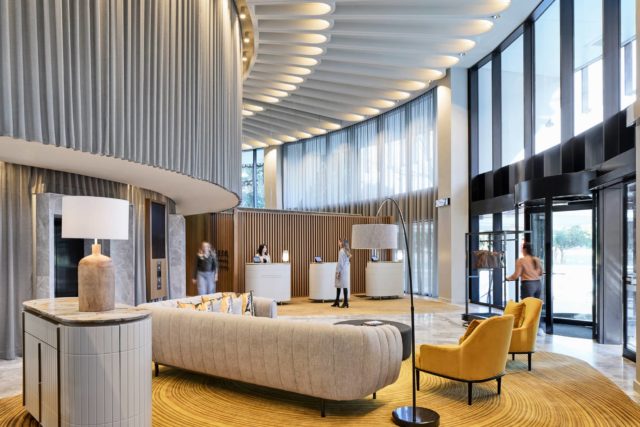 "Our aim was to create a design that not only reflected Newcastle, but something that would be culturally connected and relevant to its location. The use of curves and rhythm within the guest rooms and public interiors mimic and pay homage to the lines of the architecture of the building," says Clifford Rip, of Suede Interior Design.
The rooftop space houses the Roundhouse restaurant and Romberg's bar which boasts panoramic views of Newcastle city, Nobby's Head and beyond. Lined with mature olive trees, the use of large glass ceilings over all the tables allows guests to feel as if they are dining under the stars at night.