Drawing inspiration from its fabulous seaside locale, Shutters bar and restaurant overlooks Sydney's iconic Coogee beach from inside the strip's Crowne Plaza hotel. Named after the series of large shutters that take centre stage, the luxe interior pays homage to the ocean with its natural materials palette and sea foam green, turquoise and coral colour pops.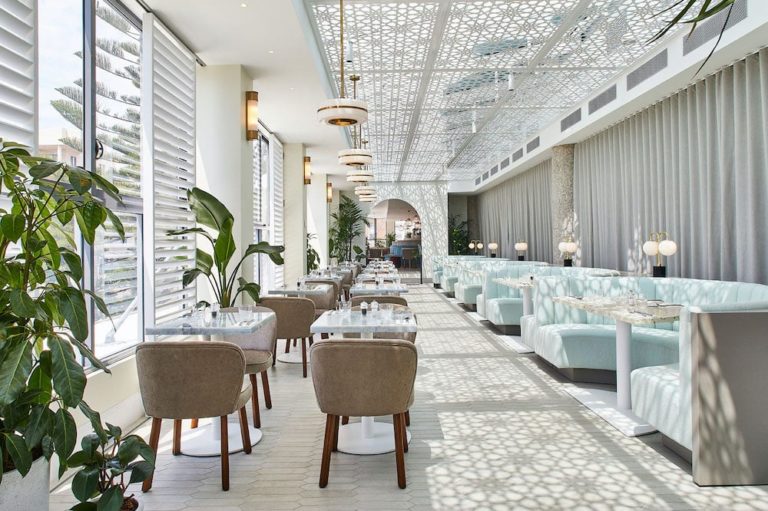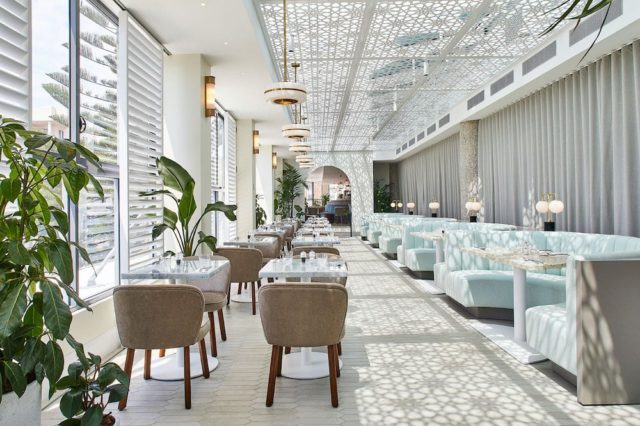 "The desaturated hues of the vast interior are evocative of ocean surf and they look almost botanical. The palette appears faded in time with its blush hues, marble, soft celadon green textured fabrics, custom terrazzo in putty tones and stucco rendered walls in cream on white," says interior designer Alex Zabotto-Bentley who sourced many different stones and marbles to support the aquatic colour palette.
Designing a space that worked during the day and night was no mean feat – nor was creating something luxurious, comfortable and respectful of the glorious view. "The functional needs of the space, and the way it evolves from day to night, created some interesting design challenges. We also needed to be mindful of designing an interior that worked within the existing hotel space and melded with the foyer," says Alex of AZB Creative.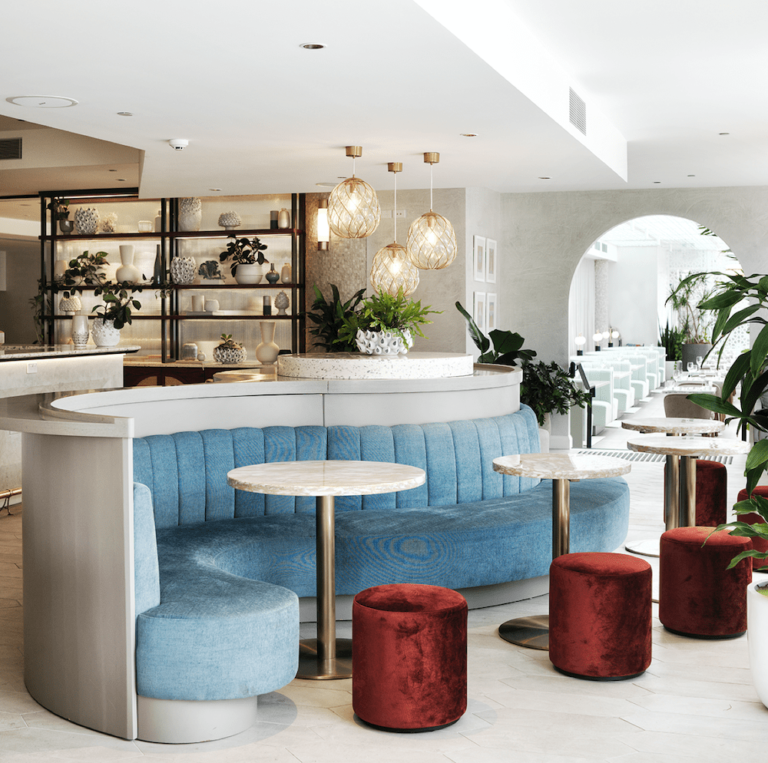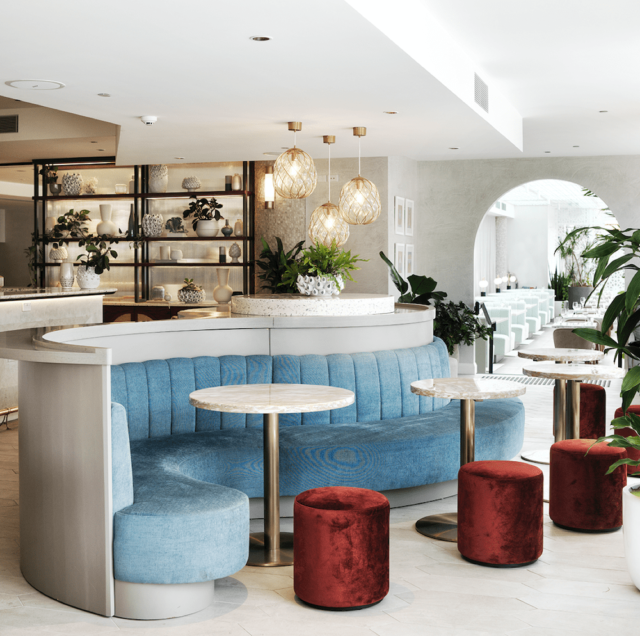 With multiple entry points, the designer created three different spaces that function separately and as a whole. The lobby bar is annexed to the foyer and this space features a hand-crafted concrete rendered bar that looks as if it's constructed from timber. "On top of this, we laid incredible honed terrazzo. This space also includes an area behind glass that we deemed the charcuterie room, where visible chefs can prepare sumptuous feasts for guests," says Alex.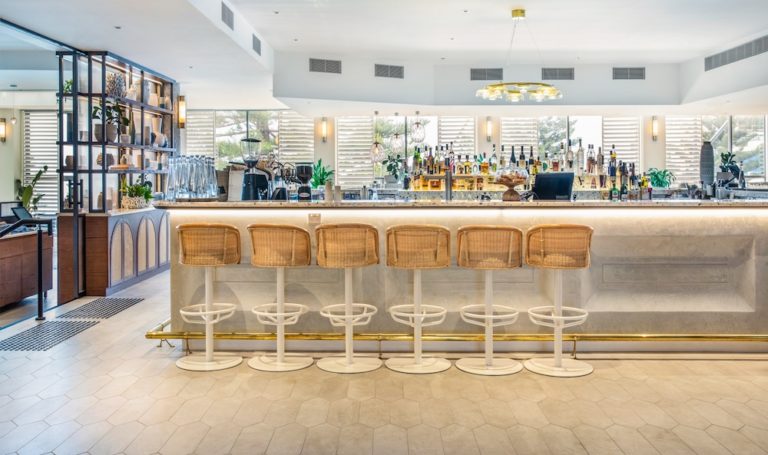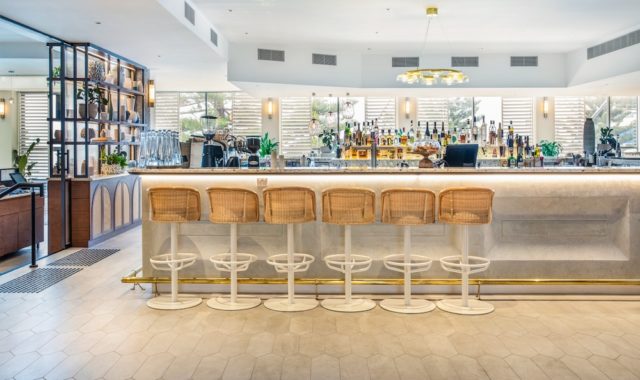 The main dining room and large open kitchen were designed to house guests in one space and its features include a detailed central dining banquette, with lush greenery in the centre. Custom rattan dining chairs, buffed leather and celadon green marble tables round out the high-end look.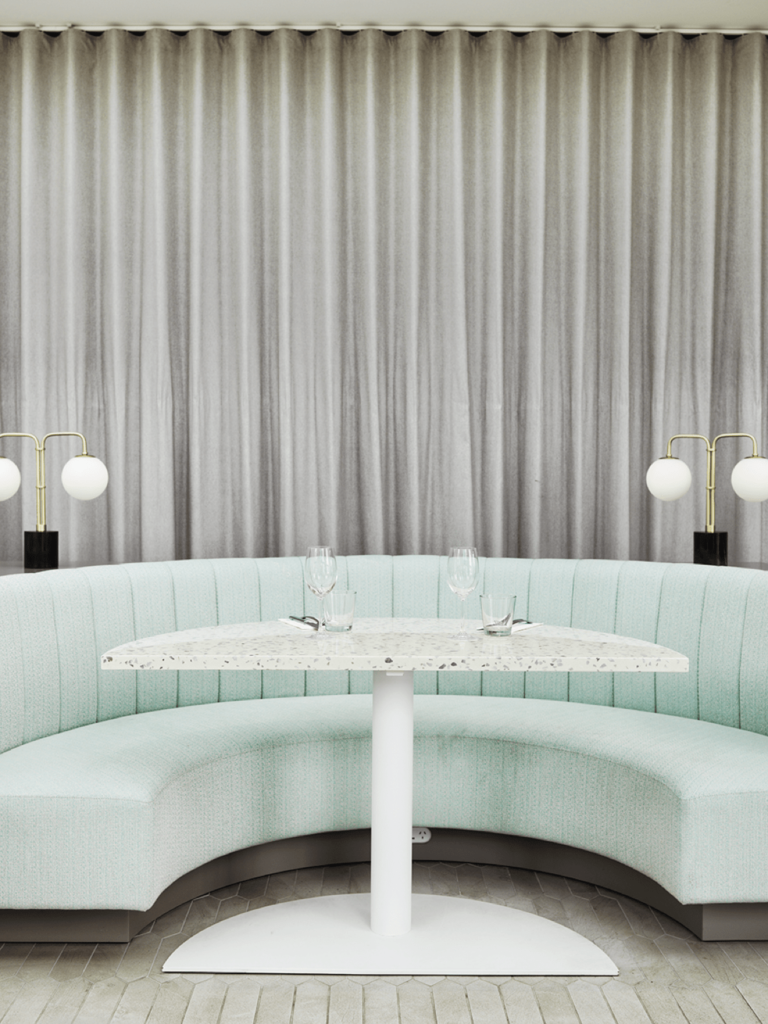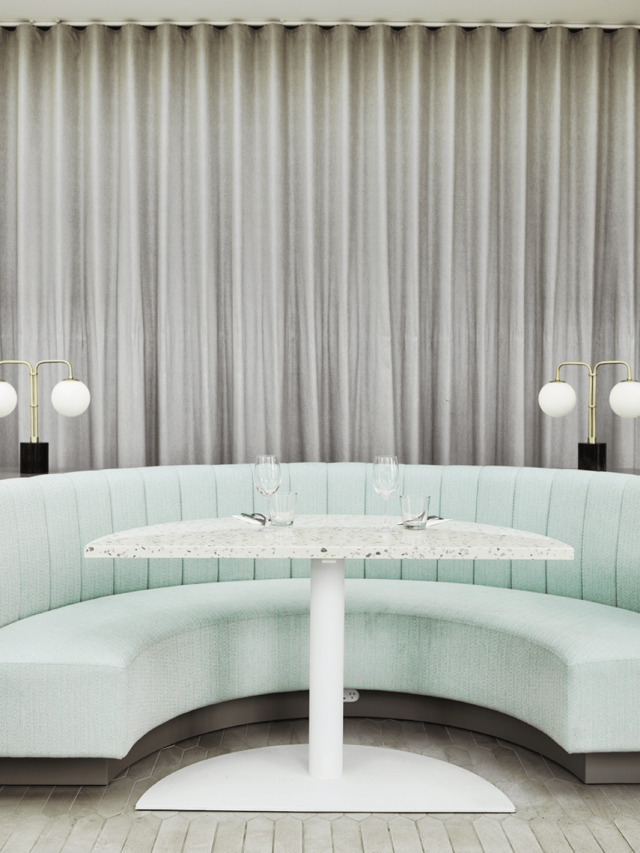 The third space is the shuttered patio that opens up to the Coogee Beach foreshore – a six-metre-high glassed atrium is wrapped in a floating Moorish-inspired star cut screen in the dining area. "I wanted to create a dappling effect on the patrons as I thought it would be completely fabulous to have dappled stars in their eyes as they dine. I love this detail as it's really special."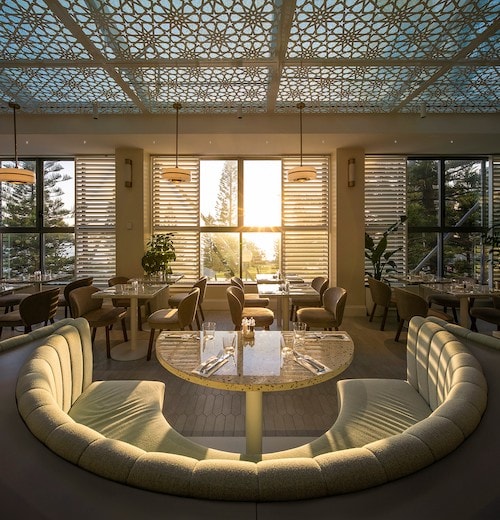 When it comes to the final flourishes, handmade pottery, barnacle-inspired ceramics and ethically sourced coral dot the room alongside pastel artworks by Australian artist Daimon Downey. "We always collaborate with artists, makers, and small run artisanal factories to create an interior narrative that has soul," says Alex.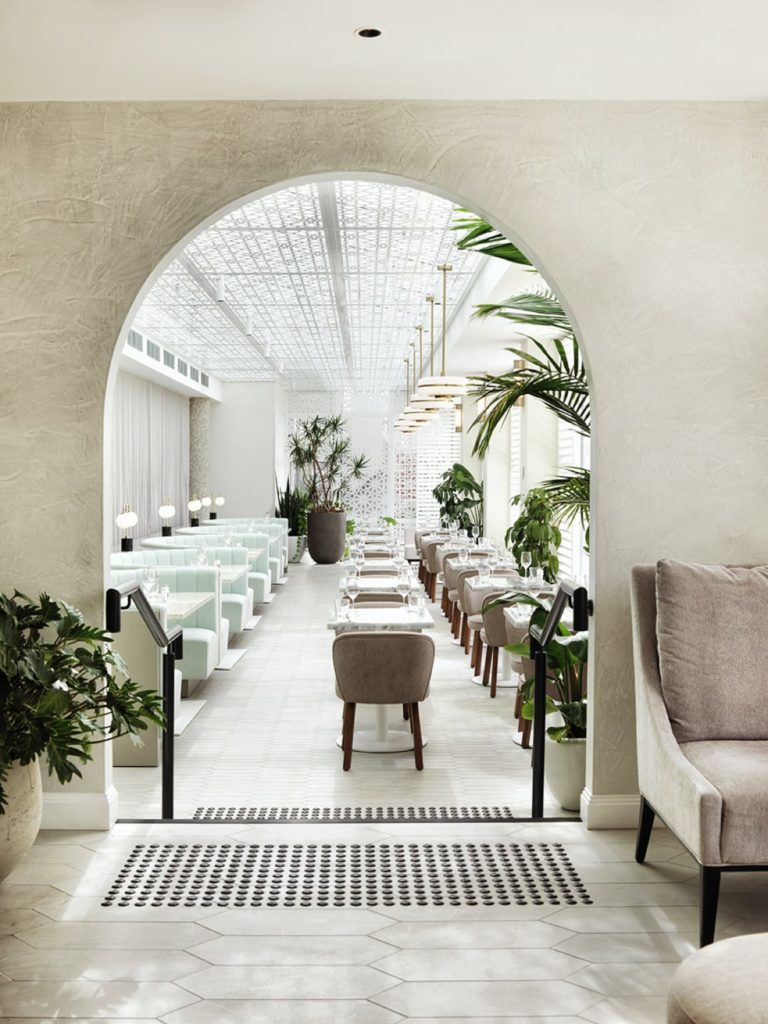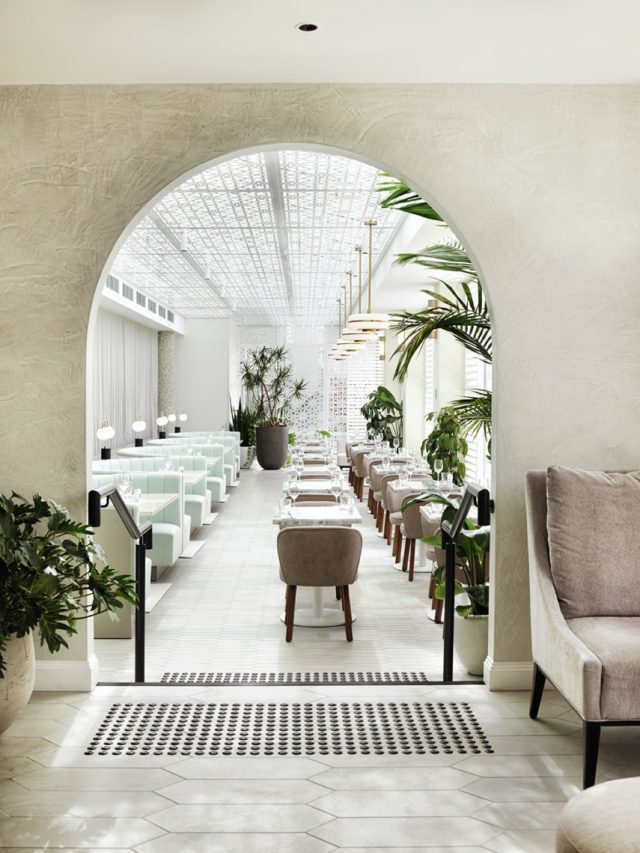 Shutters has won and been shortlisted for a slew of awards in the past year. It won Gold at the Sydney Design Awards 2020 as well as Gold for Best Upscale hotel in Australia at the HM2020 awards. It received an honourable mention in the 2020 International Design Awards and was shortlisted at the 2020 International Restaurant and Bar Awards in London. It's also a shortlisted finalist for Best Hotel & Best Restaurant at the Eat Drink Design Awards 2020 and was shortlisted for the Best Hospitality Interior at the IDEA Awards.
Well deserved, we say!
Photography: Chris Court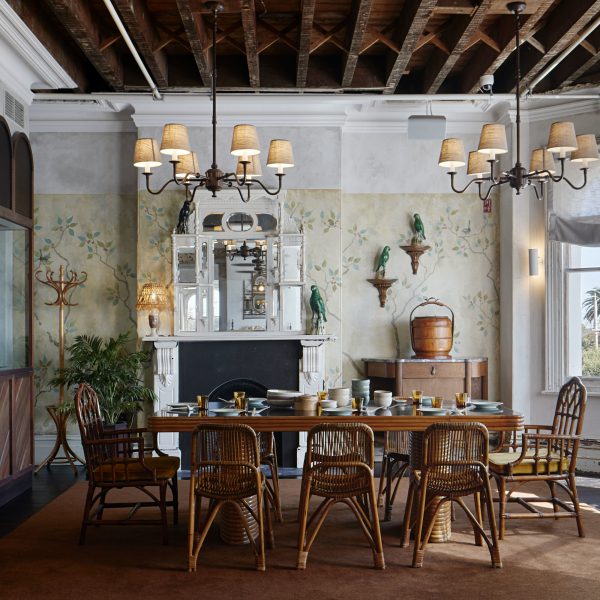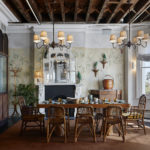 Australia's best restaurant design 2020: Nostalgia takes centre stage
At a time when the hospitality industry is really hurting, due to lockdown measures and the general economic downturn, this year's Eat Drink Design Awards finalist announcements do feel bittersweet.…