If I had a dollar for every person who asked me what to look for when buying a TV, I'd have about… $1.50. It's been a few years since I was a hardcore technology journalist so give me a break. But being that Christmas is upon us and 'tis the seasons to buy extravagant items in post-Christmas sales (a TV, hint, hint), it seemed like a good time to brush off more the technology cobwebs (I've been doing a little bit of that lately – here and here) and lay down the law when thinking about spending some hard earned on a TV for your home.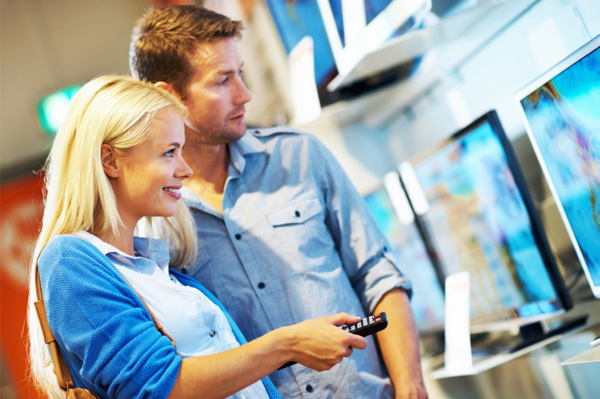 Here are five tips you really should follow if you want to get a TV that doesn't just look stylish in your house, but actually looks good when you turn the screen on.
Size matters
When I was in high school I pushed my Dad to get a 59cm Sony Wega flat screen. It was the bomb, and 59cm back then was monstrous. Now it's small. But smaller screen sizes may be perfect for you. When I say size matters, I mean it does in the sense that you need to buy the right size for your room, not the biggest TV. You should be sitting roughly 1.5 times the size of your screen away from it. In other words, bought a 65-inch TV? Sit 130 inches away (yes, I too hate that for some reason, TV sizes are now measured in imperial again!?). So if you own a small, one-bedroom apartment, perhaps 40 inches is more appropriate.
Sound matters too
TVs are now thinner than ever, and some of the best looking ones can actually be no-name or store owned brands. DSE brand TVs are surprisingly good looking, as are Kogan's. But beware, the general rule is that the first thing to be dropped in producing a TV on the cheap is the sound. It is harder to get away with a poor picture — you can easily see that in-store, but the sound is rarely turned on so it's a lot easier to sneak in a cheap set of speakers. A poor set of speakers will make your viewing experience quite unpalatable. Ask to listen to the TV in-store before you make the purchase. And don't write off cheap sets straight away — some can have decent sound, you just have to look carefully. If you made the mistake of buying a TV with crap sound, fear not, just buy a soundbar to boost the sound. A good one — don't make the same mistake you did with the TV!
Watch the accessories
Sony PlayStation, Microsoft Xbox, Google Chrome, Apple TV, Blu-ray, USB, Nintendo Wii U blah, blah, blah. There are a lot of things you can plug into a TV and chances are you will have more than one thing. There are two things to think about here: does your TV have the required amount of ports on the back? And do you have enough storage space to house the TV and the peripherals? This is particularly important when you are moving up screen sizes. Suddenly your entertainment unit is no longer big enough to take the TV and all the trimmings. Imagine the temper tantrum when hubby finds out the PlayStation has to go in the basement? I speak from experience. At least three HDMI and two USB should do the trick. But the more the merrier.
App, app and away
The buzzword right now is 'smart'. You will hear Smart TV being bandied about everywhere. Simply speaking, it is a TV with internet connectivity so you can download apps using a built-in platform like Android TV. You generally pay more for these types of TVs and some of them are quite good. But if you find a bargain on a TV that is not app-ready out of the box, buy it anyway. Chances are adding Apple TV or Google Chrome if you really want that kind of functionality will still make the TV a pretty good deal. And those options are small and easy to hide. Google's Chrome, for example, can hang off your TV HDMI plug and draw power from the USB plug, so you will never see it.
Power up
Your TV will likely be something used a lot, especially if you are buying for the family room. So it's wise to think about energy consumption, if for nothing else than to be nice to the planet. Six-star energy ratings are hard to find with TVs, but five-star TVs are common enough, even on larger sets. So if you want to keep your energy bill down, make sure to have a look at the star rating before purchase. But also be sure to weigh it up with the price of the TV. If you're paying hundreds of dollars more for a similar set just to bump up from four star to five-star, it is arguably not worth the money.