As with all things audio, we hand over to our resident former consumer technology journalist Damian Francis, otherwise known as Mr Interiors Addict…
Let's play a straight card on this one. The Beoplay Beolit 15 by Bang & Olufsen needs to be bloody good. Really, really, bloody good. That may sound a bit harsh to just lay down the law like you would to a young child who has just thrown his Messina ice cream all over the pavement, but it is important that boundaries are laid down early.
Why? Because the Beolit 15 is a portable bluetooth speaker… that costs $699! It costs $699 because it is made by Bang & Olufsen. And while it falls under the lighthearted entry level Beoplay brand, it still has to be held up to the same standards that all Bang & Olufsen products should be held to. It's Bang & Olufsen after all — you don't buy and Mercedes-Benz A-class or a BMW 1 series and walk away with a smile on your face if it drives like a Toyota Yaris.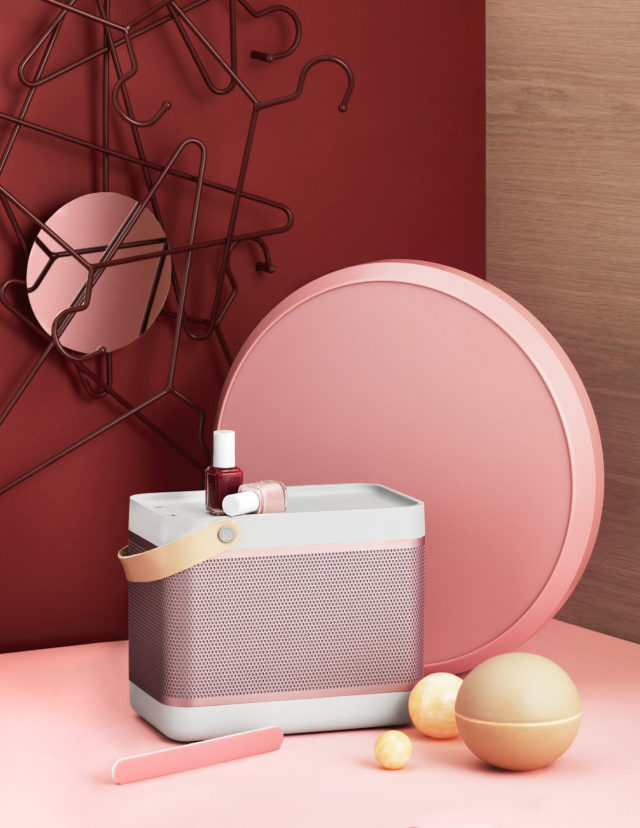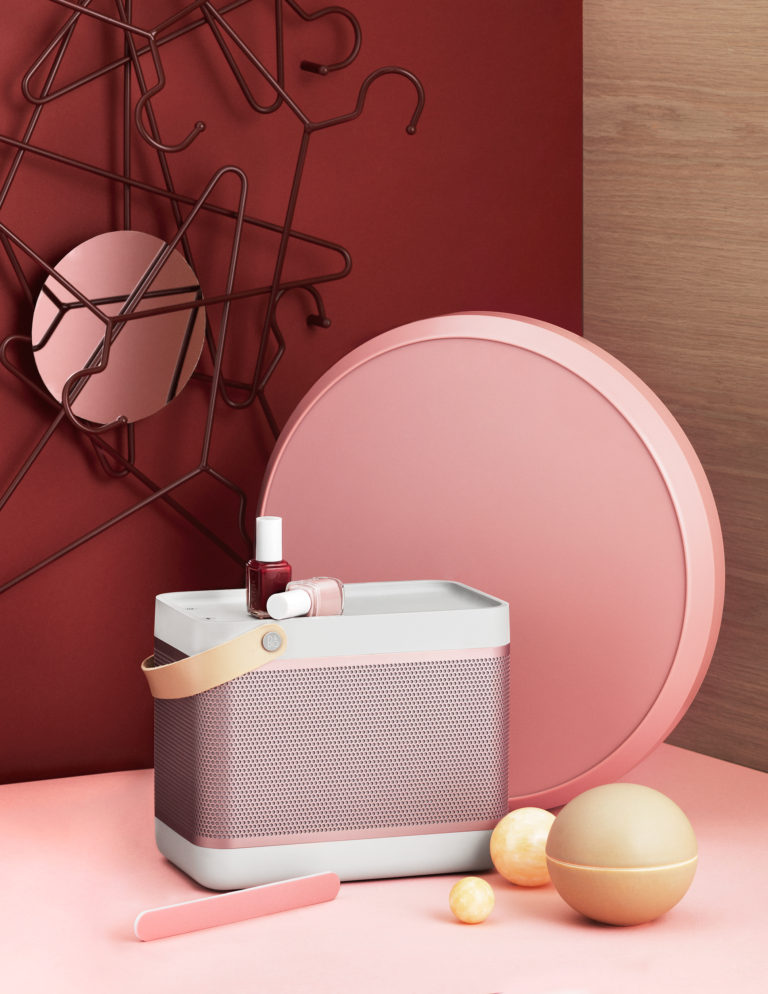 So, the question is, can a portable bluetooth speaker justify a $699 price tag? Here are some of the key takeaways from a week using the Beolit 15… and an answer to the question of value.
The look. I'm going to defer to Jen on this. She thinks it's better looking than me. And I have it on good authority that I'm pretty good looking. Ahem. There are three colour options (natural champagne, polar blue and shaded rosa), all in muted pastels that tend to soak into the background rather than draw attention. Jen loves the gold (natural champagne) version (and all gold accessories judging by our living room). Away from design aesthetics, this is good. A speaker is meant to sound good first and foremost. If it looks good too, that's a bonus. The full grain leather strap is a bit take it or leave it in my opinion, but lovers of accessories will likely adore the touch (as Jen does).
Set up is a breeze. The hardest thing is taking it out of the box. Once you have, plug the power cord into the neatly hidden compartment at the back and you're in business. This will charge the battery at the same time. Connecting it to your bluetooth device is just as easy. Press the bluetooth logo button on the top and hold it down. It beeps. Then search on your device for Beolit 15 and connect. Simple. There are a number of bluetooth products I have tested in my time that can't get this step correct. Connecting becomes a laborious, time-consuming, rage-filled activity. Not the Beolit 15. It will take a couple of minutes from opening the box to playing music.
The sound. I'll be upfront – I don't like wireless sound, especially over bluetooth. It can be patchy, highs are often lost and bass is overcompensated in the hope that the young types will think the quality is brilliant because the speaker is vibrating. Dr Dre has a lot to answer for. Wireless over a network is better but wired is where it is at. As far as bluetooth sound goes, this is really good. Really, really good. Good to the extent that my credit card has stopped trying to cut itself in half having heard the $699 price tag and is asking to hear just one more track. The bass is good, not overpowering. Treble is balanced well. While there is certainly a little murkiness at the very top end, it takes a while to get there and is certainly not a deal breaker. In fact, for a bluetooth speaker of this size I have never heard treble balanced so well before. It dances brilliantly with lower notes, with the Beolit 15 producing a very well balanced sound. In layman's terms — classical music sounds classical on a Beolit 15 — you won't feel like you're missing anything.
And the X-factor? One could argue that the $699 price tag is the X-factor! Thankfully it's not. There is a little X in the design, a lot in the sound quality, but the real X-factor is in the versatility. It has a built-in battery that lasts up to 24 hours from full charge. You can take this virtually anywhere. But when plugged in at home, you can add another Beolit 15 to create a (extremely expensive) stereo system with proper left and right speakers. While we haven't tried that, it is likely to be pretty good. The bluetooth technology will also allow you to connect two devices at a time for dual control and it will remember up to eight individual devices without having to connect again.
The specs. So you want to know what you are really dealing with here (if you don't like tech specs, skip to the next paragraph)? The Beolit 15 has 240 watts of peak power thanks to four active drivers and two passive bass radiators, driven by dual Class D amplifiers. There is more, but this probably isn't the audience for it! I'm barely the audience for that. As far as I'm concerned, tech specs mean nothing if you don't personally enjoy the product.
So, $699 for a bluetooth speaker. Justifiable? Yes, after a little while. But when you really give it time to listen properly, the Beolit 15 will grow on you big time and won't look bad at all in your lounge or bedroom. I'll take two, thanks.
You can get more information here.
Disclosure: We were gifted the Beolit 15 with no guarantee of a review, let alone a positive one. But we were so excited about its good looks and sound, we had to share!