By Elana Vanlier
The kitchen is often a forgotten room of the house when it comes to styling. As the centre of the home, the kitchen's job is to bring people together and it should be a place of comfort. Here are a few ways to transform your kitchen from purely functional to next level styled, without cluttering up the work space!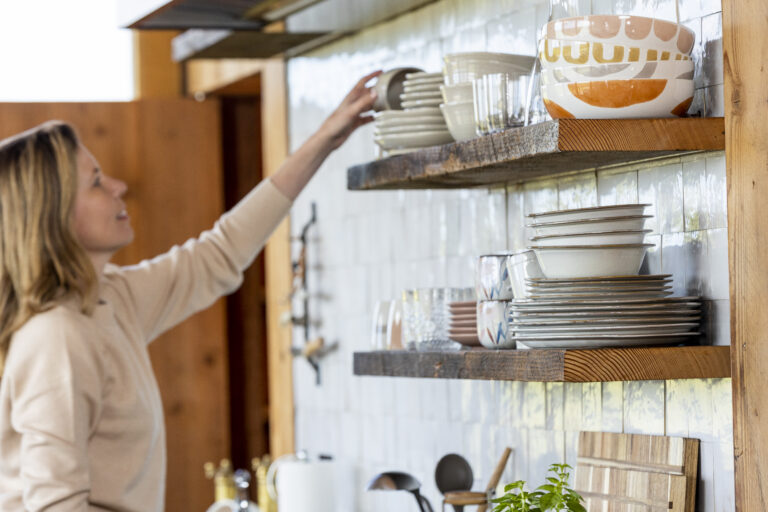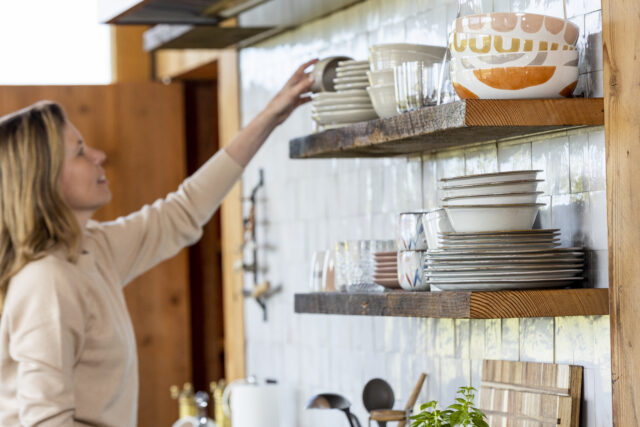 Layer timber chopping boards
Short on storage space…create a vignette of chopping or cheese boards on your kitchen bench. Stack them against your splashback and prop in place with a utensil jar or herb planter to add more texture and colour.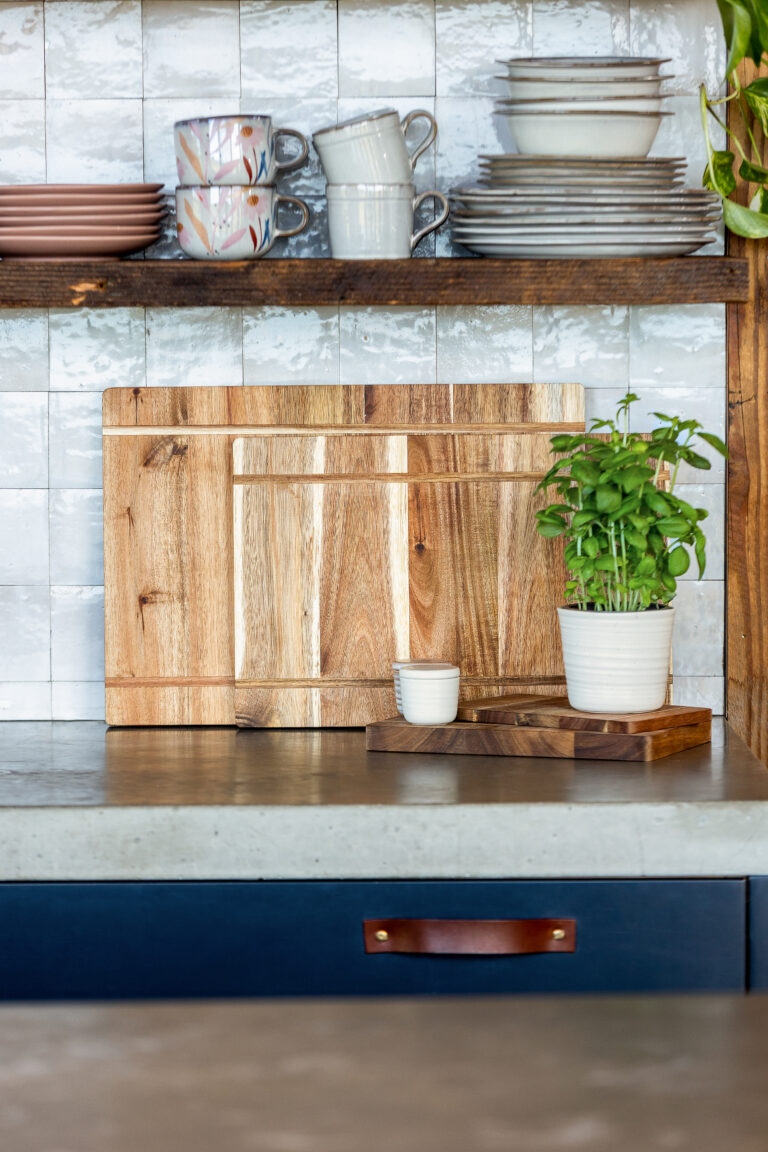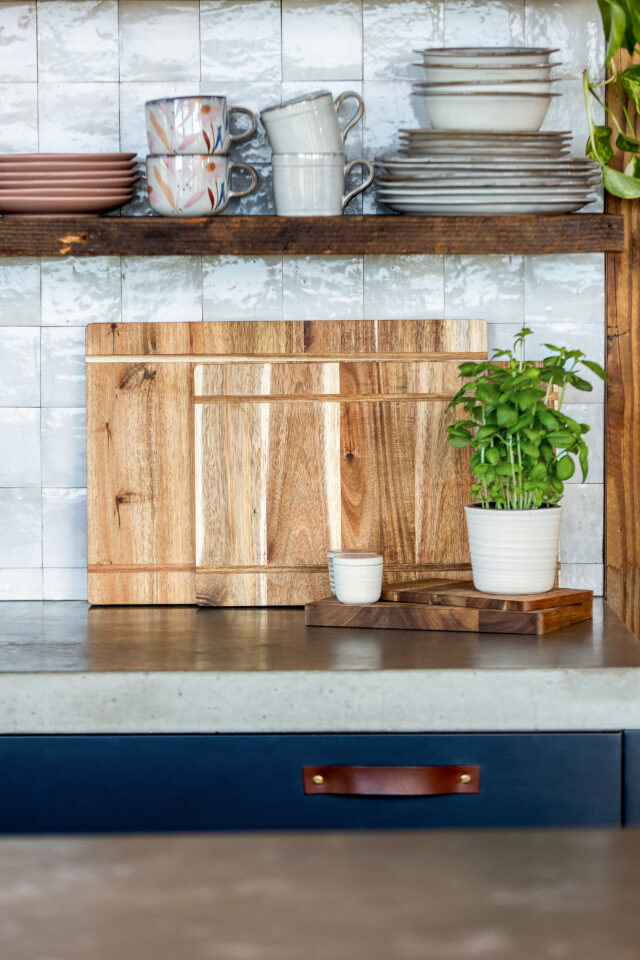 This will not only give height variations, but also stop the boards from falling over. This styling method can create a rustic feel and the layered wooden boards add a rich warmth.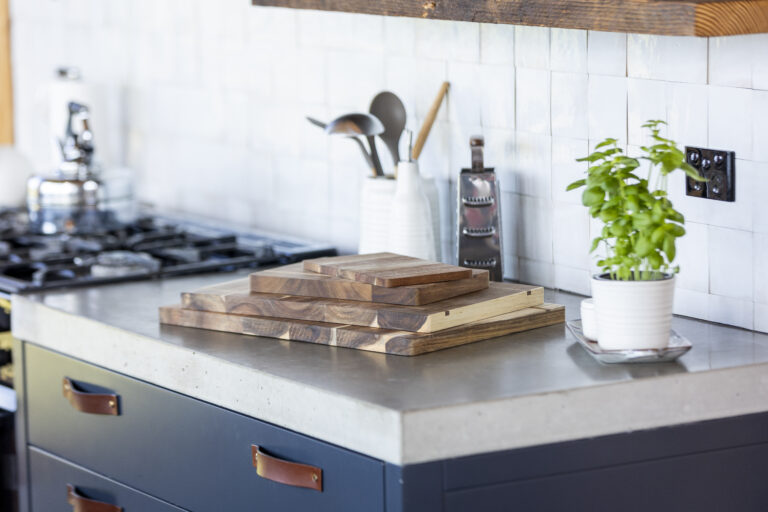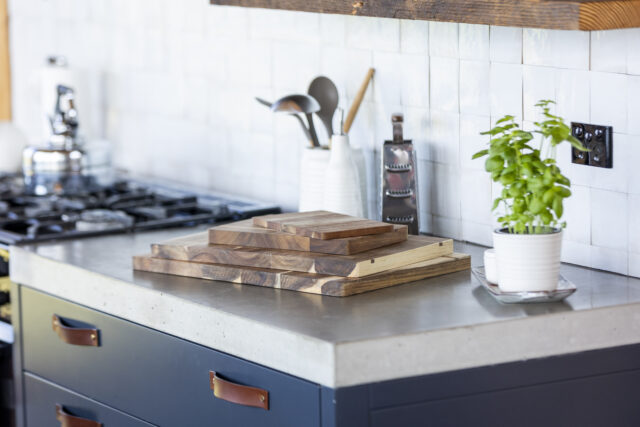 Upgrade your everyday items to something gorgeous
Don't be afraid to mix and match your regular dinner set with alternative colours and patterns in bowls or side plates. If, like me, you don't have a lot of storage space in your kitchen, consider adding dinner bowls. They are so multipurpose and can be used for soup, salad and pasta but with their flat base work just as well as an alternative to your dinner plate. And as an added bonus, they still fit perfectly in the dishwasher!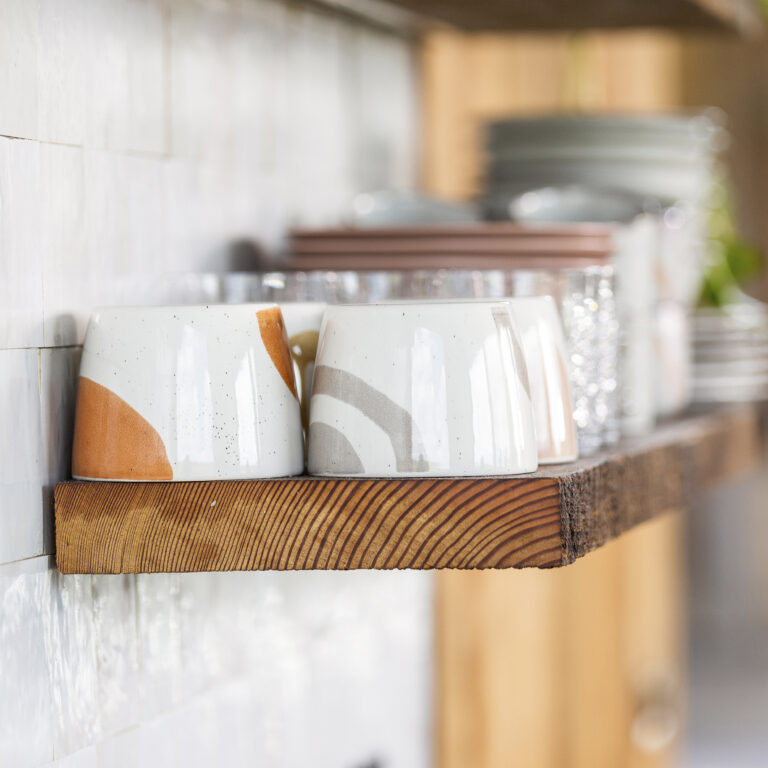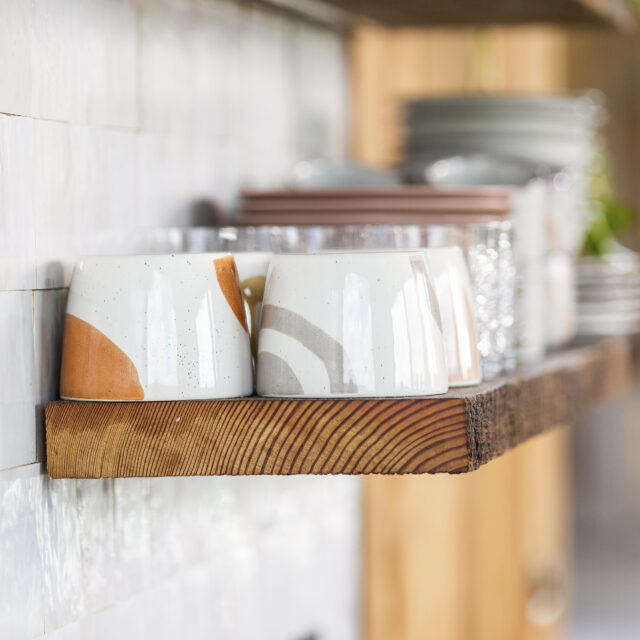 Try some gorgeous mugs like these from Ecology's Nomad collection, to double as decor. They have a modern minimal pattern in those warm colour tones that everyone wants in their home right now.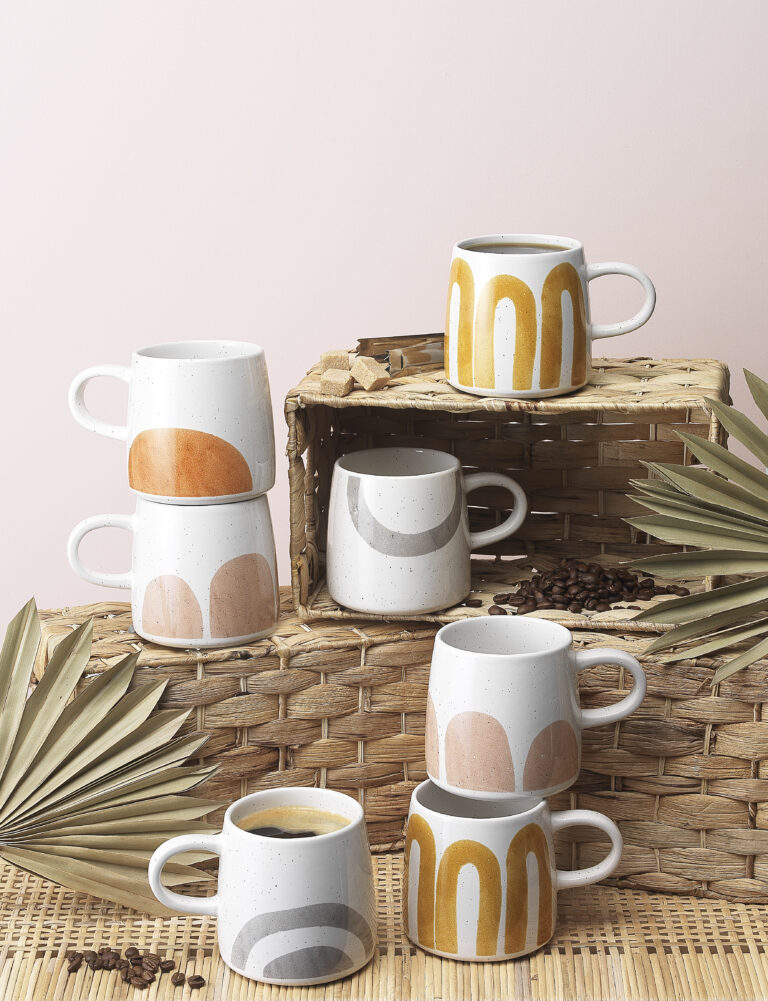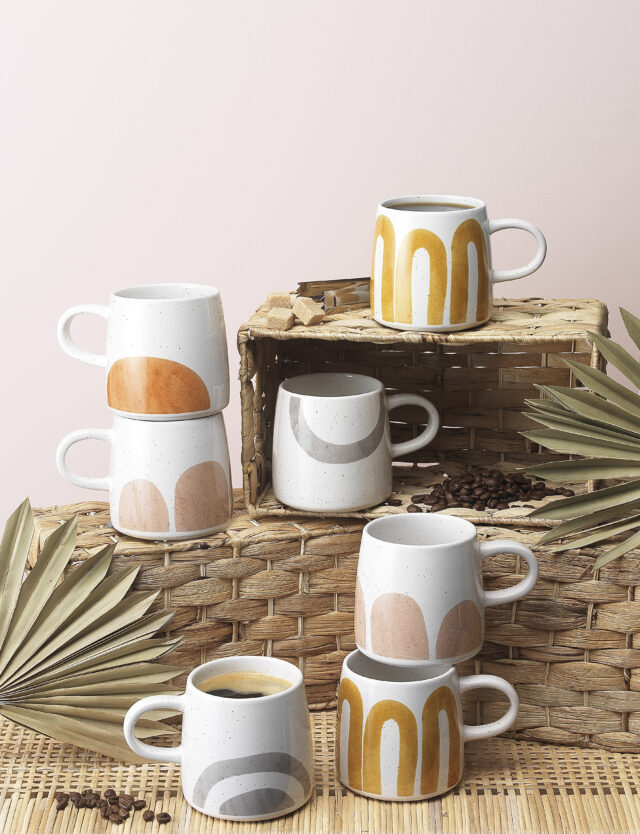 Group stylish and useful items like a utensil holder, salt pick and potted herbs
Stacking kitchen items is a great way to create balance in a space without it looking too uniform. When creating vignettes, my rule is grouping items in odd numbers, such as threes or fives. To keep your workspace functional, make sure only the most frequently used items are on display on your bench top and within reach of where you are working, i.e., salt, pepper, herbs, and utensils within arm's reach to the stovetop.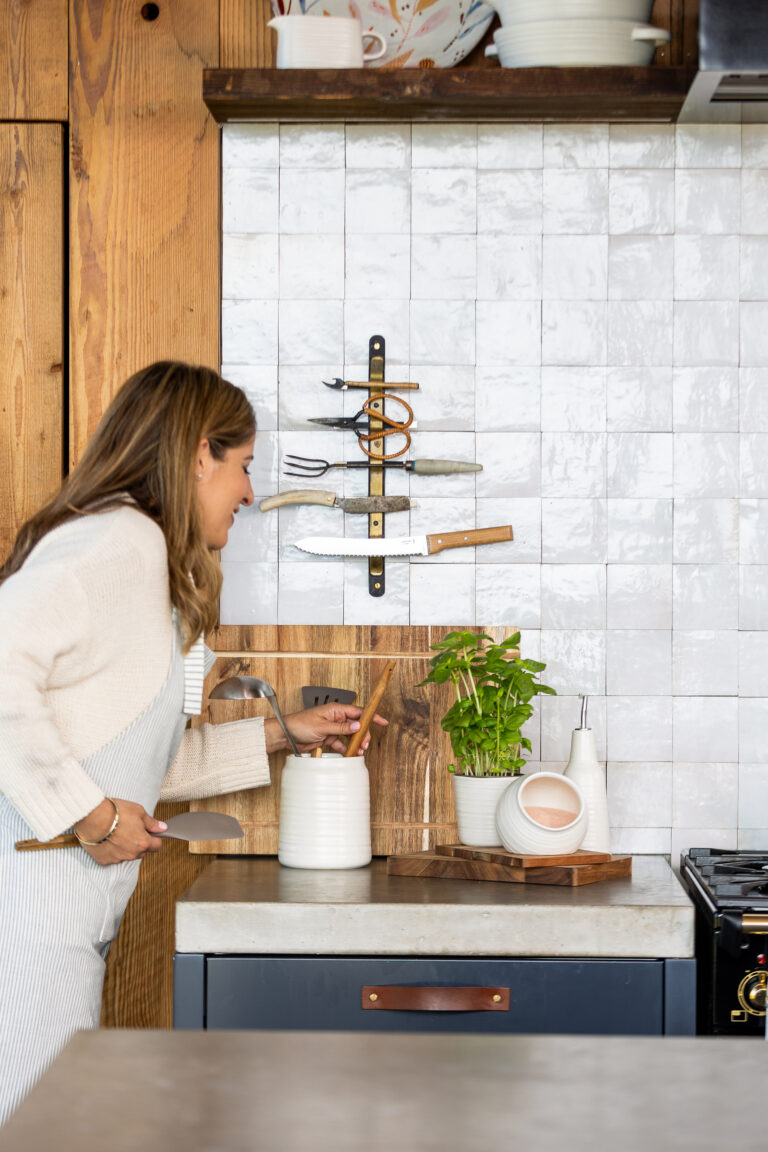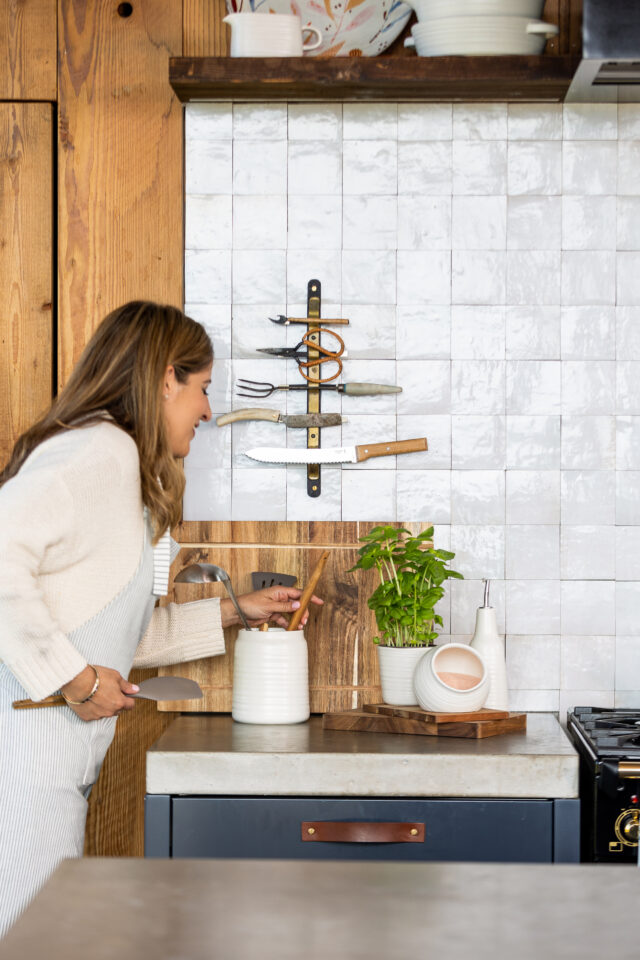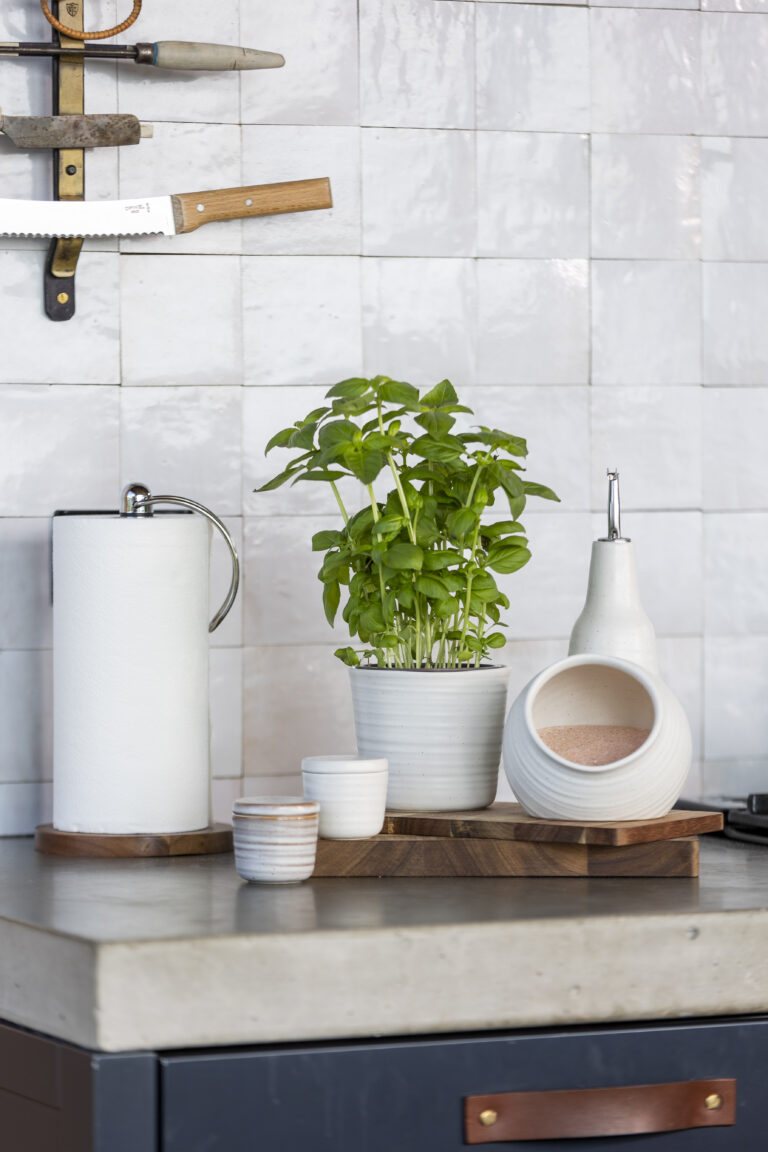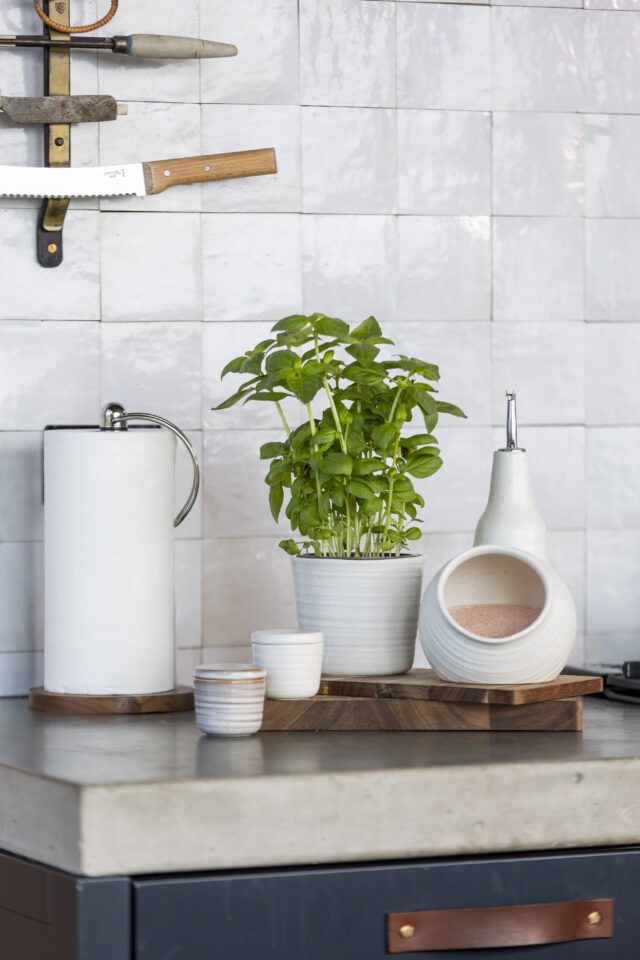 Add napkins to your table setting to elevate it for dinner parties or even every day
Have a neutral dinner set? Napery is a great and cost-effective way to add a pop of colour or pattern to your dining space. Don't be afraid to mix and match some alternative patterned dining or serving pieces to make the whole table sing.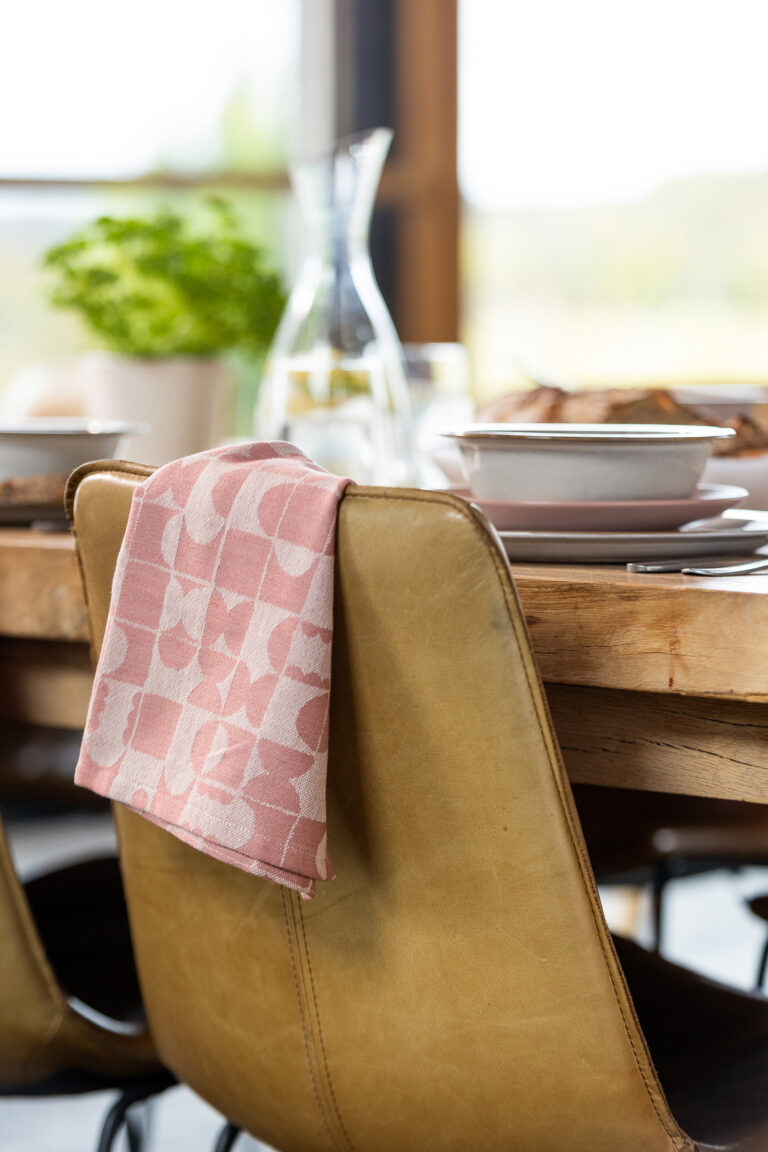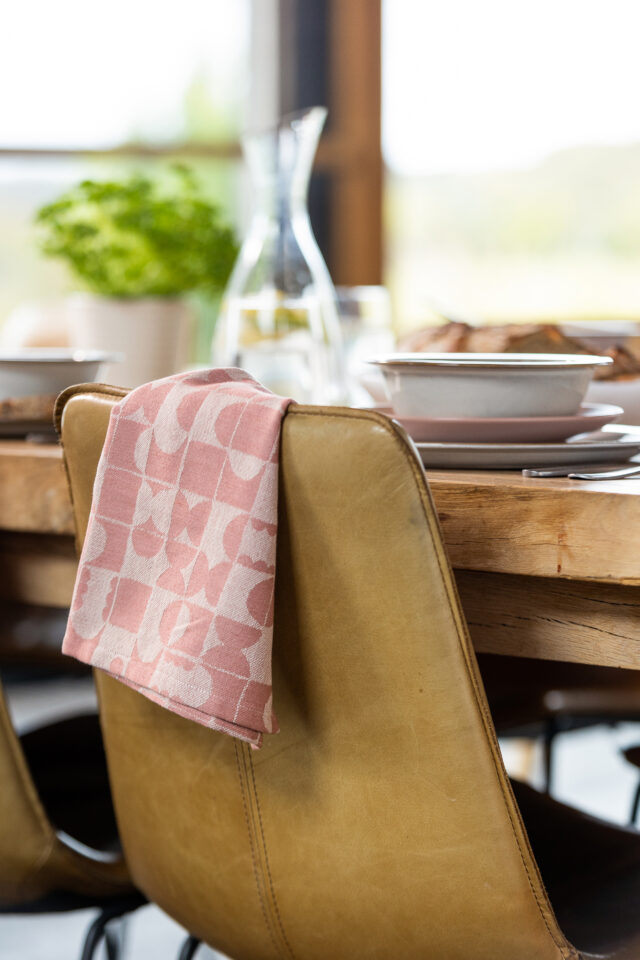 If you are unsure, stick to similar colour tones and you can't go wrong. Forage around your yard or neighbourhood for some foliage to add some natural colour and texture. Pop some gum leaves on a muted natural linen for a truly Australian feel, or herbs and citrus on a bold navy tablecloth to give a coastal Mediterranean vibe.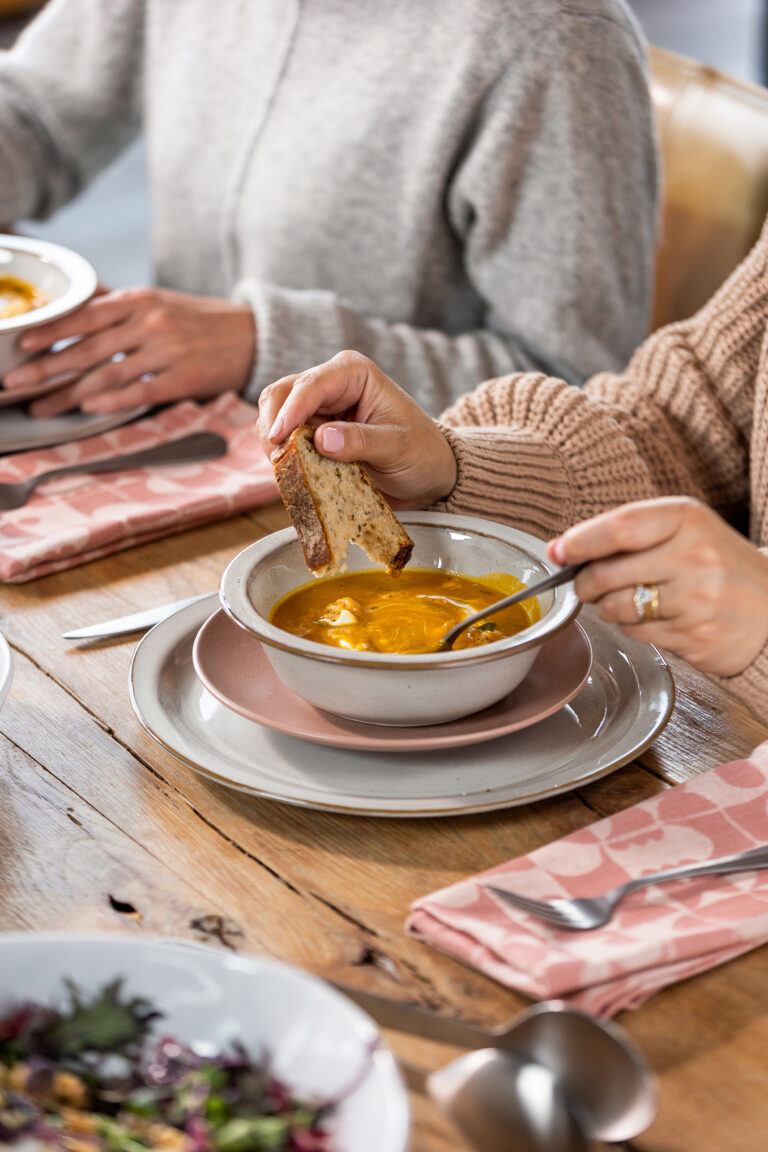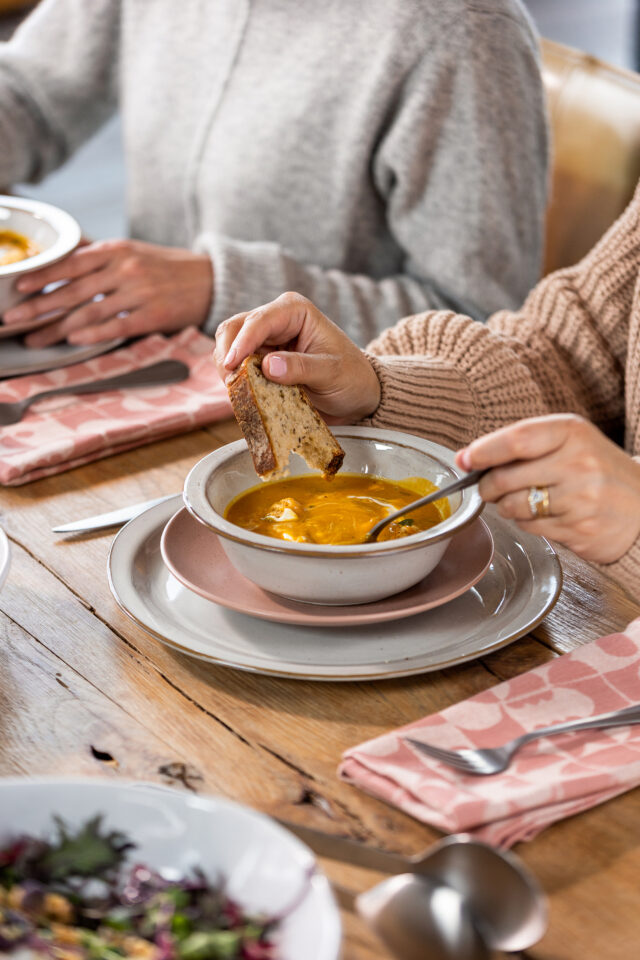 Stack beautiful ceramics on open shelving. Don't be afraid to mix and match
I love a good shelfie! Open shelving gives you opportunity to add a touch of your own personality in your kitchen space. Take some of your favourite pieces and look for some cohesiveness in colour and tone to tie the assortment together. I always suggest including a mixture of textures (matte, gloss, transparent, prints and plains) to create some uniqueness and variation.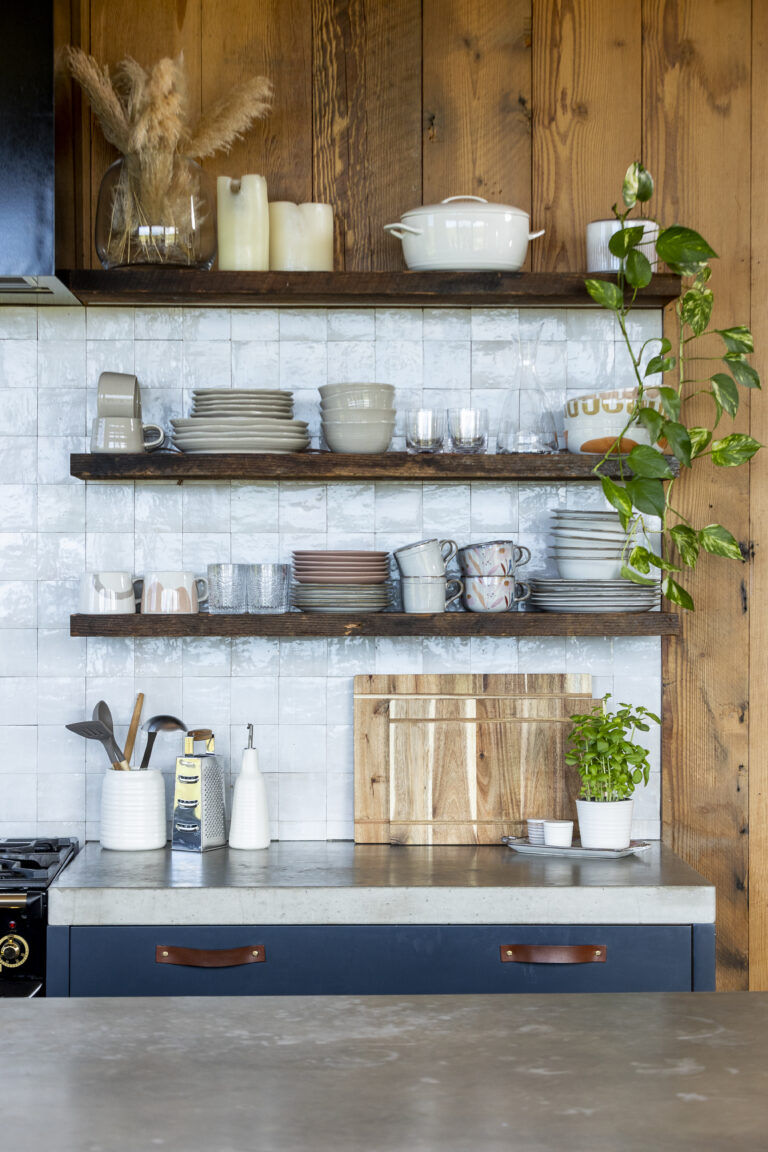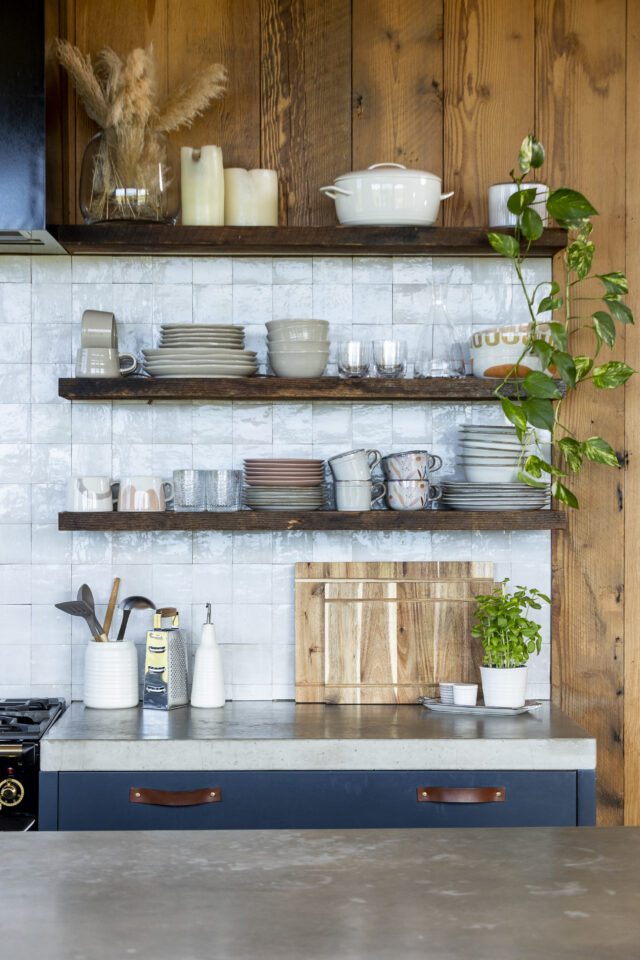 Don't be afraid to mix and match old and new. I have some great Dutch (family background) and Scandi mid-century pieces that I have picked up over the years that coordinate with the rest of the styling in my home and are great conversation starters. Not sure where to start? Consider those bits and pieces collected on your travels or special heirlooms from your family first and then build from there with new items. Trends shows that more and more of these types of secondhand or treasured items will be in demand over the next couple of seasons, as they create a sense of comfort and nostalgia in this post-pandemic world.
So, jump in and have a play around with your kitchen to see how you can bring to life a forgotten nook. Create a vignette of go-to spices by your stovetop or dust off some old crockery that is coming back on trend and give some love to the hardest working room in your home.
-Elana Vanlier is design and product manager at Ecology. Shop their latest range of ceramics and homewares.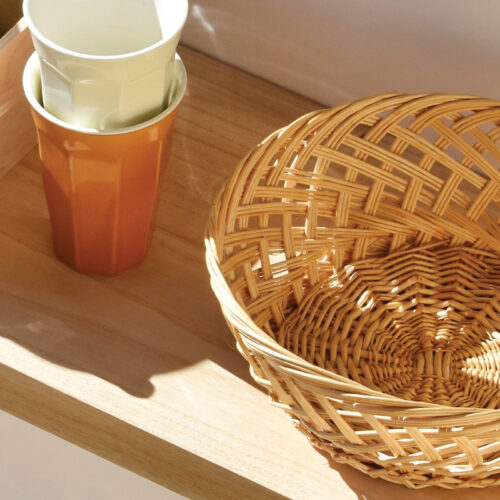 Custom but affordable timber floating shelves you order online
Floating shelves generally fall into one of two categories: pre-determined lengths that are hollow inside and can lack stability, or…