"The perfect kitchen functions seamlessly, with all the necessities, but doesn't necessarily feel like a kitchen. Choose materials that excite you, that bring warmth and a sense of togetherness and then get the seating right and you'll never want to leave the space!" says Bondi Kitchens brand director Charlotte Riggs who shares a stunning kitchen with us today. Created by Bondi Kitchens, and nestled inside a federation bungalow perched on Sydney's Centennial Park, this space certainly exemplifies Charlotte's sentiment.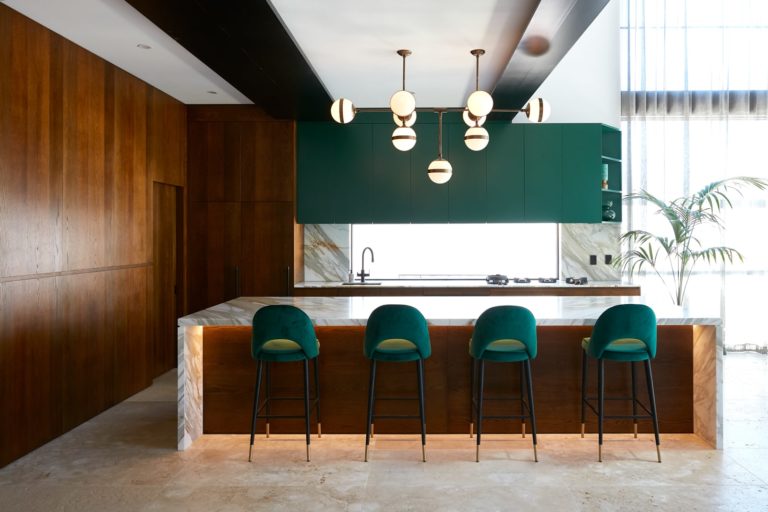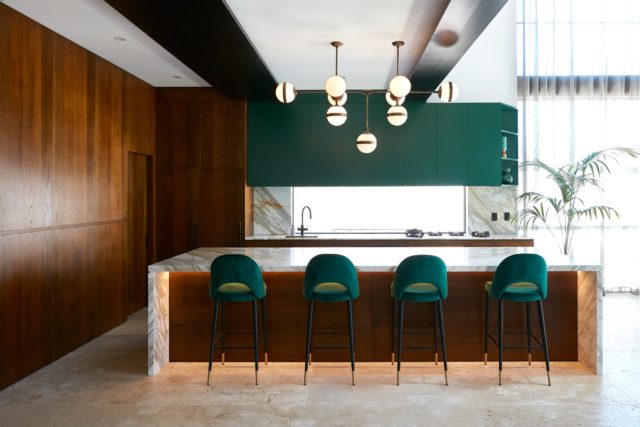 Part of a large-scale renovation of a large Randwick home, this kitchen features rich materials and a real sense of drama that you don't often see in such a utilitarian part of the home. "The richly textured palette fuses the heritage of the home whilst bringing in a sense of the exotic. We like to think it's Art Deco meets Miami," says Charlotte.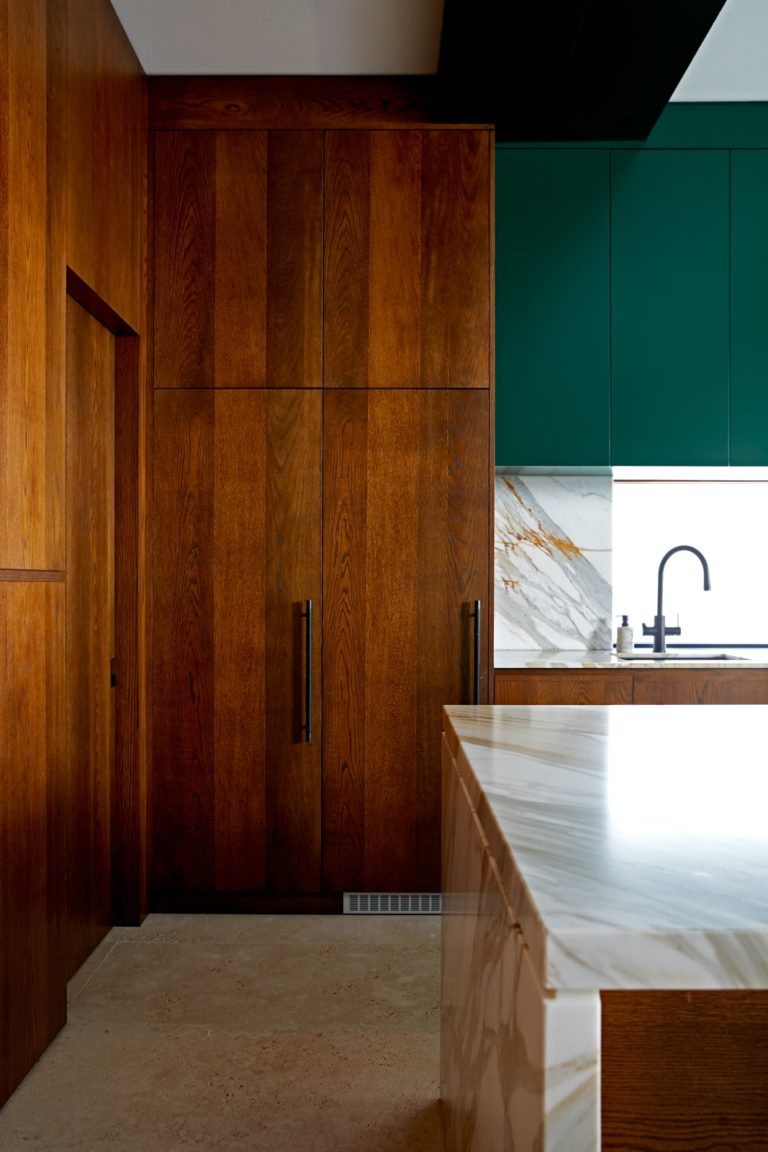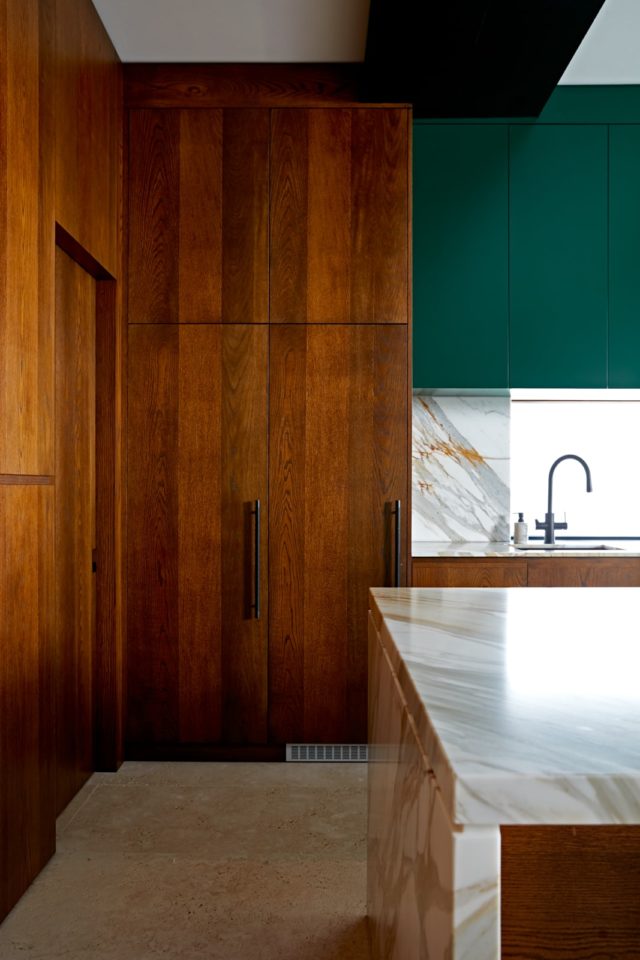 The luxe materials palette includes custom teak-stained crown cut American oak cabinetry, stunning Calacatta Oro marble and polyurethane cupboard fronts painted in a statement – Dulux Highland Green. "Calacatta Oro is a classic and it gives instant glamour which is what the client was hoping to achieve," says Charlotte of the rich, caramel gold-veined marble that really draws the eye.
the generously proportioned island bench features waterfall ends with a shadow-line detail while a Peggy 9 pendant light by Vistosi, sourced from Mondoluce, hangs above. The cooktop is comprised of Pitt burners that were purchased individually from Winning Appliances and then grouped to create a custom configuration.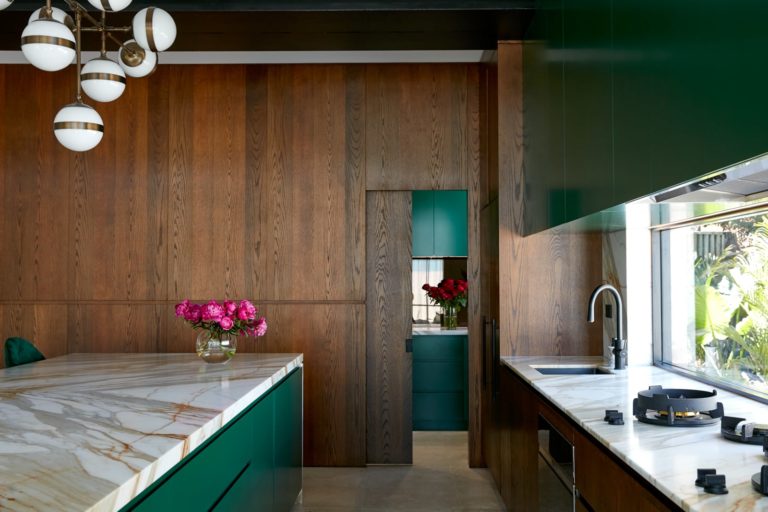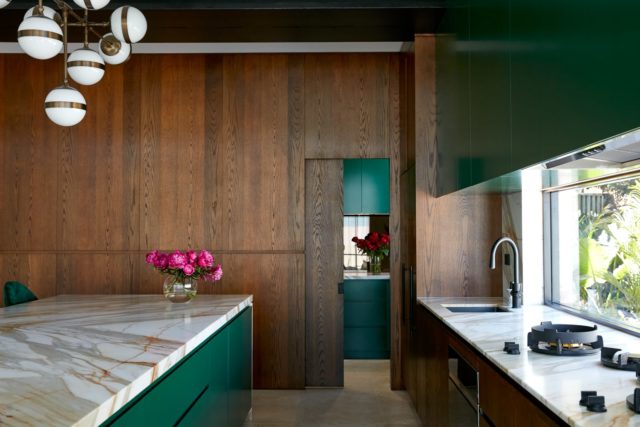 Concealed appliances are also key in creating a kitchen that doesn't look like one. "These little details cleverly conceal traditional kitchen utilities like the fridge and oven," says Charlotte. Tucked beside the kitchen is a large butler's pantry that features the same lovely mix of materials.
"Custom teak-stained American Oak inlays on the stool-side bring warmth and connection to the kitchen as a whole," says Charlotte. Retro emerald-green velvet vintage stools complete the look.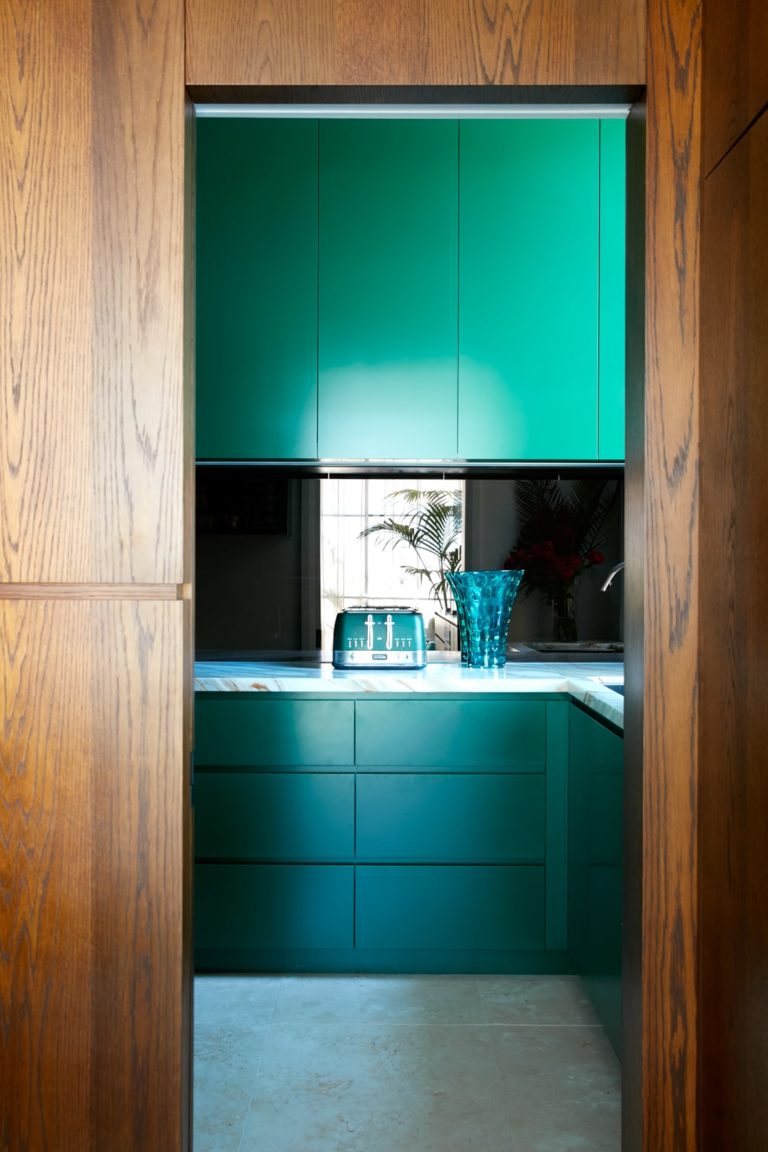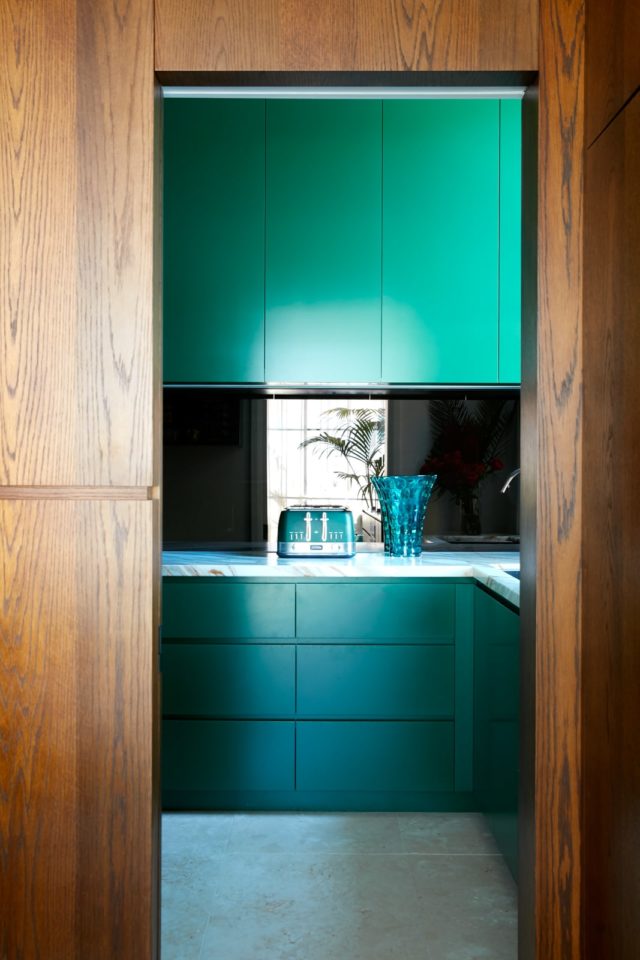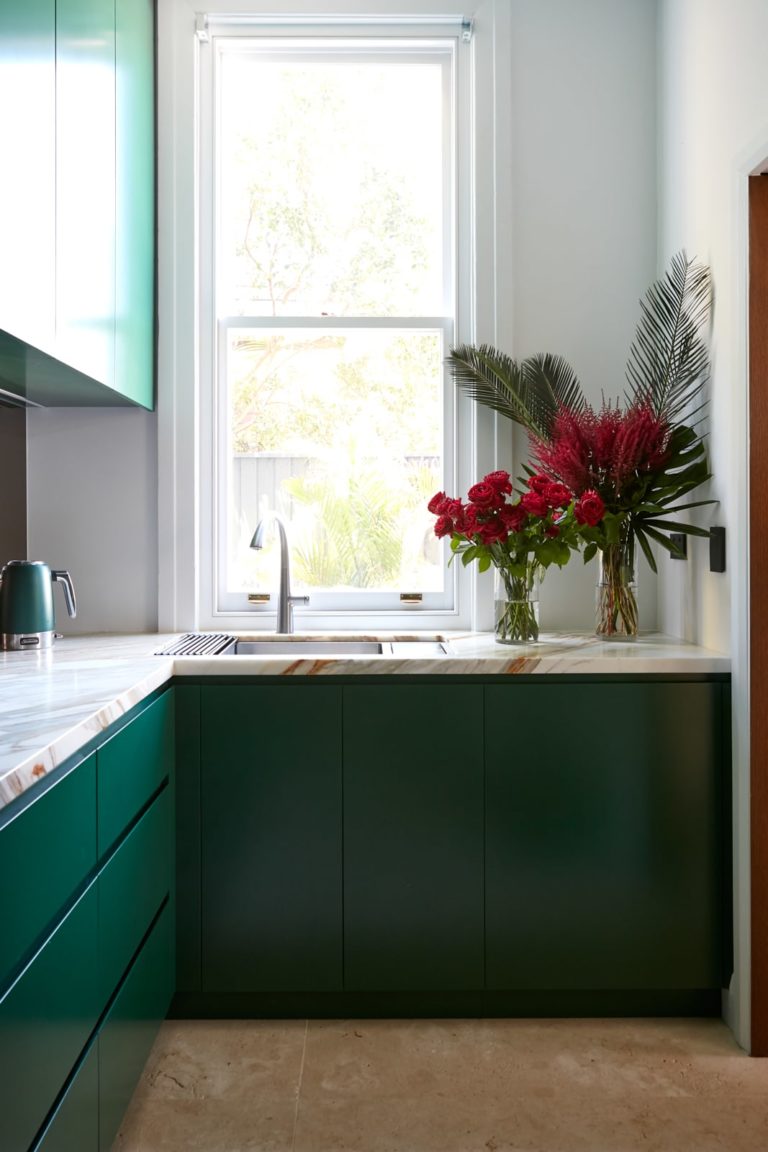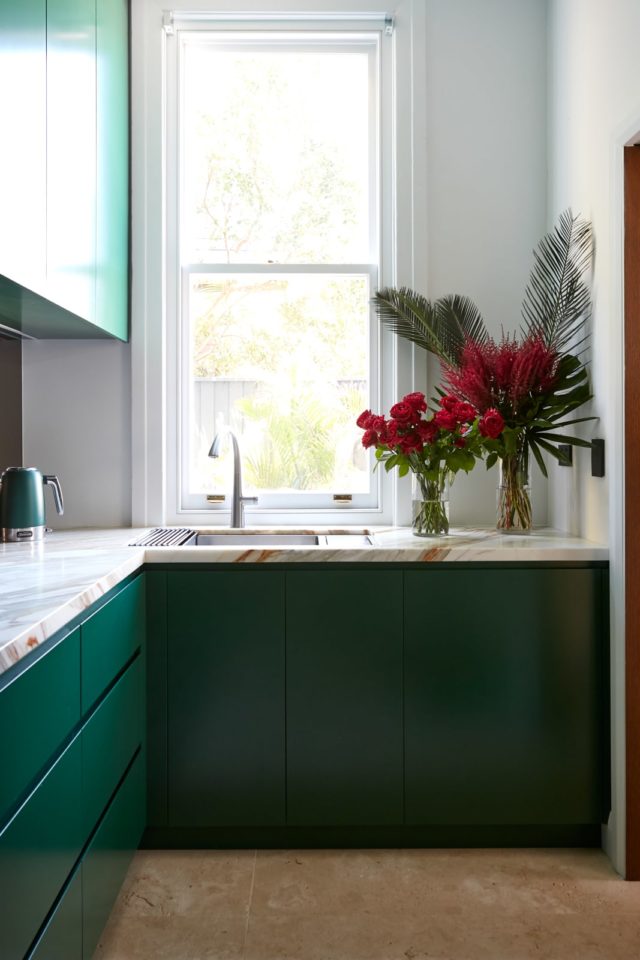 Large in scale, one of the main design challenges for the space was getting the proportions right. "The kitchen is on the generous, grandiose side so clever detailing in wall panelling and the balance between marble, veneer and poly cabinetry was the secret to the kitchen's success."
Photography: Jacqui Turk